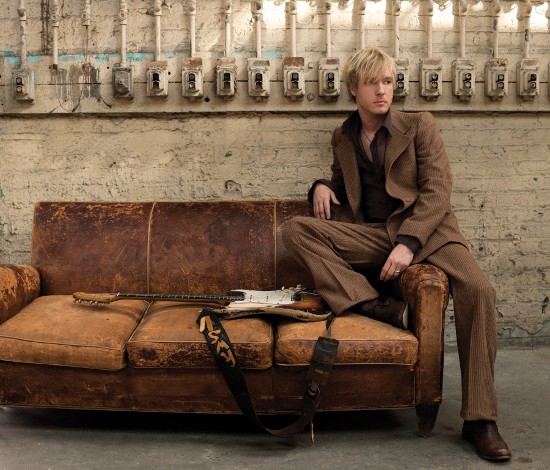 If you're an amateur guitarist hoping to turn pro, particularly one with an affinity for blues rock, you could certainly choose lesser talents to emulate than Kenny Wayne Shepherd. The 37-year-old musician, after all, has been already nominated for five Grammy Awards, has won two Blues Music Awards and two Billboard Music Awards, and was once named the world's third-finest blues guitarist by Guitar World magazine, with only B.B. King and Eric Clapton ranking higher.
If, however, you're an amateur guitarist who feels that the world of professional music will forever be out of reach due to your inability to actually read music, don't let that dissuade you from following your dream. It turns out that Kenny Wayne Shepherd doesn't read music, either.
"Yeah, I still play by ear," says Shepherd, who unofficially began his career as a self-taught guitarist at the tender age of seven. "I used to have to sound songs out one note at a time until I got from the beginning to the end of it. It was kind of a tedious process in the beginning, but you know, it's gotten easier over the years. Modern technology is a big help now, because I can just record things on my iPhone, but yeah - I just play what sounds good, and then I just have to remember it."
Meanwhile, does Shepherd have any regrets about still not being able to read music despite being such a formidable presence in his field?
"No, I don't," he says during our recent phone interview. "You know, what I'm doing has always worked for me, and so I don't see any reason to change it." And it's hard to imagine that anyone could conceivably want him to.
As a native of Shreveport, Louisiana, Shepherd says that music, from his earliest memories, was always in the air.
"My dad was on the radio," he says. "He was a disc jockey. So I grew up, my whole life, surrounded by music, going to concerts, going to the radio station, meeting bands that came through and stuff ... . So I had a huge library of music available to me as a result, and I liked just about everything. Country music, rock, punk, gospel ... . Everything."
But Shepherd says that even during his early grade-school years, he always had a particular fascination with the blues "because a lot of it focuses on the guitar, which I was really into, and because there's a certain amount of raw emotion that goes into blues music that I didn't find in every genre. It was always just really appealing to me."
His own personal exploration of the guitar, recalls Shepherd, began "when I was four or five years old. I had these 'play guitars' when I was a little kid - these little plastic guitars with nylon strings - and I actually learned my first notes on those. And I got my first electric guitar at a Stevie Ray Vaughan concert when I was seven," an event that, thanks to his father's connections, would go on to shape Shepherd's professional career.
"I don't really remember what he said to me," says Shepherd of the legendary guitarist, "but I remember meeting him and getting to watch his show from the side of the stage, and really just being mesmerized. And that was just a life-changing moment for me. From that point forward, all I wanted to do was learn to play guitar with that same kind of fire and passion."
He subsequently began to teach himself guitar in earnest, learning from the masters via his father's record collection. "Stevie Ray Vaughan was always a big hero of mine," says Shepherd, "but I liked B.B. King and Muddy Waters and John Lee Hooker and Lightnin' Hopkins and Buddy Guy ... . I mean, I did my homework, man. I went all the way back to the early days of the blues and the Delta and acoustic blues through the electric era and stuff like that. I mean, a lot of blues guys were big influences on me."
And the extent of their influence was clearly evident when Shepherd eventually made his concert debut.
"I think I was 13 years old, and I was down in New Orleans on Bourbon Street, and I got to play with this guy Bryan Lee," says Shepherd, referencing the noted bluesman who invited the teen to join him on-stage, and with whom Shepherd would later play a 2007 set on The Tonight Show with Jay Leno. "That was a pretty cool moment for me, because it was really my first time in front of an audience, and I didn't know how well I would go over with the crowd, or if I'd be too nervous or whatever.
"But I got my first standing ovations that night," he continues. "I played almost the whole show with him and had a blast, and that kind of set my career in motion."
Shepherd's impromptu performance, and the buzz generated by the 13-year-old's guitar skills, eventually led to a booking at Shreveport's Red River Revel Arts Festival. And a video from that festival eventually caught the attention of Giant Records' Irving Azoff, who promptly signed Shepherd and his band to a multiple-album record deal - one that the guitarist signed before he was legally allowed to vote or see R-rated movies by himself.
"I don't know," says Shepherd of his rather staggering success as a youth. "It just kind of happened. I put a band together when I was 15 and started doing local shows, and I guess word just kind of got around the country about this young, blues-prodigy guitar player, which was kind of a strange thing for that day and time. People were interested. So I got signed to a record deal when I was 16, and I did my first record when I was 17." He laughs. "And I've been here ever since."
Shepherd says that the public reaction to that first album, 1995's Ledbetter Heights, came as a considerable surprise. "I really didn't know what to expect. I mean, I obviously thought it was a good record, but you never know what other people are gonna think about it. I just knew that I was getting to make a record, and I was doing songs that I had written, and I was having a great time doing it.
"But it was great," he continues. "The first single ['Déjà Voodoo'] shot up to number five on the rock charts, and the album went gold, and then eventually went platinum, so it was certainly a success."
Its success also meant that, at age 17, there was no turning back from the pursuit of a full-time music career.
"My parents insisted that I graduate high school," says Shepherd. "So I did that. And then the minute that I got out of high school, I hit the road. I think there was some concern from my parents at first. You know, it's kind of tough to make it in the music business, and the odds are generally against people being successful in the music business. But you know, it worked out."
As any blues fan will tell you, it most certainly did. Shepherd followed the release of Ledbetter Heights with 1997's Trouble Is ... , which holds the record for the longest-running album on Billboard's blues charts - spending 20 weeks at the number-one position - and spawned a chart-topping single in what is widely considered Shepherd's signature song, "Blue on Black."
That album also led to fellow chart-toppers in 1999's Live on, 2004's The Place You're in, and 2011's How I Go, plus a Grammy-nominated CD/DVD set titled 10 Days Out: Blues from the Backroads. That 2007 release found Shepherd interviewing and jamming with both venerated and unsung heroes of the blues world - everyone from blues legends B.B. King and David "Honeyboy" Edwards to the less heralded musicians from Muddy Waters' ensemble; the package won a 2008 Blues Music Award for Best DVD, and Shepherd says it's an accomplishment he takes particular pride in.
"We just wanted to go out and do a special blues project to show our appreciation to the blues community, and to the genre itself," says Shepherd of 10 Days Out. "Blues fans have been very good to me, and obviously the music has been a big inspiration for me. And so it was an opportunity for me to play with some amazing musicians, and also try to expose the rest of the world to some really talented musicians that were, for whatever reason, a bit lesser-known, but extremely talented.
"And there were a lot of them," he continues. "All the guys from Howlin' Wolf's band. Willie 'Big Eyes' Smith, the drummer from Muddy waters' band. Jerry 'Boogie' McCain. Cootie Stark and Neal Pattman and Etta Baker ... . I had never met any of those people, so it was really cool, and to get to make the film and the album was great."
Another career highlight came with the 2008 release of the Kenny Wayne Shepherd Signature Series Stratocaster, a collector's edition instrument commissioned by the Fender Musical Instruments and designed by Shepherd himself.
"Eric Clapton and Jeff Beck and Steven Ray Vaughan and Buddy Guy ... . I mean, there's a list of amazing guitarists that get to do signature guitars," says Shepherd. "So it's a huge honor to be asked to do that. We worked for about a year and a half designing the guitar, working on the sound of the pick-ups to get them to sound a certain way, and the shape of the neck to get the right profile, and stuff like that. Every guitar player changes something about the guitar to make it more suitable for themselves and the little things they do on it, and I'm really proud of it."
And as audiences will no doubt witness during his set at the Mississippi Valley Blues Festival, Shepherd is also extremely proud of the career that has allowed him, more than two decades after his professional debut, to continue playing the music he grew up loving.
"I've learned a lot over the past 20 years," says Shepherd, "and if you continue to try and stay on top of your game, then your ability keeps getting stronger. Performing is definitely still as much fun as it was when I was younger. Probably more fun, in many ways."