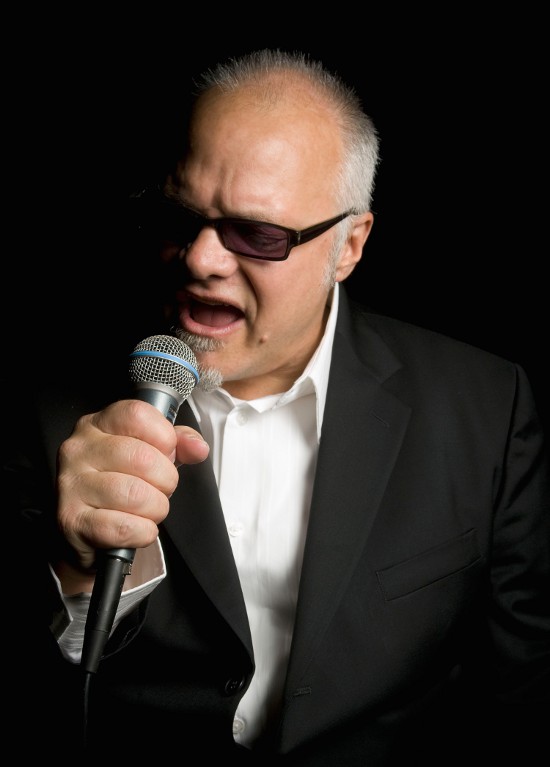 If you're of my generation - the generation that, as grade-schoolers, used to stay up long after bedtime to watch the early years of Saturday Night Live - there may be two names you most associate with your early exposure to blues music: Jake and Elwood.
Yet if you, too, became a fan of John Belushi's and Dan Aykroyd's famed Blues Brothers act through the duo's SNL appearances, their 1978 album Briefcase Full of Blues, and their 1980 feature film, the one to thank for your youthful blues immersion shouldn't be Jake or Elwood (or John or Dan). It should be Curtis.
Described by Blues Revue magazine as "one of the most down-to-earth, soulful, honest singers ever," and a harmonica player who is "rollicking, funky, and electrifying," Curtis Salgado has been at the forefront of the blues scene for decades. Included among Salgado's considerable credits are his many years of professional partnership alongside five-time Grammy-winner Robert Cray, his headlining of blues festivals from San Francisco to Thailand, and his 2010 and 2013 Blues Music Awards for Soul Blues Male Artist of the Year - the latter of which Salgado received after successfully battling lung cancer, which he was diagnosed with in 2012.
Check out the liner notes for Briefcase Full of Blues, though, and you'll see that Salgado is also the man that the album is dedicated to, making him the de facto reason many of us knew the lyrics to "Soul Man" before entering high school. (Also check out the name of Cab Calloway's character in 1980's The Blues Brothers movie. It's Curtis.)
"Belushi told me that Aykroyd was trying to get him into the blues, but he wasn't biting," says Salgado during our recent phone interview. "And then when he saw me, he got it."
As for the artist himself, Salgado says he got it from his family, who, from their home in Eugene, Oregon, introduced him to jazz, swing, and the blues.
"Music was a very essential part of the family," the 60-year-old Portland resident says. "My father was really into Count Basie. But there was also Benny Goodman, Gene Krupa, a singer named Anita O'Day ... . And my older brother and sister, in college, were really discovering the blues masters: Muddy Waters, Little Walter, Sonny Boy Williamson, Howlin' Wolf, Paul Butterfield ... .
"All the blues masters, you know, were still alive back in the '60s," he continues. "And college campuses were hiring them, so I saw a lot of those guys when I was 14, 15 years old."
After starting on guitar and switching to blues harmonica as a teenager, Salgado formed his own band - Three Finger Jack - while still in high school, and quickly realized that making music was his ultimate career goal. Happily for Salgado, his parents realized it, too.
"I was kind of a knucklehead in school," says Salgado, "even though I pulled it together and got decent grades. But by 1972, I'm 18, and my folks knew where I was headed. So after I was out of high school, my folks were like, 'Look, here's the money that Grandfather left for you to go to college.' It was about 2,000 bucks, which was probably enough for, like, one semester of books and school. And they said, 'Here's money to pursue your music.'"
Beginning with its sets at an establishment called the Roman Forum (which Salgado, with a laugh, calls "a very tough bar"), Three Finger Jack performed at a run of venues within Eugene's University of Oregon district. That band, says Salgado, "then developed into another group that was called Harold & the Nighthawks - and then Harold left when he became a Communist. He would show up at gigs handing out Communist newspapers about our government and stuff, putting them on all the tables and chairs ... . And this was during the Vietnam War.
"So it developed into just the Nighthawks then," he continues, "and we became very popular. Eugene is located on I-5, which is the major highway that runs from Canada down to L.A., so we'd basically play a run of I-5 gigs in Oregon. And that's when I hooked up with Robert Cray, because he'd moved down to Eugene."
For several years after his 1973 introduction to Cray, says Salgado, "We used to play gigs together - the Nighthawks and the Robert Cray Band. As a little side gig, we played a splinter group which was basically me, Robert Cray on guitar, one of our keyboard players, and Richard Cousins on bass - we called ourselves the Crayhawks. But we'd also play in the ballroom of the Eugene Hotel on a weekend every once in a while. Robert would play the first set, the Nighthawks would play the second set, and the third set we'd get together both bands, about 11 or 12 guys on stage, and we'd do a revue."
And then one night, while on a break from the 1977 filming of National Lampoon's Animal House, John Belushi showed up.
"During the Nighthawks section of the show," recalls Saldago of that particular evening, "we're playing, and a guy comes up to me and goes, 'Hey, Belushi wants to meet you.' But I'm in the middle of a song. I'm singing. The band's playing. And again, he yanks on my pant leg and goes, 'Hey! Belushi wants to meet you!' I knew who this guy was - he was a little cocaine dealer, like five-foot-two - and I go, 'Go away! What are you doing?!' And I ignore him and continue singing. And when the set ends, I jump off the stage, I'm heading toward some girls, and this little guy grabs me and whips me around and says, 'Belushi wants to meet you!'
"Now, I had no idea what Saturday Night Live was," says Salgado. "I had never seen it, I had no television, I worked on weekends - I still work on weekends. So Saturday Night Live was not in my life."
But Salgado did know that Belushi was in town to film Animal House, a movie whose titular frat house was located on Eugene's 11th Street, and a movie in which Robert Cray and numerous other Eugene musicians were hired to portray band members for the "Shout"-ing group Otis Day & the Knights.
"So he comes up and we shake hands," says Salgado, "and he goes, 'Hey, man, I like your music.' I go, 'Thank you very much.' And he goes, 'I have a friend and he kind of looks like you. His name is Dan Aykroyd. He plays harmonica, too.' And I remember thinking, 'Who gives a f---?' And I'm starting to break away, and Belushi realizes I don't know who he is. And I don't.
"But he starts talking about the movie he's in, and about Robert and the other guys in the band - how Robert taught them all a dance step the other day. And then Belushi says the magic words. He goes, 'Well, I'm in this show called Saturday Night Live, and I'm really excited because we're gonna have Ray Charles on the show this next weekend.' And I go, 'What?!? You're gonna have Ray Charles on?!?' And that's when I just glommed onto him."
For the next several weeks, during other breaks in Belushi's filming of Animal House, Salgaso says, "I started bringing him records. He's listening to Blue Öyster Cult and stuff, and I'm bringing him Magic Sam, Muddy Waters, Howlin' Wolf, Lowell Fulson ... . And much to his credit, he was interested. He'd come see the Nighthawks, he'd come see the Crayhawks - and he said he wanted to do something like this on Saturday Night Live.
"So one day I went over there with some records and he goes, 'Look, man, you've done all this for me, so what can I do for you?' And I wasn't smart enough to go, 'Well, if you're gonna turn this into something, maybe I should get a lawyer and get some sort of creativity fee,'" says Salgado with a laugh. "So all I said was, 'Look, give credit where credit is due. Those records you have there, they're my records. I got some from my brother and sister, and there's a few from my mom and dad in there. So just spread the music.' And he goes, 'Okay.'
"So they did, like, five songs on the [Blues Brothers] album that he saw the Nighthawks do. This song called 'Hey, Bartender,' and a song called 'Groove Me' by King Floyd, and 'Soul Man.' And they dedicated Briefcase Full of Blues to me."
Salgado, meanwhile, continued to be dedicated to the blues. "I went from the Nighthawks to the Robert Cray Band," he says, "and from Robert Cray to Roomful of Blues," with whom he played from 1984 to 1986. "And from Roomful of Blues I became a solo act, and shortly thereafter, I scored a record deal and put out my first record.
"I cringe when I say it, because it has such a stupid name, but the band's name was Curtis Salgado & the Stilettos. We made a record that sold about 60,000, 70,000 copies and got a little bit of chart play, and it launched me to a certain level." And since the release of that self-titled 1991 album, says Salgado, "I've just been soloing and trying to get to the next level ever since."
Curtis Salgado & the Stilettos went on to open for Steve Miller during the musician's 1992 tour, and two years later, Salgado spent a summer serving as lead vocalist for the rockers of Santana. ("It was an educational experience," says Salgado of his brief Santana tenure, "but it wasn't where I belonged. The musicians were incredible. Incredible. But for me, it was just a mismatch.") By 1999, the musician had signed as a solo artist with Shanachie Records, and went on to release a quartet of critically acclaimed titles culminating in 2008's Clean Getaway, which earned Salgado Blues Music Award nominations for Soul Blues Album of the Year and Soul Blues Male Artist of the Year.
Yet Salgado is quick to say that those professional accomplishments pale next to his quitting of alcohol and drugs in 1988, and his recoveries following two bouts with cancer - one that required a 2006 liver transplant, and one that led to the 2012 removal of the bottom lower lobe of one of his lungs.
As he had no health insurance at the time, the costs for the former, $300,000 operation were covered by friends and fans, including some 5,000 of whom attended a fundraising concert organized by Salgado's longtime manager Shane Tappendorf. Among those on the bill were friends including Robert Cray, Steve Miller, and Taj Mahal, and Salgado knows that if it weren't for the tremendous support he's received from others (Bonnie Raitt, he says, "payed for my rent while I was in the hospital"), he'd no longer be able to share his love of the blues.
"One person called up and gave me $60,000. Another person called up and gave me $38,000. I have an ex-girlfriend - Andrea, still a great friend of mine - who volunteered to donate half her liver to me. I mean, who does that? Those are miracles. There's miracles involved in all of this.
"I'm just blessed to be alive. There's been so much given to me that I feel like I owe the universe. And so while I find more joy in music now, I find more joy in everything. Life is finite, and you need to enjoy it, and it's better to give than receive. That's it, man."