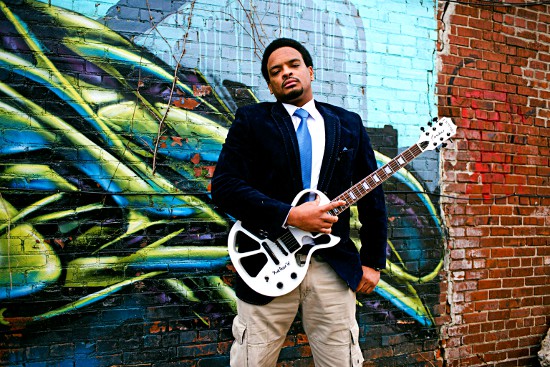 In an ideal world, Jarekus Singleton would probably still be playing basketball.
But performing at the Mississippi Valley Blues Festival in support of his Alligator debut - Refuse to Lose, released in April - ain't half-bad, either.
Singleton grew up in a musical family, playing bass at his grandfather's church starting at age nine. "It was a family thing at church," the 29-year-old said in a recent phone interview. "I knew I was musically inclined, but I didn't really know the significance of what I was doing. I was doing it to help the church out. ... Music was always the foundation of everything, because that was what our family leaned on."
But Singleton loved basketball and pursued a pro career. After the 2006-7 college season, he was named the NAIA national player of the year, averaging 24.7 points and 6.3 assists per game for William Carey University. He then played professionally in Lebanon.
"Anything that I do, I kind of get obsessed with it," he said. "I was really focused on basketball."
But in 2009, he said, he "came down wrong" while playing and tore cartilage in his ankle. And "that's how I got back into music" - eventually.
It started when he was in a cast and recovering from his injury. "When I was laying in my bed in my room, and this guitar that my granddaddy gave me was sitting in the corner of the room, I just grabbed it. I just started playing. And that's what I would do: I would just lay in my bed and play guitar all day long."
He soon began performing with local bands in his native Mississippi. "I had a gig almost every night of the week," he said, but it wasn't fulfilling: "I was playing with bands that weren't honest." His mother suggested he strike out on his own, yet Singleton still had dreams of returning to basketball - dreams his ankle wouldn't cooperate with.
"I realized that my ankle was not going to get back to where it was," he said, and then that music "is what you're supposed to be doing."
The blues came naturally, even though he'd written and performed hip hop in high school and college. That music, he said, was an important outlet for his youthful anger, but Singleton said he struggled with what he saw as a disingenuous culture. He recalled finishing a recording session and watching the next act in the studio, rapping about selling drugs and how much money they were making. "But at the end of the studio session," he said, "they all were scraping up dollar bills and change to pay for the studio session. I was like, 'How are you going to rap about some stuff that you ain't even living?'"
By contrast, he said, the blues is "an honest genre" that allows artists to talk about their shortcomings. "Everybody has the blues some way or another down the line," he said, and after his injury, "it's just what started coming out."
But it's not traditional blues. Hip-hop wordplay sneaks in, as do the influences of country, R&B, and soul. "All those different genres, they were already embedded inside of me before I actually started," he said. "When I actually write music, when I actually write lyrics, they just come out. I just have my own twist and my own imagination on the way I want to approach a song. It was just me being who I was; it was just letting the music come out freely, and letting it flow."
That, Singleton said, appealed to Alligator's president, Bruce Iglauer - who co-produced Refuse to Lose. "He liked the fact that I didn't know the rules," Singleton said. "To push this genre forward, you can't be an imitator. You've got to be an innovator. ... I can't do what Muddy Waters did. I can't do what Albert King did. ... I can be Jarekus."
Reviewers have also taken a shine to Singleton's singular style. The All Music Guide wrote: "Singleton combines his fiery, fascinating, I-may-go-anywhere electric-guitar leads with an urban, hip-hop, narrative songwriting style that still remains undoubtedly rooted in the blues ... . [That] Singleton manages to stretch the blues genre while still maintaining all of its familiar attributes is a pretty impressive achievement."
And Blues Rock Review added: "Jarekus Singleton is arguably one of the hottest, most exciting new musicians on the blues scene today."
But Singleton remains grounded. On "I Refuse to Lose," he sings about his final year of college - when, in addition to leading his team on the basketball court, he worked as a janitor. "There's a certain humbleness and a certain humility that comes with having a tough job," he said. "Here I am national player of the year, and I'm scrubbing toilets every week."
And while the blues wasn't Singleton's first choice for a career, he said it's a good fit for him: "There are real people in the blues. ... I was striving to be in a community that I felt like was an extension of who I was."