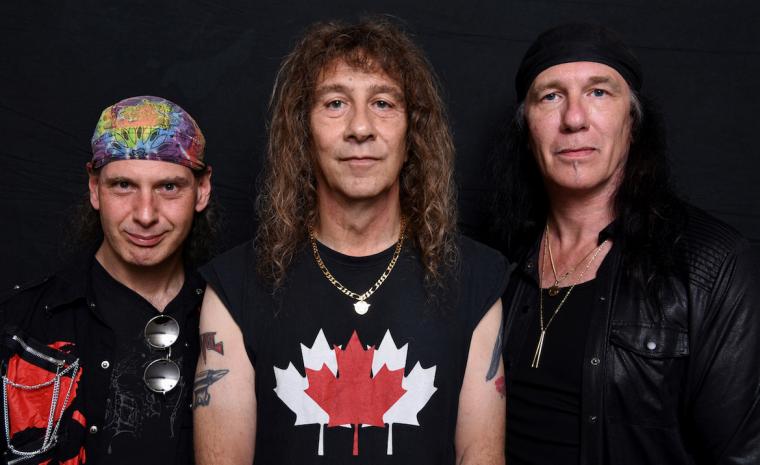 Friday, June 8, 8 p.m.
Rock Island Brewing Company, 1815 Second Avenue, Rock Island IL
Heavy-metal mainstays of the early '80s that have been enjoying a decade-long renaissance perform a special concert at the Rock Island Brewing Company, with the June 8 concert by Anvil treating patrons to a night with the stars of the 2008 documentary hit Anvil! The Story of Anvil, called "a hell of a movie" by Empire and, by IndieWire, "a must-see for dreamers everywhere."
Anvil was formed in Toronto in 1978 by childhood friends Steve "Lips" Kudlow (vocals/guitar) and Robb Reiner (drums). Adding bassist Ian Dickson and rhythm guitarist Dave Allison, the group recorded the 1980 independent album Hard 'n' Heavy, and after signing to Canadian independent label Attic Records, the the recording was reissued in 1981. Though attracting some notice for their debut release, Anvil's groundbreaking second album, Metal on Metal, adopted a much faster, heavier style, and consequently took the metal underground by storm. The musicians snagged opening slots on tours with the likes of Iron Maiden and Motörhead, among others, and played significant festival dates in Japan and England. Anvil's 1983 follow-up Forged in Fire, meanwhile, refined the group's signature sound while adding more musical variety, furthering their growing following.
But despite serving as inspirations for heavy-metal groups including Megadeth, Slayer, Anthrax, and Metallica, Anvil fell off the grid not long after Forged in Fire's release, and didn't again capture national interest until they were contacted in the mid-aughts by a former roadie, Sacha Gervasi, whom they'd met as a teenager while touring England. Gervasi had grown up to become a screenwriter, most notably penning the Steven Spielberg-directed The Terminal, and wanted to film a documentary about his old friends. The result, Anvil! The Story of Anvil, chronicled Anvil's efforts to tour Europe and record their 13th album, aptly titled This Is Thirteen. The film was an unexpected commercial and critical smash, winning Best Documentary citations at the Evening Stanard British Film Awards and Independent Spirit Awards, as well as an Emmy Award for Outstanding Arts & Culture Programming of 2010. And with the film's success came renewed interest in the 50-something rockers of Anvil, who have subsequently sold out venues worldwide and released four additional albums including this past January's Pounding the Pavement.
Tickets to Anvil's 8 p.m. concert on June 8 are $20, and more information and tickets are available by calling (309)793-1999 or visiting RIBCO.com.