Bettendorf native Mike Conrad is an acclaimed jazz trombonist, composer, bandleader, and educator who's currently completing his doctorate in jazz studies at the University of Northern Colorado. But in tracing his musical gifts and professional success back to their grade-school beginnings, the 29-year-old actually has another doctor to thank – one with the surname Seuss.
"It was pretty random," says Conrad, during our recent phone interview, about his initial choice of musical instrument. "But I remember that I had this Dr. Seuss book called My Book About Me. It's this book where you fill in the blanks with things that apply to you, and on one page it had a picture and it said, 'My favorite instrument is ______ .' And for some reason I wrote 'trombone.' I don't know why. Maybe because of the illustration of the trombonist in the book.
"But later, when it came time to decide what to play in the school-band program in fifth grade, I was looking at that book and what I wrote, and that's what I picked – the trombone." Although, judging by Conrad's inspiring accomplishments in the two decades since, it's entirely possible the trombone picked him.
The recipient of four ASCAP Herb Alpert Young Jazz Composer Awards and five Downbeat Student Music Awards, Conrad has performed in Germany, Italy, China, and throughout the United States. His works have been commissioned by esteemed organizations including Excelsior Charter Schools and the West Point Army Jazz Knights. He's been a frequent presence at the Rochester International Jazz Festival, Twin Cities Jazz Festival, and Iowa City Jazz Festival (where he'll play again this year); his arrangement of Duke Ellington's "Come Sunday" premiered at Carnegie Hall in 2014; his six-minute composition The Genesee was performed as part of Barack Obama's second inauguration.
And on July 2, local audiences can be treated to two full hours of Conrad's varied talents when Davenport's Village Theatre hosts an evening with the 15-piece ensemble Mike Conrad's All Angles Orchestra – a synthesis of jazz and big-band stylings touring in support of its debut album New Angle, and a group whose specific sound Conrad himself finds difficult to describe.
"It's really hard to pin down just what it is," says Conrad. "At its core, it's a jazz group because of the groove that the rhythm section provides and the elements of improvisation. But then you've got strings and woodwinds that give it this extra sonic element. It's really kind of all-encompassing – which was part of the idea behind the name 'All Angles.'
"We had a guest artist on the album, the great trumpet player Alex Sipiagan, and I really like the way he described it: 'It's a small-group mentality with a large-orchestra sound.'"
Personal Jazz Journey
Conrad himself has been playing with large orchestras – and immersing himself in jazz – since he was a kid, his grade-school-band experience leading directly to involvement in the Quad Cities' All-City Jazz Band under the direction of Al Guss.
"He used to teach at Sudlow" Intermediate School, says Conrad of Guss, "and he had this metro-area youth jazz ensemble. And that was something I got involved in through a camp they did at the Annie Wittenmyer complex. My mom somehow heard about that, and that they needed trombone players, and signed me up." He laughs. "Maybe she just wanted to get me out of the house for a week.
"But I went to this camp, and that was my first exposure to jazz. And even though I had no idea, really, how to play that style – and I could barely play my instrument at that point – I knew I really liked it, and so I kind of started my own personal journey.
"As far as jazz music goes," Conrad continues, "I was mostly self-taught by checking out CDs from the Bettendorf Public Library's jazz section – finding stuff I liked, and doing a lot of work in my basement trying to learn by ear. Early on, it was Duke Ellington who really got me going. There's this recording of his band playing at the Newport Jazz Festival live in 1956, and it has this one track that's like 15 minutes long that's kind of pointed to as the 'revival of jazz,' especially for Duke Ellington. It's this really energetic performance and you can hear the crowd going nuts, and that really spoke to me. I listened to that thing over and over and over, and it piqued my interest to find other things, too."
His jazz interests were further piqued during his subsequent involvement with the Bix Beiderbecke Youth Memorial Jazz Band, plus the performances Conrad witnessed during the annual Bix Beiderbecke Memorial Jazz Festivals. "I remember hearing John Allred play," he says. "He was here with one of the Dixieland groups that came through. I don't remember the name of the group, but his playing, in particular, was really exciting for me as a young jazz trombonist."
By his freshman year at Bettendorf High School, says Conrad, "I pretty much decided that this was my path. I didn't know specifically what I'd do in music – whether I'd be a teacher or a performer or how I'd primarily make my money. But I really couldn't see myself doing anything else."
And that knowledge increased, says Conrad, when the musician began to compose works of his own in high school, and later at the University of Northern Iowa (where he earned his bachelor's degrees in jazz education and music composition) and Rochester, New York's Eastman School of Music (where he earned his master's in jazz composition and arranging).
"The thing that's fun about jazz composition," says Conrad, "is trying to create an environment for soloists to be featured. Where you're writing things and creating this backdrop for them, but still allowing them to express their individual creative voices within the confines of what you've created. It's so much different from classical composition, because the element of improvisation is also part of the composition. That's really exciting for me, and especially when you're hearing something you've written being played for the first time. That's the kind of thrill that I think keeps composers going."
It's also the kind that – as one of the All Angles Orchestra's three principal composers – Conrad gets to experience as author, bandleader, and performer in his new ensemble.
"The group sort of started as an outlet to write for a different kind of ensemble," says Conrad of the orchestra's 2015 origins. "The jazz big band is kind of a traditional ensemble – five saxophones, four trombones, four trumpets, and a rhythm section – and I love writing for this kind of group. But I felt myself starting to get into a bit of a comfort zone with that, and I guess I was looking for something to push me in a different direction."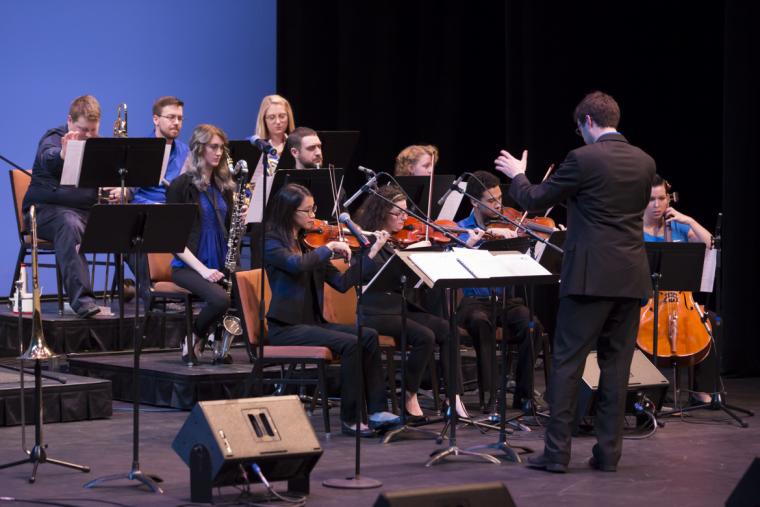 Balancing Act
What Conrad had in mind was an ensemble of four strings, three woodwinds, three brass, and a rhythm section with percussion that wouldn't be strictly beholden to traditional jazz stylings.
"I also love orchestral and classical music," says Conrad, "and there's this album called Wide Angles by Michael Brecker that I've always loved, which has this kind of jazz and orchestra crossover element to it. And I looked at what instrumentation they used, thinking that would be a good starting point – finding a way to incorporate jazz elements with strings and woodwinds.
"So basically I got some friends together, mostly musicians at the University of Northern Colorado, and we just started asking around, trying to find the best players in Greeley and seeing who might be interested in this sort of thing. And we got a good response early on – and an interesting mix of jazz musicians and people who didn't really have an improvisation background."
Conrad planned on having an ensemble of 15 even before musicians were approached, saying, "That seemed like a good balance of different instrument groups that offered a lot of different possibilities for combining them." But even though the group's planned performance pieces looked strong on paper, Conrad admits he wasn't altogether certain how they'd sound in practice.
"I was actually a little nervous going into those first rehearsals," says Conrad. "I mean, I'd never written for this kind of group, and I was anxious to hear what I had written, and see if it worked. And," he adds with a laugh, "it mostly did.
"The really tricky thing with this group is balance of sound. Because when you've got a drummer playing full-force, and these other louder elements, you still have to hear the strings and the woodwinds. That was one thing I discovered early on. It's the kind of group that really works well in a recording studio, but when we were playing live, it was like, 'Oh, man, I can't hear all these notes I wrote!'
"Ultimately, what I realized is that we needed sound reinforcement," Conrad says. "So now we mic the strings and the woodwinds so you can really hear all the instruments." And just as crucially – for both performance- and pleasure-based reasons – the musicians can all hear each other.
"It's so fun to see these musicians interacting," says Conrad of his All Angles Orchestra. "Like you have the cellist, for example, watching somebody play an improvised solo, and just being kind of amazed by that. But then you watch these jazz musicians admire the beautiful sounds that these orchestral musicians are getting. It's just such a cool thing to see people from different musical worlds coming together like this."
And it's a sight that Midwestern audiences, starting on June 27, will be seeing when Mike Conrad's All Angles Orchestra embarks on its very first tour, its Village Theatre stop landing amid concerts in cities including Chicago, St. Louis, Des Moines, and Lincoln, Nebraska. Both the tour and the group's New Angle album were financed primarily through the University of Northern Colorado's inaugural Art Innovation Award – a fortuitous circumstance that, Conrad stresses, he's deeply grateful for.
"We were able to use the money to help finance all this stuff – which, it turns out, is a lot," the musician says with a laugh. "When you have this large a group and you're trying to do a studio-quality album, and then you have to rent all these vehicles, and figure out all of the lodging … . It's a big task. As I'm finding out."
Mike Conrad's All Angles Orchestra performs at the Village Theatre (2113 East 11th Street, Davenport) at 7 p.m. on Sunday, July 2. Tickets are $5, and more information is available by calling (563)326-7529 and visiting MConradMusic.com.
For more information on the orchestra and its album New Angle, visit AllAnglesOrchestra.bandcamp.com.