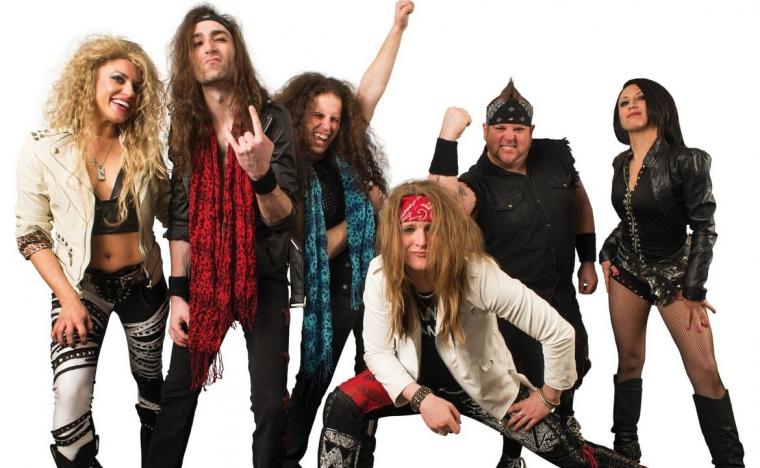 Saturday, July 21, 8 p.m.
District of Rock Island IL
Held in celebration of the Daiquiri Factory's 14th anniversary and the Rock Island Brewing Company's 40th, the District of Rock Island will house its annual, dual anniversary party for both venues on July 21, an outdoor event featuring the latest area appearances by the glam-rock tribute artists of Hairbanger's Ball.
Founded in Chicago in 2001, Hairbanger's Ball currently boasts a lineup of six exhilarating and pseudonymous musicians: Mick Jäger and Rikki Rhoads on guitar, Polly Pantz and Clare Brush on keyboards, Rod Viper on bass, and Kidd Khaos on drums. Playing iconic rock songs and power ballads by bands including Guns N' Roses, Mötley Crüe, Bon Jovi, and Poison, the popular cover band routinely plays over 150 concert engagements per year, each Hairbanger's Ball member dressed in mid-'80s glam-rock-wear and thrilling crowds to instantly familiar tunes such as "Every Rose Has Its Thorn," "Kickstart My Heart," "Sweet Child of Mine," and "Wanted Dead or Alive."
Although none of the musicians were old enough to hit the original stadiums and clubs in which their inspirations played, bandmate Jennifer Remis – a.k.a. Polly Pantz – told the Peoria Journal-Star, "We all sat in our parents' basements and watched MTV and listened to the radio and bought the cassettes. We're real fortunate – we're able to re-create it for the younger people that weren't able to live it up, go to the concerts, hang at the nightclubs. And for the people that were partying it up during that time, they can come to our show and relive it."
She added, "People say, 'Your band will go on forever, it will never get old.' You know what? I don't think people will ever stop enjoying this music and what it stands for. It really stands for sex, drugs, and rock 'n' roll, and it's happy music. I don't ever see it going away."
Gates to this year's Daiquiri Factory/RIBCO Anniversary Party open at 7 p.m., with the area three-piece ensemble Corporate Rock opening for Hairbanger's Ball at 8 p.m., and tickets to the July 21 event are $10. For more information on the night, visit DaiquiriFactory.com and RIBCO.com.