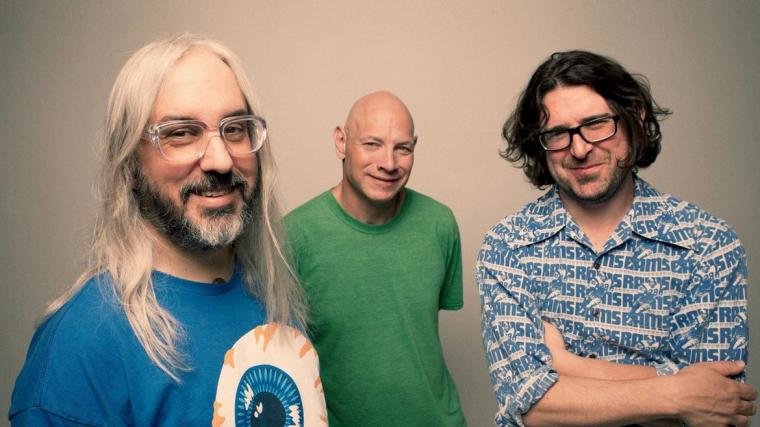 Monday, September 10, 8 p.m.
Codfish Hollow Barn, 5013 288th Avenue, Maquoketa IA
Playing past hits along with songs from the group's most recent release Give a Glimpse of What Yer Not – a work that, according to ConsequenceOfSound.net, "continues the band's decades-long path of great records" – the alternative rockers of Dinosaur Jr. play a Codfish Hollow Barn concert on September 10, their latest album described by The Quietus as "a perfect synthesis of all the incredients that have made them one of the most intriguing and long-lasting guitar bands in recent history."
Founded in 1984 by guitarist J Mascis, bassist Lou Barlow, and drummer Emmett "Murph" Murphy, Dinosaur Jr. began its professional tenure without the "Jr.", recording the band's 1985 debut Dinosaur for $500 at a home studio in the woods outside Northampton, Massachusetts. The band's music was considered extremely eclectic and revealed a combination of musical styles that was very unusual for the mid-1980s, blending the speed of hardcore punk, Crazy Horse-style garage rock, slower and monolithic Black Sabbath-style metal riffs, folk rock, twangy country-rock, and the dour moods of gothic music. After the record's release, Dinosaur would frequently drive to New York City to perform, and after one of their shows, the musicians of the New York-based alternative rock band Sonic Youth declared themselves fans, inviting Dinosaur to join them on their 1986 tour of the American Northeast and northern Midwest. Following that tour, the group released its second album You're Living All Over Me in 1987, but were consequently sued over their band name by the supergroup The Dinosaurs, resulting in the new name Dinosaur Jr.
To date, the discophraphy of Dinosaur Jr. – its founding members currently based in Amherst, Massachusetts – is composed of 11 studio albums, two live albums, 15 EPs, and seven compilation albums. Mascis, in particular, has also emerged as bona-fide rock icon, his distinct guitar sound hearkening back to 1960s and 1970s classic rock and characterized by extensive use of feedback and distortion, which became highly influential in the alternative-rock movement of the 1990s. And Dinosaur Jr.'s acclaim as genre masters has continued through the release of 2016's Give a Glimpse of What Yet Not, which Exclaim's Ian Gormely praised for the band's ability to "push the boundaries of their sound without tarnishing their own legacy."
Dinosaur Jr.'s September 10 concert starts at 8 p.m., admission is $28-30, and more information and tickets are available by visiting CodfishHollowBarnstormers.com.