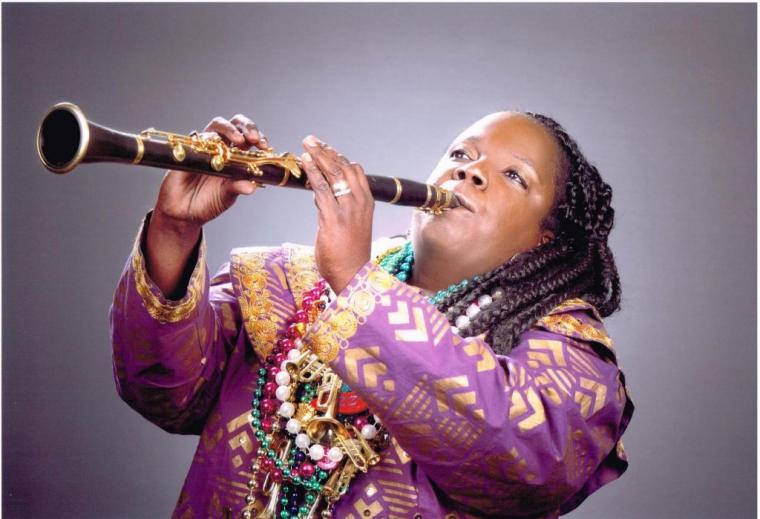 Tuesday, February 21, 7:30 p.m.
University of Dubuque's Heritage Center, 2255 Bennett Street, Dubuque IA
Thursday, February 23, 10 a.m.
Ohnward Fine Arts Center, 1215 East Platt Street, Maquoketa IA
Having traveled the world performing their energetic, original, and soulful music in 47 states and 24 countries to date, the joyful musicians of Doreen's Jazz New Orleans bring their lauded talents to two area venues just in time for Mardi Gras week: on February 21 (Mardi Gras Day itself) at the University of Dubuque's Heritage Center, and on February 23 at Maquoketa's Ohnward Fine Arts Center.
Born in 1966, Doreen Ketchens is a jazz clarinetist famed for her renditions of Dixieland and traditional jazz, and the artist has performed at concert halls, music festivals, and U.S. embassies, as well as in decades of weekly performances in the Royal Street Performing Arts Zone in the French Quarter of New Orleans with her band, Doreen's Jazz New Orleans. Ketchens has performed for four U.S. presidents – Bill Clinton, George Bush Sr., Ronald Reagan and Jimmy Carter – and was described by Nola.com in 2012 as one of the cultural ambassadors of New Orleans. Nicknamed "Lady Louis" because of her ability to hit and hold powerful high notes and her love of Louis Armstrong's performance style, she has performed with talents including Ellis Marsalis, Jon Faddis, Trombone Shorty, Al Hirt, Dorothy Donegan, The Black Crows, and Jennifer Warnes, and has been seen around the world by millions of people via media and fan videos of her performances. The clarinetist has also been featured in numerous documentaries about New Orleans, its music, and its heritage, as well as on television series including HBO's Treme.
Ketchens began playing in Louisiana's Jackson Square with her first band The Jackson Square All-Stars, which evolved into her current outfit. Sharing traditional American Jazz in Africa, Asia, Canada, Europe, South America, Russia, and the United States, Doreen's Jazz New Orleans has performed with programs sponsored by Jazz at Lincoln Center and the U.S. Department of State, and its headliner introduced her daughter Dorian Ketchens-Dixon, when she was nine, as a drummer at the New Orleans Jazz & Heritage Festival for one song in a set. Today, she is one of the regular drummers backing the group. In 2006, Doreen was also part of a program for South African cultural exchange with the Field Band Foundation, an engagement that was sponsored by the U.S. Department of State's Bureau of Educational and Cultural Affairs and Jazz at Lincoln Center in Johannesburg, Durban, and Cape Town.
Doreen's Jazz New Orleans will play their February 21 engagement in the John & Alice Butler Hall of the University of Dubuque's Heritage Center, with tickets to the 7:30 p.m. concert $27-41, and the group will also offer a morning performance and jazz discussion at the Ohnward Fine Arts Center on February 23, with participation in the 10 a.m. program free of charge (though reservations are appreciated). For more information on the February 21 performance, call (563)585-7469 and visit Dbq.edu/HeritageCenter, and for more on the February 23 engagement, call (563)652-9815 and visit OhnwardFineArtsCenter.com.