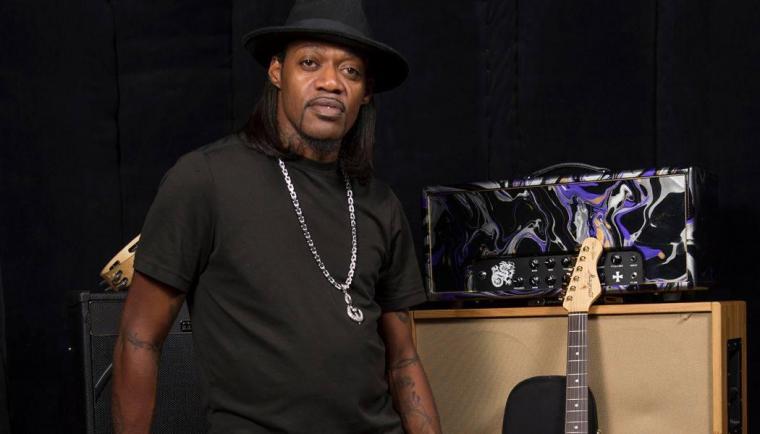 Thursday, October 11, 8 p.m.
The Redstone Room, 129 Main Street, Davenport IA
Rock and blues guitarist/vocalist Eric Gales has already earned wild praise from his peers, with Carlos Santana calling him "absolutely incredible" and Joe Bonamassa labeling him "one of the best, if not the best guitar player in the world." On October 11, Gales will no doubt equally thrill fans at Davenport's Redstone Room, sharing the venerable talents that led Dave Navarro to state, "How Eric Gales isn't the hugest name in rock guitar is a total mystery."
Gales first picked up the guitar at age four, with his older siblings Eugene and Manuel teaching him songs and licks in the styles of artists such as Jimi Hendrix, Albert King, and B.B. King. In 1985, Eric began to play blues competitions with Eugene backing him on bass – although Eric plays a right-handed guitar "upside-down" (with the bass E string on the bottom), he is not naturally left-handed – and in 1990, Eric and Eugene Gales signed with Elektra Records. Together with drummer Hubert Crawford, the trio released 1991's The Eric Gales Band and 1993's Picture of a Thousand Faces, with Eric named "Best New Talent" in an early-'90s Guitar World Reader's Poll. During this period, The Eric Gales Band also enjoyed radio hits in "Sign of the Storm" (which rose to number nine on Billboard's U.S. Mainstream Rock chart) and "Paralyzed" (which made it to number 31), and made its TV debut on The Arsenio Hall Show
Over the years since, Eric Gales has been active both with the Eric Gales Band and as a solo performer, collaborating with talents such as Carlos Santana (at Woodstock '94), Lauryn Hill, and Gary Clark Jr. Having released more than a dozen albums since his 2001 MCA solo debut That's What I Am, Gales is currently touring in support of his most recent release Middle of the Road, which became the artist's first album to land on Billboard's Blues Album chart, peaking at number four. Middle of the Road has also been one of Gales' most acclaimed works to date, with Blues Blast Magazine calling the album "exceptional throughout," and RockAndBluesMuse.com's Martine Ehrenclou deeming it "nothing short of outstanding … by far the best album I've heard in a long time."
Eric Gales' October 11 concert at the Redstone Room opens with a set by Kevin B.F. Burt, admission to the 8 p.m. show is $15-18, and more information and tickets are available by calling (563)326-1333 or visiting RiverMusicExperience.org.