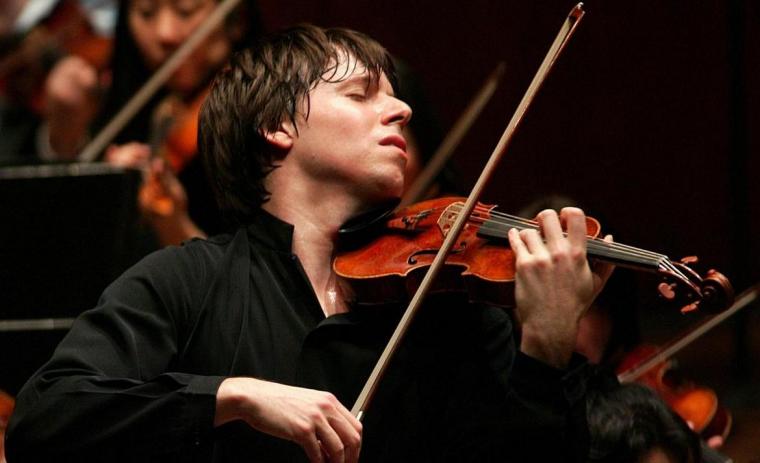 Thursday, May 3, 7:30 p.m.
Adler Theatre, 136 East Third Street, Davenport IA
Presented as a gala-event concert in the Quad City Symphony Orchestra's 2017-18 season, "An Evening with Joshua Bell" will, on May 3, treat Adler Theatre audiences to the soaring classical stylings of one of America's most revered musicians – a Grammy Award-winning violinist whose career has spanned more than 30 years as a soloist, chamber musician, conductor, and recording artist.
Born in Bloomington, Indiana in 1967, Bell received his first violin from his parents at age four, after they discovered that he was making music by stretching rubber bands to different lengths on dresser drawers. His violin studies became serious when, at age 12, Bell attended the Meadowmount music camp in Westport, New York and met the renowned Indiana University instructor Josef Gilgold, who would later became his mentor. Bell made his orchestral debut at age 14 with Riccardo Muti and the Philadelphia Orchestra – consequently becoming the orchestra's youngest-ever soloist – and his first recording, Bruch Mendelssohn Violin Concertos, was released in 1988.
Over the three decades since, Bell received a Grammy for his performance in the 2000 recording of Nicholas Maw's Violin Concerto – a piece written specifically for him – and his album Romance of the Violin not only won Billboard's 2004 Classical Album of the Year Award, but earned the violinist his first number-one position on Billboard's Classical Music chart. (Bell's subsequent chart-topping albums have included 2006's Voice of the Violin, 2008's Vivaldi: The Four Seasons, and 2012's French Impressions.) In 2007, Bell received the prestigious Avery Fisher Prize and subsequently accepted a post as senior lecturer at Indiana University's Jacobs School of Music. And in 2011, he was named music director of the acclaimed Academy of St. Martin in the Fields chamber ensemble established by the legendary British violinist and conductor Sir Neville Marriner – becoming the only person to hold this post since Marriner formed the orchestra in 1958.
"An Evening with Joshua Bell," which finds its headliner performing on the 1713 Huberman Stradivarius violin, takes place at 7:30 p.m. on May 3, and the concert will be followed by a 9:15 p.m. "Champagne Afterglow" event in the Davenport RiverCenter's Mississippi Room, with attendees enjoying dessert, drinks, and the opportunity to meet Bell in person. Tickets are $33-98 for the concert and $30 for the post-show reception, and more information and tickets are available by visiting QCSO.org.