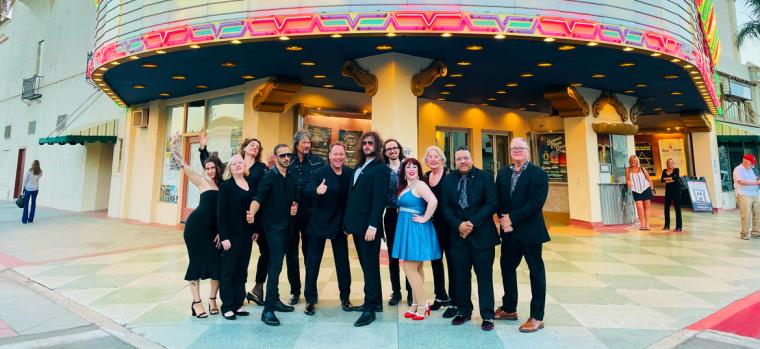 Thursday, January 26, 7:30 p.m.
University of Dubuque's Heritage Center, 2255 Bennett Street, Dubuque IA
Performing from an iconic repertoire that boasts "Mr. Blue Sky," "Telephone Line," "Livin' Thing," "Don't Bring Me Down," "Xanadu," and song that inspired the group's moniker, a premier salute to Jeff Lynne's Electric Light Orchestra takes the stage at the University of Dubuque's Heritage Center on January 26, with the venue hosting an evening featuring the 12 talented tribute artist artists of Evil Woman: The American ELO.
An English rock band formed in Birmingham in 1970 by songwriters and multi-instrumentalists Jeff Lynne and Roy Wood with drummer Bev Bevan, the music of Electric Light Orchestra (ELO) is characterized by a fusion of pop, classical arrangements, and futuristic iconography. After Wood's departure in 1972, Lynne became the band's sole leader, arranging and producing every album while writing nearly all of their original material. For their initial tenure, Lynne, Bevan and keyboardist Richard Tandy were the group's only consistent members. ELO was formed out of Lynne's and Wood's desire to create modern rock and pop songs with classical overtones, and was derived as an offshoot of Wood's previous band, the Move, of which Lynne and Bevan were also members. During the 1970s and 1980s, ELO released a string of top 10 albums and singles, including the band's most commercially successful album, 1977's Out of the Blue. Two ELO albums reached the top of British charts: 1979's disco-inspired Discovery, and 1981's science-fiction-themed concept album Time. In 1986, Lynne disbanded the group, but he re-formed it in 2014 with Tandy as Jeff Lynne's ELO.
During ELO's original 13-year period of active recording and touring, they sold over 50 million records worldwide, making them one of the best-selling music groups of all time. They collected 19 CRIA, 21 RIAA, and 38 BPI awards, and from 1972 to 1986, ELO accumulated 27 top 40 songs on the UK Singles Chart, plus 15 top-20 songs on the U.S. Billboard Hot 100. The group's double-platinum-selling soundtrack for the Olivia Newton-John musical Xanadu spawned hit singles from both Newton-John ("Magic," a chart-topping hit in the United States, and "Suddenly" with Cliff Richard) and ELO ("I'm Alive", which went gold, as well as "All Over the World" and "Don't Walk Away"). Meanwhile, in 2017, the key ELO members Wood, Lynne, Bevan and Tandy were inducted into the Rock and Roll Hall of Fame.
With their brilliant arrangements, flawless musicianship, and superlative vocals, ELO expanded the concept of great melodies, epic song structures, and grand orchestrations. The tribute performances by Evil Woman: The American ELO embody those achievements by featuring many of the progressive-rock hits that led to ELO becoming one of the most popular groups of the 1970s. Its 12-member ensemble includes Kevin Fafard (lead vocals, guitars), Nigel Holland (musical director, keyboards, vocals), Rebecca Catalano (vocals), Robert Smith (keyboards, vocals), Jimmy Wiseman (bass, vocals), Leon E. Alexander Jr. (drums), Ron Halsey (guitars, vocals), Michael Mosgrove (guitar), Stephen O'Leary (string arrangements), Nancy Crockford (orchestra leader, violinist), Anne Parrett Vita (cello), and Casey Copeland (violin).
Evil Woman: The American ELO will perform in the John & Alice Butler Hall of the University of Dubuque's Heritage Center on January 26, admission to the 7:30 p.m. show is $28-40, and more information and tickets are available by calling (563)585-7469 and visiting Dbq.edu/HeritageCenter.