Introduced to jazz at an early age by her mother, singer/songwriter Dee Alexander grew up with "the classics." In a recent interview, Alexander said, "I used to ask [my mother], especially when she would play Billie Holiday, 'Wow, she sounds so sad... . What's wrong with her, and why is she whining about her man?'"
Even if she didn't fully appreciate Billie's soulful crooning as a child, Alexander knew that jazz was her kind of music. "I loved it instantly," she explained. "I consider myself to be a free spirit ... I don't like to be held by boundaries or anything, so that's what I like about jazz. You take one song and you can do it 50 times, 50 different ways."
Now, Alexander has grown into a full-fledged jazz diva, earning such honors as the 2007 Chicagoan of the Year in Jazz Award from the Chicago Tribune and the 2008 Jazz Entertainer of the Year at the Chicago Music Awards. Often described as "a singer's singer," Alexander's talent has earned her wide recognition. The Chicago Reader said, "She enters a realm of pure musical thought that most singers only dream about."
And with a self-described "eclectic" style, Alexander's wide-ranging ability has something for all kinds of jazz fans. The Chicago Sun-Times praised her versatility: "Alexander can scat-sing, stretch a melody way out and stay in tune, or coo her way through a ballad. She also sings gospel, and can pack a lot of punch."
An international touring schedule keeps Alexander busy, with highlights including the 2006 and 2007 "Made in Chicago" festival in Poznan, Poland, the 2008 "Sons d'Hiver" festival in Paris, and plenty of performances back home, notably the 2007 "Sirens of Song: Tribute to Nina Simone & Dinah Washington" in Chicago's Millennium Park.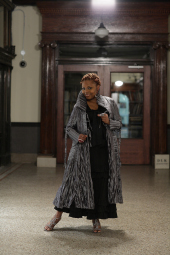 With the February release of her first solo CD, Wild Is the Wind, Alexander has established herself not only as a singer but also as a talented songwriter. Along with works by "Light" Henry Huff, Malachi Thompson, and Washington, Alexander also wrote four of the songs. "Things come to me in dreams," she said. "Or sometimes I'm just laying there in the middle of the night listening to the birds, the night birds, and something - a melody - will come into my head," she said.
One of her original songs, "C U on the Other Side," is an ode to Huff, a Chicago multi-instrumentalist who served as a mentor and passed away in 1993. "A day doesn't go by that I don't think about him," the singer said. In her tribute to Huff, Alexander swings lightly through each note, mimicking Huff's instrumental playing.
Alexander not only pays homage to her heroes and mentors on her new CD but creates her own style, often producing instrumental tones or imitating the chirping of birds with her distinctive vocal technique. "I like trying different things and just seeing what works," she said. "How else are you going to know if it works unless you try it out?"
Of Alexander's flexible style, the Chicago Tribune said, "Equally adept in mainstream swing and outer-fringe experimentation, big-band jazz, and small-group fare, Alexander stands as a jazz vocalist for all occasions."
Alexander said that she is looking forward to airing her creative spirit at the Chicago Jazz Festival in September, at which she will premiere a set of entirely original music, commissioned by the Jazz Institute of Chicago. She will be performing with the Sirens Orchestra - the same ensemble with which she performed at the 2007 tribute to Nina Simone and Dinah Washington.