Raccoon Motel, 315 East Second Street, Davenport IA
Friday, February 24
7 p.m. doors / 8 p.m. show
$10/21+
Though largely known as a venue for singer/songwriters and scaled-down indie rock, Davenport's Raccoon Motel has been a consistent host for metal bands of varying extremity and national and regional renown. Friday, February 24 sees a stylistically diverse bill of four uniquely pulverizing Iowa and Illinois bands, each testing the boundaries of good taste as well as the downtown-Davenport noise ordinances.
While listening to Gaunt's Dethcrust EP for the first time, I set about trying to unclog a particularly foul bathroom sink. The water had turned completely black, dotted with floating reflective spots not unlike small oil slicks, and an ungodly smegma of hair, dirt, and cloudy faucet discharge coated the basin. A greasy, sweaty man in a cutoff Motörhead shirt doing battle with murky filth is a fine visual representation of the Chicago band's mixture of black metal, death metal, and crust punk. If one were to speed up the grainy, black-and-white surveillance footage of me working the clog taken by the "secret" NSA cameras in my home, Gaunt would have a video all ready to go.
The sink incident could also describe Obsidian Hammer, if I stopped to smoke some weed midway through unclogging the job, then punched out the mirror like Martin Sheen in Apocalypse Now. While Gaunt may be headlining, the return of the QC's Obsidian Hammer after a seven-year absence is arguably the night's biggest development. Obsidian Hammer are the rare band for whom the overused term "sludge" is a proper descriptor; like Eyehategod and Buzzov•en, their "hateful blues rock" punctuates dragging riffs with punk anger and lurching boogie. It's a hybrid that, if it were a product, would have been rejected by Purina and either dumped in the river or buried somewhere in West Davenport. Obsidian Hammer are the soundtrack to doing bong rips and getting even angrier instead of mellowing out. They are the audio equivalent of the black residue that sticks to your shoes after drinking Kessler whiskey from a plastic bottle and smoking brick weed out of a Busch Light can on the steps of the Reader building. The wretched will celebrate their return; the weak will turn away in revulsion.
Frontal Assault are young – barely into their 20s, last I checked – and I don't care enough to double-check. Described as "one of the best, hardest working Iowa bands," they already have a couple of powerful releases under their bullet belts, with more on the way. Thrash metal is not known for innovation, but this Cedar Rapids band have the time and the talent to do the damn thing really well, and seeing them at a local show could make a great "I saw those guys back when …" story 10 years down the line.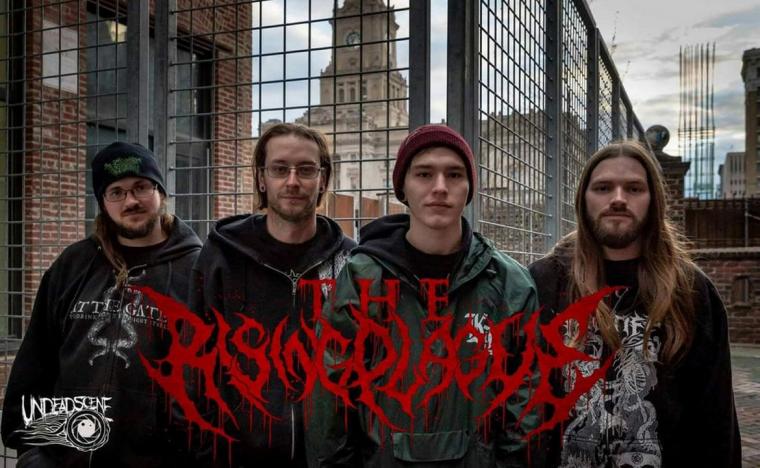 There is a terrifying brutality to the flatlands of northern Iowa. The tiny town of Ledyard is one of many that could be wiped away in minutes by a prairie tornado, with nothing but the debris field to leave any trace of life. When you live in a 120-person town, miles on flat miles from everywhere, naming an album The End of Civilization is not much of a stretch. Whether the hostility of nature or the terrifying isolation of rural life have any effect on the music of The Rising Plague is a moot point; their heady, progressive take on death metal is heavy enough on its own, with a marked attention to detail and an infusion of melody along with influence from other styles.
Set times have been provided: The Rising Plague will rage thoughtfully from 8 to 8:30 p.m., Frontal Assault will thrash youthfully from 8:45 to 9:15 p.m., Obsidian Hammer will doom angrily from 9:30 to 10:15 p.m., and Gaunt will spew filth from 10:30 to 11:15 p.m. Whether or not these parameters will actually be met (they rarely are), sincere thanks are due to whomever included these details, not least because they indicate the conclusion of the show at a civilized hour.