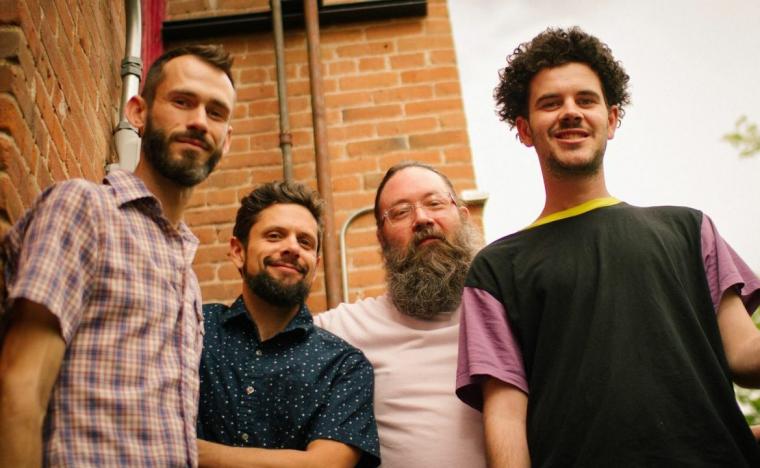 Thursday, March 2, 8 p.m.
The Redstone Room, 129 Main Street, Davenport IA
With Relix magazine stating that "the band combines soulful ambiance with nimble twangin'" and Marquee magazine adding that its musicians are "going deep, and doing so gracefully," the Colorado-based string musicians of Head for the Hills headline a March 2 concert at Davenport's Redstone Room is advance of their newest EP Turn the Time, set for release on March 22.
Lauded by the Denver Post for delivering "a smart mix of alternative influences and a knack for driving down-home rhythm that gets crowds to ground their heels is," Head for the Hills was founded by Adam Kinghorn (guitar/vocals), Joe Lessard (violin/vocals), Matt Loewen (upright bass/vocals), and original member Mike Chappell (mandolin) during their freshman year of college at Colorado State University. Prior to this, Kinghorn and Chappell played music together as high school students in Golden, Colorado, and upon meeting Lessard and Loewen, they decided to pursue their mutual interest of bluegrass music. In 2003 and 2004, they played house parties and small local venues throughout the Front Range of Colorado, performing their first official show at Golden's Higher Grounds Cafe in February of 2004. The following year, Head for the Hills went on their first out-of-state tour to the Midwest, playing their inaugural season-opening show at the Mishawaka Amphitheatre near Fort Collins, Colorado later in 2005.
In 2007, Head for the Hills released their first studio album Robber's Roost and won the Northwest String Summit band competition at Horning's Hideout, an acoustic music festival outside Portland, Oregon. Over the next several years, the band played the Wakarusa Music Festival, DelFest, High Sierra Music Festival, SXSW, Summer Camp Music Festival, RockyGrass, Mulberry Mountain Harvest Music Festival, and FloydFest, also offering performances on NPR's Ideastream and eTown. In 2010, Head for the Hills released a self-titled album and followed it in 2014 with Blue Ruin, an album was less focused on traditional bluegrass sounds that explored influences of hip-hop and gypsy jazz. Since then, recordings such as Say Your Mind and the upcoming Turn the Time have followed, and Head for the Hills was awarded "Best Bluegrass in Colorado" citation four times via Denver's Westword magazine.
Head for the Hills plays its March 2 engagement at Davenport's Redstone Room with an opening set by Miles Over Mountains, admission to the 8 p.m. concert is $12-15, and more information and tickets are available by calling (563)326-1333 and visiting CommonChordQC.org.