Running Man/Art Monk
Saturday, January 21, 8 p.m. (7 p.m. doors)
Rozz-Tox, 2108 Third Avenue, Rock Island
$10/All Ages
Rozz-Tox is "taking a month off to reset, rest & and work on some other projects[.]" January is a right proper time to rest and rebuild, and if any business has earned that respite, it's Rozz-Tox – the Rock Island spot has spent more than a decade functioning as a music venue, art gallery, café, bar, hostel, and all-in-one "culture hub," weathering the plague and coming out on the other side with fresh ideas, including all-vinyl DJ nights curated by local and regional musicians and knowledgeable non-musicians. The venue is breaking its winter's rest for two special events: an experimental show at the end of the month, and, on January 21, the formal QC headlining debut of Running Man.
Running Man was formed in 2022 by a formidable group of Quad Cities musicians. Guitarist Chad Gooch also fronts Tambourine, a band who pack jangling rhythms and gentle hooks in equal supply. Jamie Warren provided the low end in the thundering Lord Green; like Sleep if they were a punk band, Lord Green played frantic hardcore with a doom-laden rumble that could rattle windows on both sides of the river. Warren doubles with Gooch to create a distinctive guitar sound, two axes chiming and clanging and casting a warm sheen over the driving, chugging music.
Drummer Dennis Hockaday also has punk roots, as a former member of Meth and Goats; together with Gooch and Warren, he is also the third member of Running Man to have played bass with Mondo Drag, whose '70s-styled heavy psychedelic/progressive rock was born, honed, and recorded in the Quad Cities before the group split for California. He's also been known for occasional deft displays of analog synth wizardry in his solo project Idpyramid.
Bass duties are handled by Pat Stolley. As a guitarist and vocalist for The Multiple Cat, Stolley put together several albums of melodic, far-reaching indie rock; as honcho/guru of Future Apple Tree II Studios, he's provided local musicians with a rare opportunity to record in a professionally-equipped studio on vintage analog equipment, with experienced engineers, and at a reasonable price.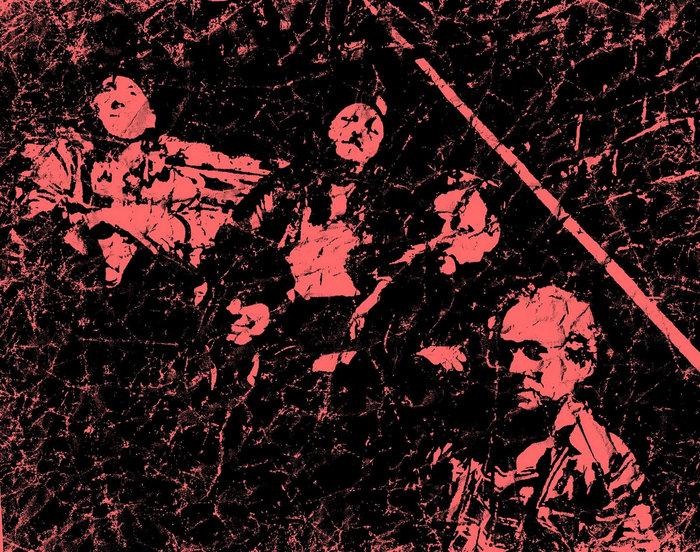 The catalyst for Running Man's formation was vocalist Skip Greer. Formerly the frontman for the Wynona Riders, a '90s pop-punk band based in the San Francisco Bay Area and labelmates with Green Day, Operation Ivy, Alkaline Trio, and others on Lookout! Records, Greer (who's also been singing for the Dead Kennedys since 2008) relocated to the Quad Cities in 2021. As often happens, Greer met the right people at a show and expressed his desire to start a band; as less-often happens, he stumbled onto a set of connections and friendships stretching back two decades.
Future Apple Tree II conveniently provided Running Man with a space to record their first four songs, which were released in short order with little warning in December. Four more tracks are scheduled to join the others on the group's Bandcamp page in the weeks leading up to the show, with a cassette released scheduled to collect all eight.
The songs themselves are catchy without pushing too far into pop, with four of the five members making good use of their vocal mics in shoring up the hooks. Ample bass carries the songs – steady, robust and flowing – and the guitars never crowd each other out. Throwing all tags aside, three of the four songs can simply be described as melodic rock. On the fourth, the "hot kraut" of "The Chosen One," the group lay into a tense motorik beat, a white-knuckle drive down the Autobahn, showing an edge hitherto concealed. Its remove from the tone of the other three tracks raises the possibility of other unexpected stylistic shifts; the curious are advised to head down to Rozz-Tox on the 21st to see what else may be in store.
Opening the Rozz-Tox show are Art Monk from Des Moines, alternately described as "art rock" and "post-Mews hardcore." Their demos suggest a corn-fed Gang of Four or the polite younger brothers of the Jesus Lizard (who got good grades and turned down their amps when asked, but had the Dicks and Big Black in their headphones during study sessions). Judging by their name and the artwork they supplied for the flier, they like football, or at least the former Redskins receiver from whom they've evidently claimed their name. Ask them about it if you go to the show.
Running Man have topped a bill in Dubuque and found themselves accidentally headlining after a cancellation on a December show in Davenport. This will be their first planned outing as headliners on home ground, and consequently the first must-see local show of the year. It's all-ages – bring your kids, siblings, parents, nieces, nephews, mentees, students, etc. One never knows what seeds may be sown.
Listen to Running Man and Art Monk at RunningMan1.bandcamp.com and SoundCloud.com/art-monk.