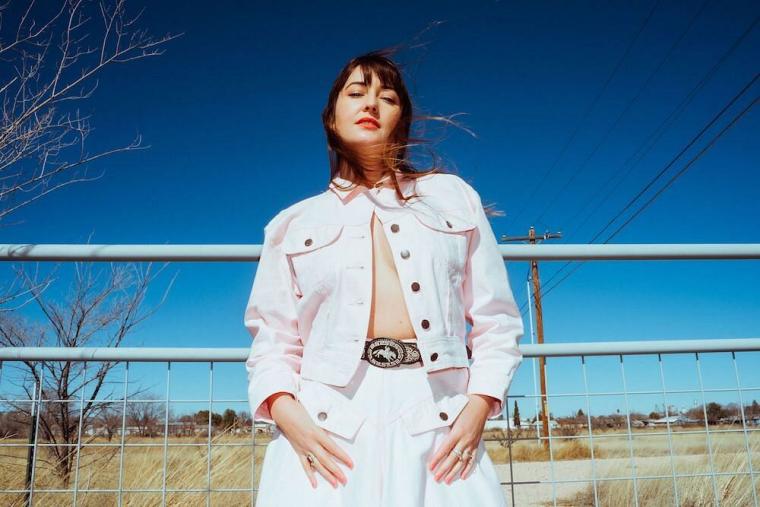 Tuesday, June 6, 6 p.m.
Raccoon Motel, 315 East Second Street, Davenport IA
Currently touring in support of the June release of her newest album Time Ain't Accidental, folk singer/songwriter Jess Williamson headlines a June 6 concert at Davenport's Raccoon Motel, her previous recording Sorceress hailed by Pitchfork as "a mature and freeing record, one that celebrates meager triumphs of womanhood even as it mourns a loss of innocence."
Now based in Los Angeles, Williamson was born in the suburbs of Dallas, and began playing music while a student at the University of Texas at Austin. It was there that she released her first two albums on her own imprint: Brutal Honest: Native State in 2014, and Heart Song in 2016. Following Williamson's move from Texas to California, her third album Cosmic Wink was released on the Mexican Summer label in 2018, and the work immediately established her as a critical favorite. The Guardian stated, "Cosmic Wink charts a romantic epiphany from the beguiling, early Neil Young-ish feel and bright, sitar-like guitar tones of Awakening, Baby via the sultry rock of Dream State to the reverby swell and melodic twangs of Forever." Meanwhile, as stated, in Paste magazine, "While love is by far the most common subject of all time when it comes to recorded music, Williamson wrings new insight and feeling out of this oft-tread territory. Free of sappiness or the numbing effect of anything trite, Williamson's words are the real deal. When she is in love, we all are in love, its transformative power making us feel like its for the very first time."
Williamson's fourth studio album Sorceress was released on May 15, 2020, and received even heftier acclaim. Texas Music Magazine raved that "Sorceress feels like the most elusive and yet the most appropriate title for an album that seems as serene as it does poisonous," while PopMatters declared that the recording "addresses the magical effects of empowerment and self-awareness as Williamson trumpets the need to discover inner strength despite the personal and sociocultural detritus." A month after the album's debut, Williamson released the single "Pictures of Flowers" with collaborator Hand Habits, with National Public Radio's Ann Powers eventually naming it her favorite song of 2020. And prior to the June release of Time Ain't Accidental, in July of 2022, Williamson announced Plains, a collaboration project with singer/songwriter Katie Crutchfield of Waxahatchee. They released their debut album, I Walked with You a Ways, in October last year.
Jess Williamson headlines her Davenport engagement on June 6y, admission to the 6 p.m. concert is $20, and tickets are available by visiting TheRaccoonMotel.com.