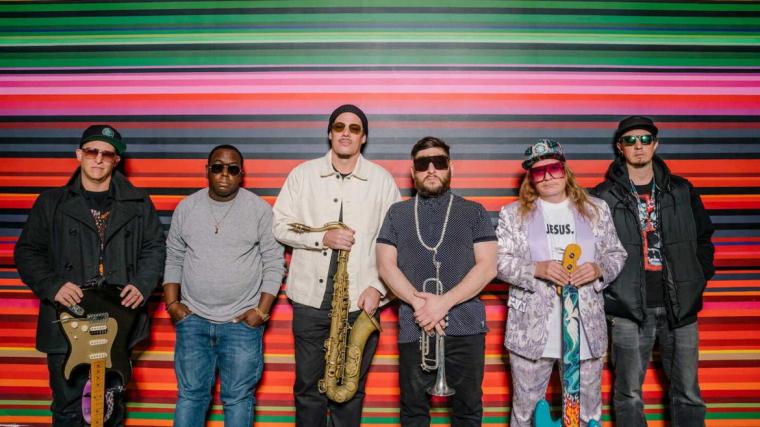 Wednesday, March 22, 8 p.m.
The Rust Belt, 533 12th Avenue, East Moline IL
Performing in support of their latest album Unify, a 70-minute record that Live for Live Music raved "emanates brotherhood, evokes oneness, and embodies inspiration in the face of adversity," the funk artists of Lettuce bring their national tour to East Moline venue The Rust Belt on March 22, their 2022 release also inspiring Glide magazine to rave that the group "does more than enough here to solidify their well-earned status as one of today's leading fun-and-funk bands."
Composed of Adam "Shmeeans" Smirnoff (guitar), Nigel Hall (keyboards, Hammond B-3 organ, piano), Adam Deitch (drums/percussion), Erick "Jesus" Coomes (bass), Ryan Zoidis (saxophone), and Eric "Benny" Bloom (trumpet), Lettuce began in the summer of 1992, when its original founders attended a music program at Boston's Berklee College of Music as teenagers. Brought together by the influence of various funk acts including Herbie Hancock, Earth, Wind & Fire, and Tower of Power, the band jammed throughout that summer before going their separate ways. But in the fall of 1994, its members reconvened as undergrads at Berklee and attempted to play at various Boston jazz clubs, reportedly asking club owners and other musicians if they would "let us play," giving birth to the moniker Lettuce.
Due mainly to positive word of mouth, Lettuce began developing significant followings in New York City, San Francisco, Chicago, and Tokyo, and they released their first CD Outta Here in 2002, followed by their Live in Tokyo album recorded at the Blue Note in 2003. Five years later, drawing heavily from many of the leaders of the 1970s funk movement, Lettuce released their second studio album Rage!, which featured covers of Curtis Mayfield's "Move on Up" and Charles Wright & the Watts 103rd Street Rhythm Band's "Express Yourself". In 2011, Lettuce played on the Royal Family Ball tour with Soulive and accompanied on select shows by Rashawn Ross of the Dave Matthews Band, and it was during this tour that they began playing new songs that would be featured on the band's next album, 2012's Fly! Since then, the group has released five additional albums including last summer's Unify, with Crush hitting the number-one position on Billboard's jazz chart and number five on the Heatseekers chart, and Elevate was nominated for a Grammy Award for Instrumental Album of the Year.
Lettuce brings their "Unify Tour" to East Moline on March 22, admission to the 8 p.m. show starts at $30, and more information and tickets are available by visiting TheRustBeltQC.com.