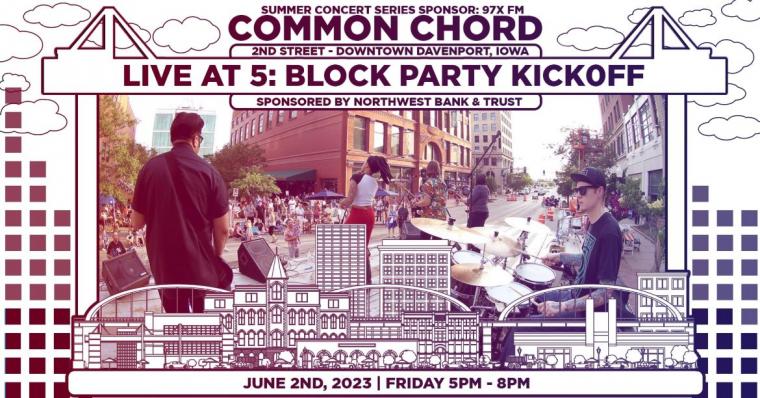 Friday, June 2, 5 p.m.
Laborspace, 311 21st St. Rock Island IL
With the event's performers including Jason Carl & the Whole Damn Band, CJ Parker, and students from the QC Rock Academy, Davenport's Common Chord will host - at Rock Island's Laborspace venue - the Live at Five: Block Party Kickoff on June 2, an introduction to the venue's three-month music series designed to bring downtown Davenport to summertime life with music and community.
At the Friday-evening event, community partners from across the Quad Cities will be on hand, sharing information about their summer program offerings. Guests are invited to check out the latest news from the Quad City Symphony Orchestra, Putnam Museum & Science Center, Figge Art Museum, Quad City Botanical Center, Quad City Arts, Davenport Parks & Recreation, Davenport Junior Theatre, German American Heritage Center, Bix Jazz Society, Bix Beiderbecke Museum, Lincoln Center, Azubuike Arts Council, and Mississippi Valley Blues Society. Attendees will also also get a sneak peak at this season's new OneSound painted pianos. While there, visitors can meet the artists and hear about what inspired their work blending visual art and music to create this exciting and unique public art project. The kickoff will also boast free face painting and balloon animals, with tasty eats and ice treats available from Sweet Sharade.
After the June 2 performances by Jason Carl & the Whole Damn Band, CJ Parker, and students from the QC Rock Academy, Common Chord's Live at Five series will continue with: Funktastic Five (June 9), Blues Rock-it (June 16), the Blackstones (June 23), John Resch & Doggin' Out (June 30), Logan Springer & the Wonderfully Wild (July 7), The Textures (July 14), Crooked Cactus (July 21), Byobrass (July 28), Fair Warning (August 4), Far Out 283 (August 11), the Breaker Brothers (August 18), Rude Punch (August 25), the Matt Fuller Band (September 1), the Knockoffs (September 8), the Velies (September 15), Wicked Liz & the Bellyswirls (September 22), and Michael Moncada & Whiskey High (September 29).
Instead of the Common Chord courtyard, the event will be held at Laborspace in downtown Rock Island (next to Rozz-Tox and Ragged Records), a decision made following Sunday evening's collapse at the apartment complex at 324 Main Street in Davenport. Common Chord is thankful for the partnership of the Rock Island Downtown Alliance, the City of Rock Island, and the businesses and residents near 3rd Avenue and 21st Street for helping provide an alternate location on short notice.
"Our hearts are with those affected by the building collapse earlier this week, and especially with those still searching for missing loved ones," said Tyson Danner, Common Chord's Executive Director. "While it is important for us to continue to gather as a community, highlight arts and culture, and be moved by live music, our first priority is to ensure that first responders can do their important work and that we do not create any further traffic or safety issues in downtown Davenport."
Common Chord's Live at Five: Block Party Kickoff will take place from 5 to 8 p.m. on June 2, admission to the event is free, and more information is available by calling (563)326-1333 and visiting CommonChordQC.org.