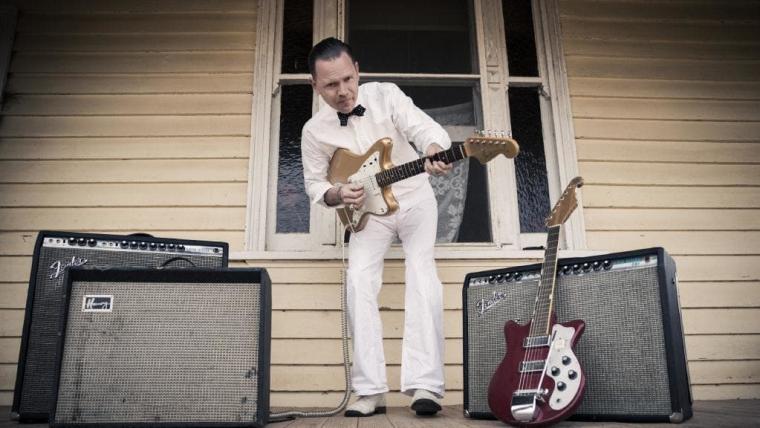 Friday, October 19, 7 p.m.
Triple Crown Whiskey Bar & Raccoon Motel, 304 East Third Street, Davenport IA
Described by NoDepression.com as possessing "a natural signature sound that is as timeless as it is enjoyable," and with his home country's The Saturday Paper deeming his latest album Gon' Boogaloo "a masterpiece," Australian blues artist C.W. Stoneking headlines a Moeller Nights concert on October 19, sharing the talents that led The Guardian to call him "a droll entertainer with a flair for making old-timey sounds into party music for the present."
A winner of Australia's ARIA Music Award for Best Blues/Roots Album, Stoneking recorded his self-titled, independelty released first album in 1998, and followed it with his first studio LP of original blues compositions, King Hokum, in 2005. The album received immediate critical acclaim in the Australian media, and in the year of its release, Stoneking formed his backing band – the Primitive Horn Orchestra – with whom he still performs: James Clark (tuba, double bass), Stephen Grant (cornet), Stu Barker (trombone), and Johnny Machin (drums). Popular radio personality Tim Ritchie picked King Hokum as his favorite album of 2006 on Radio National's Breakfast program, and the recording went on to be nominated for Best Blues/Roots Album at the ARIA Music Awards and win the Best Independent Blues Release Award in the 2007 AIR (Australian Independent Record Industry) Awards.
In 2008, Stoneking released Jungle Blues, his second album of original compositions, which peaked at number 45 on the ARIA Albums Chart. This time, Stoneking's recording won the Best Blues/Roots Album citation, and also earned its artist ARIA Music Award nominations for Best Independent Release, Best Male Artist, and Best Album Cover Art. At the fourth annual AIR Awards in 2009, Stoneking was nominated for Best Independent Album, Best Independent Blues/Roots Album, and Independent Artist of the Year, with Jungle Blues winning the award for Best Independent Blues/Roots Album. With his most recent release Gon' Boogaloo peaking at number 17 on the ARIA Albums Chart, Stoneking is now bringing his blues/country stylings to North America, and in addition to his current tour, he performed on singer/songwriter Jack White's third studio album Boarding House Reach, released this past March.
C.W. Stoneking performs his October 19 concert at the Triple Crown Whiskey Bar & Raccoon Motel with an opening set by Sierra Ferrell, admission to the 7 p.m. show is $12, and more information on the evening is available by visiting MoellerNights.com.