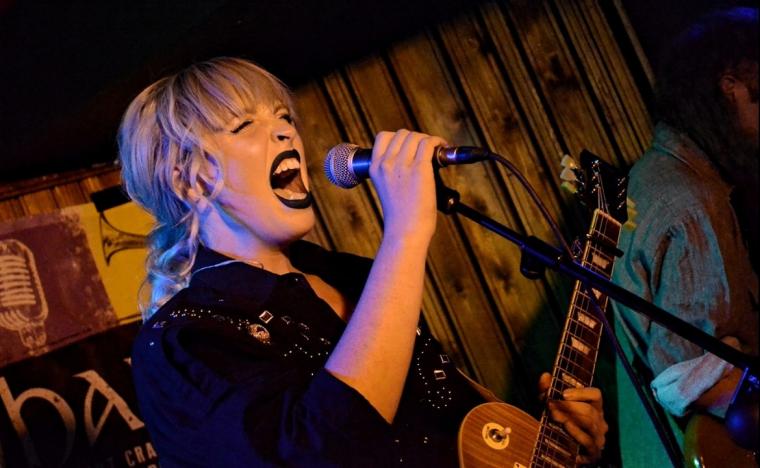 Wednesday, February 13, 7 p.m.
Triple Crown Whiskey Bar & Raccoon Motel, 304 East Third Street, Davenport IA
Touring in conjunction with the fall release of her sophomore album A Million Miles Away, singer/songwriter and guitarist Elizabeth Moen serves as the headliner for a Moeller Nights concert on February 15, with the Iowa native's gifts inspiring The Culture Trip to rave, "Elizabeth Moen is one of those rare artists whose voice, from the first moment you hear it, consumes your entire being, doing away with all previous thoughts and concerns, and leaving you short of breath."
Raised in Vinton, Iowa, and a graduate of the University of Iowa, Moen began playing guitar as a teenager, and was inspired to write her own songs in the style of musical heroes including EmmyLou Harris, Johnny Cash, Van Morrison, and Angel Olsen. After releasing eight songs on her first, self-titled EP in January of 2016, Moen built a repertoire of more than 40 additional ones, sampling genres ranging from classic jazz to modern folk to indie rock. Her album debut That's All I Wanted was subsequently released in May of 2017, leading Little Village magazine to state that Moen's "lyrical content abides by the just-you-and-me canon of folk music, lending itself wholly to the ebbs and flow of the instruments backing her."
Moen has shared stages with the likes of Houndmouth, Lake Street Dive, William Elliott Whitmore, and Margaret Glaspy, and her February tour will take the artist to New York, Tennessee, Missouri, and Minnesota, with stops in Iowa and Illinois in between. Her continued nationwide exposure will also inevitably lead to even more sensational reviews for Moen, who has already received raves from KUNI radio for "the raw yet pure quality of her bluesy, soulful voice," and by Iowa Public Radio for Moen's "jaw-dropping singing voice, tasteful guitar playing, and songs that stay in your head for days." Paste magazine, meanwhile, stated that Moen puts on "the kind of libve show you could dance and move to even if you didn't know a lick of lyrics," adding that "the Iowa native is one to watch out for on the road."
Elizabeth Moen's February 13 concert at the Triple Crown Whiskey Bar & Raccoon Motel starts at 7 p.m. featuring opening sets by Katie Sin and Elly H., admission is $12, and more information is available by visiting MoellerNights.com.