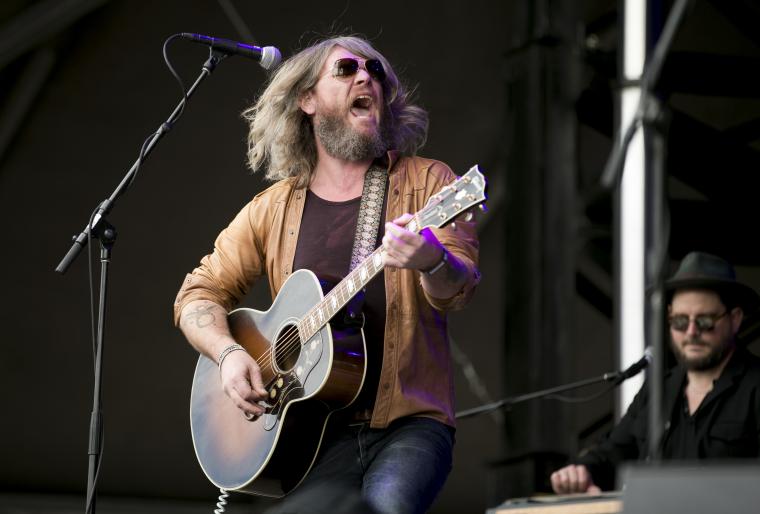 Saturday, August 4, 7 p.m.
Triple Crown Whiskey Bar & Raccoon Motel, 304 East Third Street, Davenport IA
Touring in support of his new album Lifted that LouderThanWar.com called "suffused with summer sunshine and bursting with optimism in the face of global fear and loathing," indie-rock and Americana musician Israel Nash performs as the Moeller Nights headliner on August 4, the artist recently praised by Rolling Stone as a "singer-songwriter who mixes folk, rock, and psychedelia" who "is proving a master of sonic textures."
Originally from Missouri, the 37-year-old Nash moved to New York City in 2006, and began his career performing in Lower East Side clubs such as The Living Room and Rockwood Music Hall. In 2009, he independently released his solo debut New York Town – an album that was eventually picked up by Dutch label Contintental Records Services for European release – and his sophomore outing Barn Doors & Concrete Floors received numerous enthusiastic reviews from publications including The Independent, which praised Nash's "Jagger-esque rip in his voice" and "mournful songs of place and imagination run wild." Extensive touring throughout Europe helped Nash gain greater exposure abroad and at home, as did the success of his 2013 album Israel Nash's Rain Plans, which NPR called "widescreen Americana at its finest … the guitars crackle and burn, the harmonies moan with sadness."
Further critical plaudits came with the 2015 release of Israel Nash's Silver Season, a work that Uncut called "a terrific album" and Mojo praised for its "cosmic poetry, crunching guitars, and swooning pedal steel." And after teaming with The Bright Light Social Hour for the three-song collaborative EP Neighbors, Nash and his band have returned with Lifted, which has been amassing some of the strongest reviews of its creator's career. Glide magazine deemed it "a fully realized, psychedelic, experimental, Americana rooted epic," while Maverick stated that Lifted "finds Nash continuing his tradition of creating a sonic landscape that is at one both vast and intimate – soaring and untamed at times, placid and sincerely personal at others."
Israel Nash plays his August 4 concert at Davenport's Triple Crown Whiskey Bar & Raccoon Motel with opening sets by Field Division and Patrick Dethlefs, admission is $15-20, and more information and tickets are available by visiting MoellerNights.com.