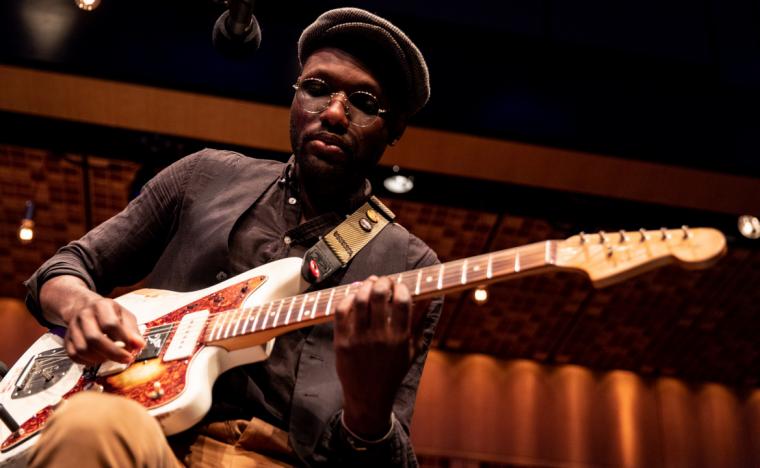 Tuesday, September 11, 8 p.m.
Triple Crown Whiskey Bar & Raccoon Motel, 304 East Third Street, Davenport IA
With DCMusicDownload.com calling the artist "engagingly soulful" and praising his "talent, unique songwriting ability, and ability to master the potency of silence," the Los Angeles-based Naia Izumi appears locally as a Moeller Nights headliner on September 11, the folk-rock musician 2018's winner of NPR's esteemed Tiny Desk Contest that annually receives more than 4,000 video submissions.
A 34-year-old native of Columbus, Georgia, Izumi received his first guitar before the age of 10, and after moving to Los Angeles in his 20s, earned money as a street busker singing original compositions and accompanying himself on guitar. Meanwhile, his submission for NBP's Tiny Desk Contest, the self-penned "Soft Spoken," drew raves from contest head Bob Boilen, the host and creator of NPR's All Songs Considered.
"Naia Izumi was chosen from nearly 5,000 video entries," wrote Boilen on NPR.org. "The talent that came to us through all those submissions was astonishing. Naia won us over with his mind-boggling and unique style of guitar playing – a combination of tapping on the fingerboards and soul-filled whammy-bar note bending. And his multi-octave singing range blended so eloquently with his guitar stylings. 'Soft Spoken,' the song he submitted, felt singular and unparalleled to our panel of judges, which included past Tiny Desk Contest winner Tarriona "Tank" Ball, Tiny Desk alum Sylvan Esso, and Gaby Moreno, along with NPR family members Talia Schlanger, Russ Borris, Toki Wright, and the All Songs Considered team of Robin Hilton and myself.
"It's a song, as I hear it, that speaks to the power inherent in the gentle and quieter voices that are often drowned out by the outspoken and boisterous ones," continued Boilen. "Its title was originally 'Soft Spoken Woman,' and, as we later learned, Naia had identified as a woman for nearly seven years. Naia is often a one-man band playing on the streets with a drum machine (whose) music draws from so many spheres of sound. There's that punctual, rhythmic, mathematical pulse to what he does, but there's also a fluid, almost African kalimba sound in there as well. They're two sounds I wouldn't often think of as coexisting."
Naia Izumi performs his September 11 concert at Davenport's Triple Crown Whiskey Bar & Raccoon Motel with an opening set by Small Houses, admission to the 8 p.m. show is $12-17, and more information on the evening is available by visiting MoellerNights.com.