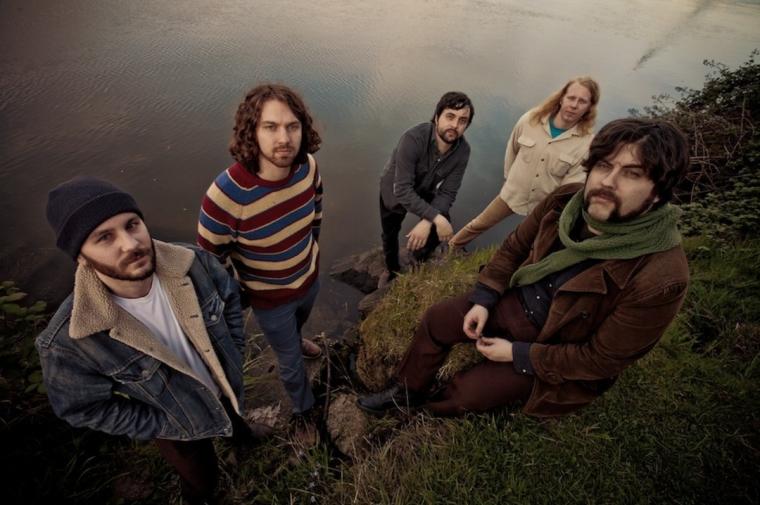 Thursday, September 6, 7 p.m.
Triple Crown Whiskey Bar & Raccoon Motel, 304 East Third Street, Davenport IA
With Blurt magazine calling the band's 2018 album A Love Sleeps Deep "focused and well-considered" as well as "glorious, dense, and exhilarating," the five-piece rock outfit The Moondoggies performs as the headliners for a September 6 Moeller Nights concert, treating fans to what Pitchfork described as "a manful, harmony-heavy brand of Americana rock modeled after fragile but forceful legends Neil Young, the Band, and the Grateful Dead."
While attending Cascade High School in Everett, Washington, guitarist Kevin Murphy started a punk rock outfit called The Familiars with drummer Jon Pontrello and bassist David Brown (who would later be replaced by Robert Terreberry), and singer Jon Parks. The group gained a small following playing around Seattle while still in their late teens, and shortly before the band dissolved, Murphy began collaborating and writing with keyboardist Caleb Quick. The two began performing live while living in Bellingham, Washington, and after a move back to Everett, the duo started The Moondoggies with Terreberry and drummer Carl Dahlen – a fledgling musician who had no previous drum training before joining the band. On August 19 of 2008, The Moondoggies' debut album Don't Be A Stranger was released and earned positive reviews, with Pitchfork stating, "The Moondoggies take their cues from Laurel Canyon circa 1970, with lots of harmonies, bits of psychedelic organ, a few country-rock touches, and a gritty Americana backbone."
Over the decade since, with Pontrello joining the group in 2011, The Moondoggies has shared stages with the likes of Bitzen Trapper, Dawes, Quiet Life, and The Head & the Heart, and released follow-up albums in 2010's Tidelands and 2013's Adiós, I'm a Ghost. The band's EP You'll Find No Answers Here, meanwhile, was released in 2010, the same year that The Moondoggies' single "What Took So Long" was chosen as NPR Music's "Song of the Day." Currently touring in support of their most recent albums, the musicians have been earning some of their highest praise fo A Love Sleeps Deep, with City Arts magazine deeming the album "the most energized and intense statement the band has made."
The Moondoggies' September 6 concert at the Triple Crown Whiskey Bar & Raccoon Motel starts at 7 p.m., admission is $10, and more information on the evening is available by visiting MoellerNights.com.