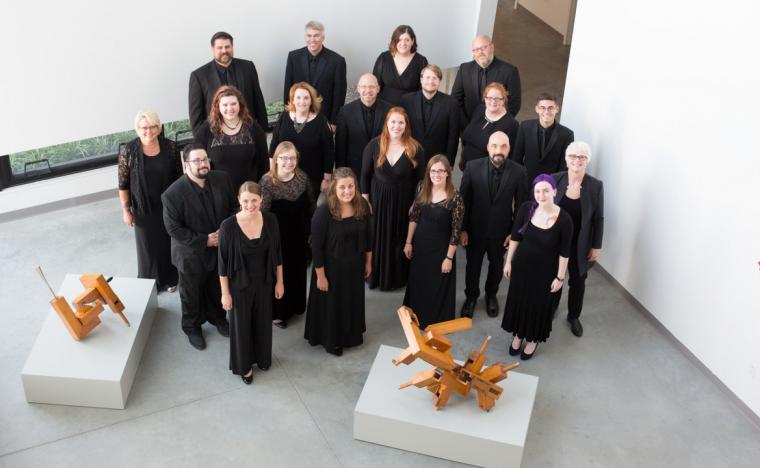 Saturday, October 13, 7:30 p.m.
Knox College's Kresge Recital Hall, 2 East South Street, Galesburg IL
Sunday, October 14, 4 p.m.
St. Paul Lutheran Church, 2136 Brady Street, Davenport IA
For the group's first concerts of the 2018-19 season, the professional vocal ensemble the Nova Singers will travel Out of Darkness, Into Light on October 13 and 14, delivering Illinois and Iowa presentations that find noted composers wrestling with life's darkest moments and exploring the uplifting powers of hope, light, and love.
Describing the Out of Darkness, Into Light repertoire that also includes works by Johann Sebastian Bach and Ēriks Eŝenvalds, the Nova Singers' director Dr. Laura Lane says: "Everyone can relate to the theme of this program; we all must deal with the challenges life throws at us and find ways to return to the light. Folks are generally familiar with the [Johannes] Brahms Requiem, with its struggle to deal with grief after loss and its incredibly uplifting ending. Brahms did the same thing in his miniature masterpiece Warum is das Licht gegeben, mixing texts to create almost a story of a person in darkness who comes out into the light by the end of the piece. It's so beautifully written and deeply emotional that this has become one of my favorite pieces to conduct, and I'm so excited to get to do it with this incredibly strong group of Nova Singers.
"I also love [Edward] Elgar's Lux Aeterna – the sweetness and melodic beauty of this piece make it tender and heartfelt every time we sing it. [Daniel] Elder's In Your Light absolutely dances with the joy and delight of having returned to one's own creative inspiration. And [Kim Andre Arnesen's] Even When He Is Silent is so moving and so full of hope, trust, and faith that I hope we can get through it without crying!"
Founded in 1986 by Knox College's music-department chair Lane, the Nova Singers gathers vocalists from across Western Illinois and Eastern Iowa who share common interests in expressive virtuosity, professional excellence, and community outreach. With the ensemble performing at state, regional, and national conventions of the American Choral Directors Association and throughout the Midwest, the Nova Singers' efforts have been rewarded with grants from the Illinois Arts Council and National Endowment for the Arts, and to date, the singers have recorded nine albums.
Out of Darkness, Into Light will be performed at Knox College's Kresge Recital Hall at 7:30 p.m. on October 13, and at Davenport's St. Paul Lutheran Church at 4 p.m. on October 14. Admission is $15-18, with students admitted free of charge, and more information and reservations are available by calling (309)341-7038 or visiting NovaSingers.com.