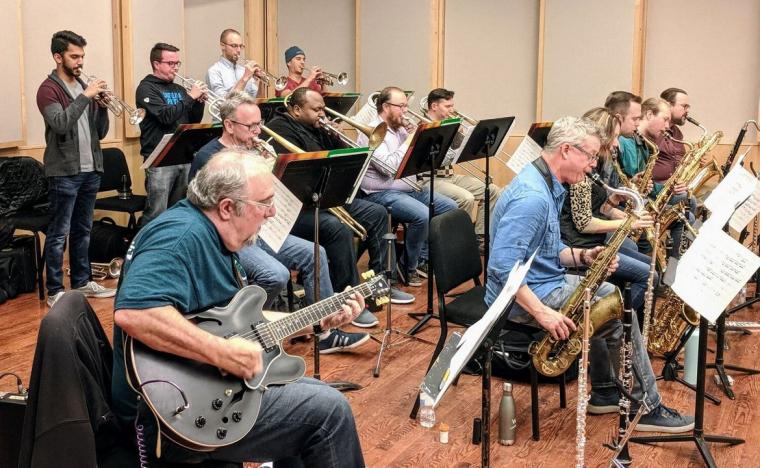 Sunday, January 15, 5 p.m.
Rivermont Collegiate, 1821 Sunset Drive, Bettendorf IA
On January 15, no fewer than 17 gifted Midwestern musicians will perform at Bettendorf's Rivermont Collegiate as featured guests in Polyrhythms' Third Sunday Jazz Series, with Mike Conrad & the Iowa Jazz Composers Orchestra proving that jazz lovers don't need to look to New York City or Chicago for beautiful, creative, high-quality music.
A University of Northern Iowa professor and award-winning jazz composer, Conrad brings Iowa's premiere large jazz ensemble back to his hometown for a special performance to kick off Polyrhythms' 2023 season. A musician and improviser who has toured China, played at the Umbria Jazz Festival in Perugia, Italy, and appeared at various jazz festivals and venues all over the United States, Conrad has performed with ensembles including the Alexa Tarantino Quintet, Dave Chisholm's Calligraphy, and Christopher's Very Happy Band. He has also been recognized for his arranging and composing with four ASCAP Herb Alpert Young Jazz Composer Awards and seven DownBeat Awards, as well as citations and commissions from organizations such as the Bundesjazzorchester of Germany, the West Point Jazz Knights, and the American Society of Music Arrangers and Composers.
Conrad's arrangements have been performed all around the world, including in a 2014 premiere at Carnegie Hall and a performance at President Barack Obama's inauguration in 2013, and December of 2021 marked the release of Conrad's "Fertile Soil Suite," a four-part jazz work that earned a SONIC Award from the International Society of Jazz Arrangers and Composers. Meanwhile, his 17-piece, all-star group Mike Conrad & the Iowa Jazz Composers Orchestra has performed at Noce in Des Moines, CSPS Hall in Cedar Rapids, the James Theater in Iowa City, and River Place Plaza in Cedar Falls, as well as venues in Davenport. The band plays music by Bob Washut, Chris Merz, John Rapson, Gates Thomas, and other Iowa composers, while showcasing the best jazz musicians that the state has to offer. Joining Conrad in his ensemble are Robert Espe, Jen Tiede, Chris Merz, Nolan Schroeder, and Simon Harding on saxophone; Cory Schmitt, Dave Rezek, Jon Ailabouni, and Steve Wheeler on trumpet; Anthony Williams, Rich Medd, Joel Nagel, and Zack Morton on trombone; and Steve Grismore, Michael Conrad, Drew Morton, and Dave Tiede on the rhythm section.
Mike Conrad & the Iowa Jazz Composers Orchestra play Bettendorf's Rivermont College's Becherer Hall on January 15, with the musicians' 5 p.m. engagement preceded by an all-ages 2 p.m. demystifying jazz workshop ($5 for adults, free for kids) presented as part of the Polyrhythms Third Sunday Jazz Matinée & Workshop Series. Admission to the concert is $15-20, and more information and reservations are available by calling (309)373-0790 and visiting Polyrhythms.org.