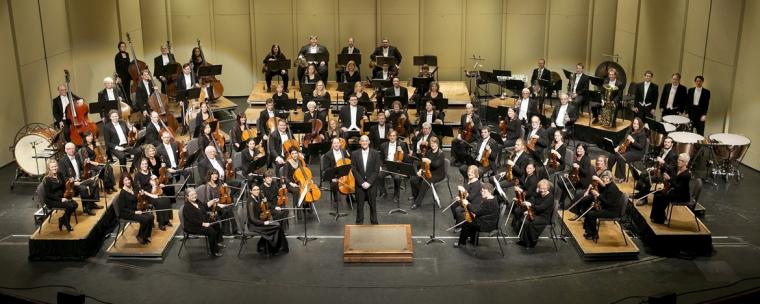 Saturday, February 2, 8 p.m.
Adler Theatre, 136 East Third Street, Davenport IA
Sunday, February 3, 2 p.m.
Augustana College's Centennial Hall, 3703 Seventh Avenue, Rock Island IL
In a change from presenting a repertoire of different works in its Masterworks concerts, the Quad City Symphony Orchestra will take on one epic composition for its February 2 and 3 performances at Davenport's Adler Theatre and Rock Island's Augustana College: Mahler's 9th Symphony, an approximately 80-minute, four-movement masterpiece of profound introspection boasting some of Gustav Mahler's most spiritual and heartfelt music.
Written between 1908 and 1909, Symphony No. 9 was the last symphony that the Austro-Bohemian Mahler completed before his 1911 death, and the legendary composer passed away without ever hearing it performed. Although the symphony has the traditional number of movements, it is unusual in that the first and last are slow rather than fast. The first movement – Andante comodo – embraces a loose sonata form. The key areas provide a continuation of the tonal juxtaposition displayed in earlier works (notably Symphonies No. 6 and No. 7), and the work opens with a hesitant, syncopated rhythmic motif which Leonard Bernstein famously suggested was a depiction of Mahler's irregular heartbeat. The second movement – Im Tempo eines gemächlichen Ländlers. Etwas täppisch und sehr derb – is a series of dances and opens with a rustic ländler (a couples dance) that becomes distorted to the point that it no longer even resembles a dance. The movement contains shades of the second movement of Mahler's Symphony No. 4 in the distortion of a traditional dance into a bitter and sarcastic one.
The third movement – Rondo-Burleske: Allegro assai. Sehr trotzig – opens with a dissonant theme in the trumpet which is treated in the form of a double fugue, and boasts a five-note motif introduced by strings in unison that recalls the second movement of his Mahler's Symphony No. 5. And the final movement – Adagio. Sehr langsam und noch zurückhaltend – opens with only strings, and After several impassioned climaxes, becomes increasingly fragmented with a quietly ending coda. The work's finale is frequently interpreted as Mahler's conscious farewell to the world, as it was composed following the death of his beloved daughter Maria Anna in 1907 and the diagnosis of his fatal heart disease.
Voted the fourth greatest symphony of all time in a survey of conductors solicited by the BBC's music magazine, Symphony No. 9 has been recorded more than 100 times for commercial release, and led legendary conductor Herbert von Karajan to state, "It is music coming from another world – it is coming from eternity." Famed conductor Otto Klemperer, meanwhile, said of Mahler's career capstone, "I believe it to be not only his last, but also his greatest achievement."
The Quad City Symphony Orchestra's Mahler's 9th Symphony performances will be held at the Adler Theatre at 8 p.m. on February 2 and at Augustana College's Centennial Hall at 2 p.m. on February 3, admission is $8-62 on Saturday and $8-39 on Sunday, and more information and tickets are available by calling (563)322-7276 or visiting QCSO.org.