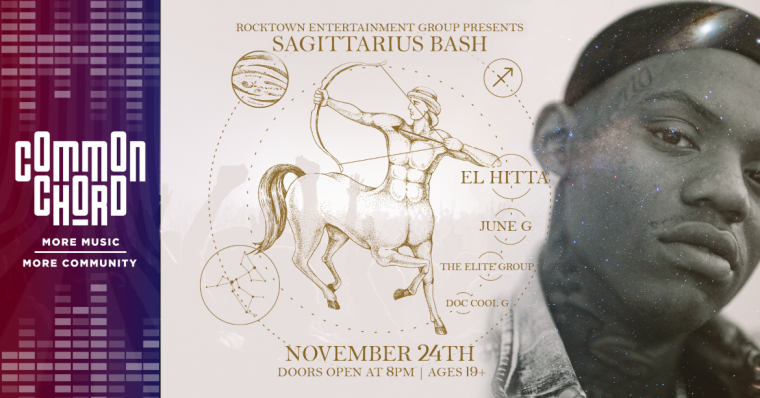 Friday, November 24, 9 p.m.
The Redstone Room, 129 Main Street, Davenport IA
With Davenport's Common Chord co-presenting its event alongside the Rocktown Entertainment Group, rap and hip-hop artist El Hitta headlines the Redstone Room's "Sagittarius Bash" on November 24, the Chicago-based talent performing on the Friday-night bill with a quartet of additional genre talents.
As stated by biographer Neil Z. Yeung, "Chicago rapper El Hitta spits hardcore rhymes with an off-key, sing-song style, and steady cadence that recall the '90s-era hip-hop of and more than the sounds of his late-2010s trap-favoring contemporaries. In 2018, he issued his official full-length debut, Owe Nobody Nothin, home to his hit single 'Gang Nem.' Rapping since he was a teenager, the young Hitta (originally known as El Hitla) was influenced by fellow Chicagoans and following a stint in prison, he emerged revitalized and focused on a career in rap. Early tracks 'Because,' 'Hitla Style,' and 'We Outside' helped him gain local underground traction, but it was the contemplative, piano-laden breakout single 'Aww Yea' that secured his most popular output to date. Building upon 'Aww Yea,' he issued raucous anthem 'Gang Nem' with Prince Dee, which later landed on his official debut, 2018's Owe Nobody Nothin."
With the young rap and hip-hop artist already earning considerable critical acclaim, Pitchfork magazine, in an 2019 article on up-and-coming Chicago musicians, wrote, "The West Side's El Hitta has ... channeled his pain into against-the-odds inspiration. When the 23-year-old sings it sounds like the start of an uplifting hymn made for singing along to; those soul-stirring vocals are often paired with rousing piano instrumentals to create the triumphant effect we hear on his signature song, 'Aww Yea.' His animated persona and unique dance moves have set him apart from his peers, with a style he attributes to his native West Side neighborhood where, he says, 'We known for footwork.'"
The "Sagittarius Bash" with El Hitta takes place on November 24, the artist performing his Redstone Room engagement alongside June G, The Elite Group, Doc Cool G, and DJ Candyman. Admission to the 9 p.m. concert event is $10-15 with reserved tables of four available for $80 plus admission, and more information and tickets are available by calling (563)326-1333 and visiting CommonChordQC.org.