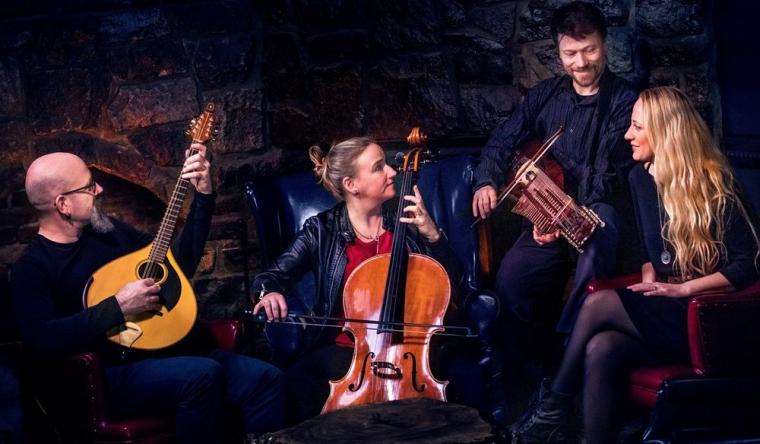 PASS Performance: Wednesday, January 25, 6 p.m.
St. Ambrose University's Galvin Fine Arts Center, 2101 North Gaines Street, Davenport IA
Abbreviated Performances: Tuesday, January 24, through Thursday, January 26
Various Area Locations
Performing a singular assortment of whirling polkas, groovy reels, passionate love songs, breathtaking hymns, and original compositions, the gifted musicians of Skye Consort & Emma Björling serve as the first 2023 guests in Quad City Arts' Visiting Artists Series, delivering one full performance and three abbreviated ones – in addition to their numerous presentations for local students – between January 24 and 26.
Offering what the quartet deems "trans-Atlantic chamber folk" for international audiences, Skye Consort & Emma Björling perform arrangements of songs and tunes from Sweden, Norway, Ireland, Scotland, England, Québec, Acadia, the United States as well as original compositions. They find the stories, melodies, and themes common for these countries, bringing old stories back to life in a contemporary musical setting, and each musician brings their own individual interpretation to these traditions to create extraordinary music through voices, fiddle, nyckelharpa, cello, bouzouki, banjo, and percussion. The musicians of Skye Consort met Björling during a La Nef project in Montréal in October of 2017, and "thanks to" Emma's cancelled flight and their mutual love for each other's musicianship, they decided to start this band.
Björling (lead voice, shruti box, percussion) is an award-winning Swedish singer, composer, and arranger who has been active in the renowned Scandinavian bands Kongero and Lyy. Both ensembles have toured the globe and are busy in the European folk/tradional scene, while Björling also teaches and conducts workshops all over the world. Alex Kehler (fiddle, nyckelharpa, and vocals) is a member of La Nef, Soulwood, a Kehler Williams duo, Les Siffleurs de nuits, and also stays busy playing with Suzie LeBlanc, Jeremiah McLane, and Timmothy Cummings. Amanda Keesmaat (cello and vocals) is another member of La Nef, a vibrant presence in the Montréal early music community, and has recorded and performed with many prominent singers and renowned ensembles. In addition, she has recorded for ATMA discs, Early-Music.com, Fidelio, Analekta, ombú, CBC Radio and Television, Bravo, and Radio-Canada. And Seán Dagher (cittern, bouzouki, banjo, and vocals) is the artistic director of La Nef and an active performer, arranger, and composer of music from various folk and classical music traditions. He has been nominated for numerous Adisq awards and participated in the Adisq-winning CD La Traverse Miraculeuse with La Nef and Les Charbonniers de l'enfer.
During their area tenure as Quad City Arts Visiting Artists, the musicians of Skye Consort & Emma Björling will deliver four public performances: at the Moline Public Library (3210 41st Street) on January 24 at 6:30 p.m.; at Muscatine's Wesley United Methodist Church 400 Iowa Avenue) on January 26 at 2 p.m.; at the Bettendorf Public Library (2950 Learning Campus Drive) on January 26 at 7 p.m.; and, as a Davenport event in Quad City Arts' PASS Concert series, at St. Ambrose University's Galvin Fine Arts Center (2101 North Gaines Street) on January 25 at 6 p.m. Admission is $50 for the PASS performance and free for the three abbreviated performances.
For more information on Skye Consort & Emma Björling and the Visiting Artists Series, call (309)793-1213 and visit QuadCityArts.com.