SLW + BBJR, Bubblegum Necropolis EP
The year's most fully-realized, cohesive album is a scant nine minutes long – it will probably take more time to read this article than it will to listen to the album. While Bubblegum Necropolis is technically an EP, there are more ideas packed into its 40 tracks than most artists can manage on a full-length. Sam Locke Ward and Bob Bucko Jr. are both highly accomplished and respected within their niches: Ward is a prolific visual artist, zine creator, musician and home taper; BBJR, a multi-instrumentalist and collaborator with various musicians, runs Personal Archives, a far-reaching label dedicated to releasing experimental sounds from a variety of artists. The racket they make together is glorious, hilarious, tense, cathartic, full of rage and wicked humor, sardonic personal reflections and cracked-mirror reflections of society. Minimal guitar, occasional drums and demented saxophone (imagine early King Crimson scoring a Looney Tunes cartoon) underpin the terse, singsong, howling vocals, taking between four and 27 seconds to tell their stories, launch invective, or offer warped encouragement to the listener. To say more would be redundant. This is a rare case when the digital version of an album is the ideal format; while one misses out on SLW's glorious artwork, repeating tracks is often necessary to catch the message.
Lost Tribes of the Moon, Chapter II: Tales of Strife, Destiny and Despair
A sprawling, ambitious work from a band with ambition to spare, the second album from Milwaukee's Lost Tribes brings together elements of classic progressive rock and doom metal, with theremin and exotic percussion helping to tie together the lengthy songs. Lyrical inspiration from Clive Barker and Stephen King's Dark Tower series becomes a vehicle for personal experience, as on the standout 21-minute-plus "A Chapter from the Book of Blood," where vocalist Julie Brandenburg seethes with chilling rage atop Jon Liedtke's fluid, dramatic guitar work, as Barker's tale becomes a metaphor for scorned love. In many ways, it is the exact opposite of Bubblegum Necropolis, a fine counterpoint that is well worth the time it takes to drink it all in.
Mythosphere, Pathological
Mythosphere's debut feels much like an established band, but in a new context: familiar yet fresh, an advancement rather than a reinvention of the wheel. Mythosphere take the strongest qualities of the departed Beelzefuzz – namely Dana Ortt's keen ear for melody; thoughtful, often veiled lyrics; and gift for catchy, yet heavy riffs – and elevate them, with the help of old and new bandmates. The presence of drummer and Beelzefuzz cofounder Darin McCloskey is a key link to the past, with Ortt and McCloskey's history going back a decade to the founding of the unique, sometimes carnivalesque Maryland rock band. Bassist Ron "FeZZy" McGinnis and McCloskey were together in doom band Pale Divine for nearly as long, and Ortt's membership in that band from 2018 onward was just long enough to establish a connection, but not so long for the three to become too set in their musical ways. The addition of Fates Warning founder Victor Arduini on lead guitar makes Mythosphere a truly "new" band; his bluesy playing style combined with McGinnis' muscular bass enhance the mood created by Ortt's distinct guitar tone and dramatic vocals (at times reminiscent of Uriah Heep's David Byron) while simultaneously curbing the weaker elements of the old band. Pathological is the strongest debut of the year, with real lyrical depth and plenty of straight-ahead riffing among its serious, almost solemn atmosphere; it is the sound of a man (or group of men) contemplating an uncertain future while observing a dark, tumultuous present, and trying to reconcile it all.
Faith in Jane, Axe to Oak
Lauded by JJ Koczan of The Obelisk (the Internet's preeminent underground heavy music blog) as "Maryland's best-kept secret in heavy rock," Faith in Jane continue to hone their signature Southern rock swing and low-end rumble on Axe to Oak. There's something ominous about this newest batch of songs; the heavier songs lurch like the ground in an earthquake, and even the quieter moments, like their breathtaking arrangement of the Irish ballad "She Moved Through the Fair,"suggest only a brief calm before the days of fire. Axe to Oak is the work of a confident band moving ahead while still playing to its considerable musical strengths.
Rosalie Cunningham, Two Piece Puzzle
Former Purson frontwoman Rosalie Cunningham leaves behind the dark carnivalesque psychedelia of her old band and the glam-rock touches of previous solo work, bringing a heavier rock sound and elements of British electric folk (think Steeleye Span and Fairport Convention) together with her familiar, hook-laden, vaudeville-tinged approach to retro-rock. She's no rip-off; completely at home in the styles of yesteryear, the idiom is authentically hers, and Two Piece Puzzle is her best solo work yet.
Obsidian Sea, Pathos
Black Sabbath on acid: no more, no less. These Bulgarians take the sound's of Sabbath's progressive period (think Sabbath Bloody Sabbath and Sabotage) and build on it, coming across as prog-rockers with a taste for deceptively simple, stylish riffs, with abundant room for melody, clean passages, and unexpected quietude.
Extermination Day, Be the Consequence
Old-school punk rock played by Minnesota heavies with a doom-metal pedigree and a love for sub-Bronson vigilante flicks of the '70s and '80s (see: The Exterminator). Fueled by a righteous anger born from firsthand experience on the front lines of the protests in Minneapolis immediately following George Floyd's murder, Extermination Day still manage to have fun on their first full-length, even (especially) while singing about cracking the skulls of neo-Nazis.
Grave Bathers, Rock N' Roll Fetish
The rare band that manages to live up to their image, this buncha hairy, paisley-clad Philly rocka-rollas wield triple SGs and absurdly tall Orange stacks like characters from a sleazy '70s comic book: Grave Bathers vs. the Straight World, as drawn by S. Clay Wilson. No tongues are in cheek, but there's plenty of humor in this urgent, high-energy slab of decadence. Best moment: "Brain Thief," in which an alien babe disguised as a chick from New Jersey fools the narrator and swipes the titular organ.
Northless, A Path Beyond Grief
Blackened and foreboding, as cold and cutting as the Lake Michigan wind in December, Milwaukee's Northless have created a devastating, compelling masterwork, with a sound as thick as Neurosis but cut with the kind of harmonized doom riffs that'll stir the hearts of Trouble or Crowbar fans.
Dead Meadow, Force Form Free
Dead Meadow have been playing warbling, winding psychedelic rock long before it was fashionable to do so. Maybe they finally got used to the L.A. bud; maybe the forced separation of the plague years provided a vital shock to the the creative system;. No matter the cause, the largely instrumental Force Form Free is their best work since the band relocated to the west coast from D.C. 15 years back.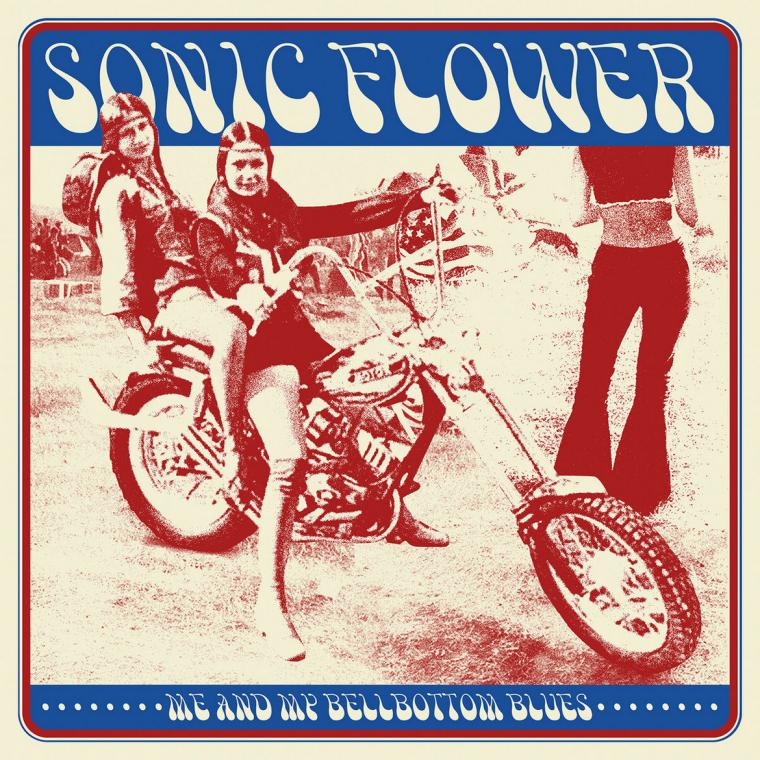 Sonic Flower, Me and My Bellbottom Blues
There have been two constants in the nearly three-decade career of Japan's Church of Misery: a lyrical fixation on serial killers, and Tatsu Mikami's impossibly-low-slung, perpetually in-the-red Rickenbacker bass. He formed Sonic Flower as an instrumental side project at the turn of the century, combining CoM's uninhibited boogie and '70s rock influence (Grand Funk, Cactus, the James Gang) with a love for classic funk, shown explicitly on thundering, subtlety-free covers of songs by the Meters and the Brothers Johnson. Since Italy's Heavy Psych Sounds reissued the recordings in 2021, Sonic Flower has been resurrected, with a proper, brand-new full length. Me and My Bellbottom Blues is a tighter, more polished recording (as polished as a band reliant on overdriven amplifiers will allow). It sounds less like a basement jam and more like the work of a serious band. Proof that their '70s fetish is bona fide: a bludgeoned, drawn-out version of Savoy Brown's "Poor Girl" (show it to your dad).
King Gizzard & the Lizard Wizard, Laminated Denim
Augustus "Bear" Owsley Stanley III spent his last years in Australia, anticipating a new global ice age. As a hobby, the LSD chemist, Grateful Dead guru, and sound pioneer apparently helped grow King Gizzard in a lab, to see how far-out a band with DNA-encoded pop sensibilities and Nickelodeon good looks could possibly go. The absurdly prolific group of Aussies (five albums in 2022 alone) has gone far and far-out: selling out tour after tour while taking up quarter-hour blocks on public radio with tightly executed takes on classic Krautrock, whose sweetly sung melodies disguise grim explorations of environmental collapse. Every second of these two 15-minute tracks is an apocalyptic joy.
Richard Dawson, The Ruby Cord
An eccentric in the British tradition, Richard Dawson manages to make a concept album about humanity's addiction to technology sound ancient and mist-shrouded. Leadoff track "The Hermit" is 41 minutes long, somehow serene and unsettling simultaneously in its ebb and flow; the rest of the album follows in similar fashion. Best to let this one speak for itself.