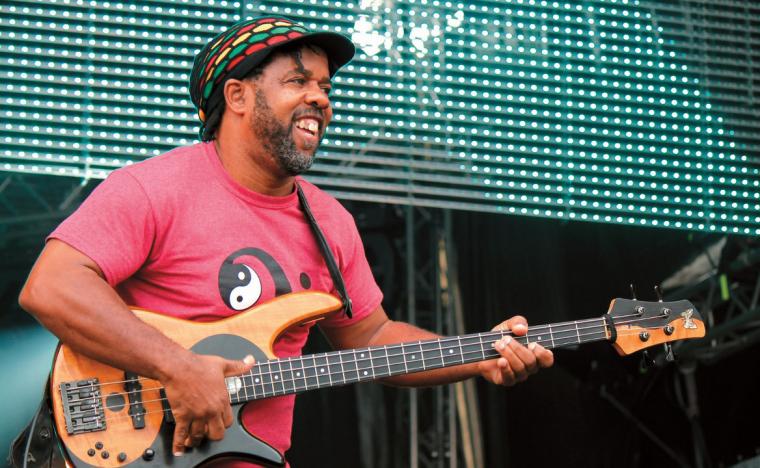 Wednesday, April 25, 8 p.m.
The Redstone Room, 129 Main Street, Davenport IA
Winner of five Grammy Awards and three citations as Bass Player magazine's "Bass Player of the Year," jazz-fusion and funk-rock artist Victor Wooten headlines a special Redstone Room concert co-presented by the River Music Experience and Polyrhythms, his April 25 engagement demonstrating why Wooten made the lineup in Rolling Stone's 2011 survey of the "Top 10 Bassists of All Time."
Born in Idaho in 1964, Wooten grew up in an Air Force family, and at age three, his brother and current bandmate Regi taught him to play bass. At five, Victor made his stage debut with his four older brothers as The Wootens, playing songs by R&B mainstays such as James Brown, Sly & the Family Stone, and Curtis Mayfield. After playing regional tours and opening for acts such as Mayfield and War, The Wootens recorded an album in 1985. Victor then moved to Nashville and joined a rock band in 1988, and the following year, he met Béla Fleck, who recruited Wooten, his brother Roy, and Howard Levy to form The Flecktones. The group earned numerous accolades including four Grammy nominations and a number-one album on the jazz charts with 1991's Flight of the Cosmic Hippo, and in 1996, Wooten made his solo-album debut with A Show of Hands, winning a "Best Pop Instrumental Performance" Grammy for "The Sinister Minister."
After tours with The Flecktones and a 2001 release/tour with the group Bass Extremes, Wooten returned to his solo career with albums such as 2005's Soul Circus and 2008's Palmystery, reuniting with The Flecktones for 2011's Grammy-winning, chart-topping Rocket Science. In the productive years since, the artist has also written the book The Music Lesson: A Spiritual Search for Growth Through Music and operates his own record label Vix Records, on which he's released albums such as this past fall's Trypnotyx.
Wooten's 8 p.m. Redstone Room concert alongside musicians Bob Franceschini, Regi Wooten, and Roy Futureman" Wooten will be preceded by a 5 p.m. master class and workshop with the artist, with tickets $35-40 for the evening show and $15-20 for the late-afternoon workshop. For more information and to reserve, call (563)326-1333 or visit RiverMusicExperience.org.