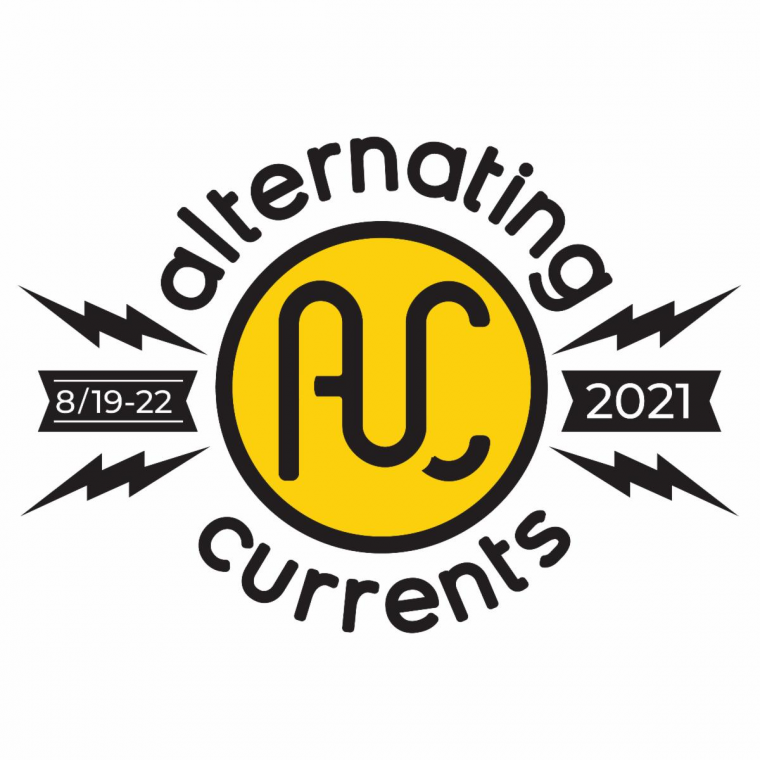 DAVENPORT, IOWA (August 19, 2021) — It's Alternating Currents Fest weekend and we're all in for a treat as we've booked eight incredible young artists to come perform at the Raccoon Motel as part of this four-day gathering of arts, music and culture in downtown Davenport. All of the performances are free so please come take advantage of this opportunity to see some artists we think are on the verge of becoming stars, in a small venue and see this new Motel, that we're so proud of. Performances kick off tonight at 7PM with comedian Nick Thune, Joshua Speers, and American Idol winner Lee DeWyze. Saturday features Miloe, Haiva Ru, and Moody Joody while Sunday finishes with Red Shanan and Blake Ruby. We also have a late show Saturday night, not associated with Alternating Currents, featuring Susto and Haiva Ru. There are still a few tickets remaining for that one. Downtown will be buzzing as Motel alum Lillie Mae, Stay Outside, Chicago Farmer, Land of Blood and Sunshine, and many other great artists will be in town in various venues.
We threw some character on the walls of the front bar this week as we keep slowly moving into this new space, and it's starting to really feel like a home, so please come down and check it out sometime soon, as we now are open for regular hours Monday-Saturday and closed on Sundays, unless it's a show night. We open at 4PM daily other than Saturday, when the bar is open at 11AM. Through the weekend, our grand-opening run of drink specials are practically highway robbery so come and make us pay for it while watching some amazing free shows.
We would also like to take a moment to detail our current COVID policy: The goal of the new Raccoon Motel is to provide the Quad Cities, as well as visitors and guests to the area, a rich, vibrant, and safe experience with every concert and event we bring to town and put on our stage. In these current times, as the ongoing battle to curtail and tame the spread of COVID-19 continues, the lifeblood of our business — these unique and exciting artists traveling from all over the country to perform here, must feel safe to do so. 
Our front bar is separate from the entrance to our venue. We will continue to follow all state and local health guidelines to keep this area clean and safe for all patrons. As we both try to protect the shows we already have on the calendar, and book new shows, some of the artists performing — as guests in our venue — will be requiring proof of vaccination card for entry into the venue area. We are seeing these requests more frequently these days from artists and booking agents and we will abide by their wishes for any heightened safety measures if it means that the show will go on and we can provide the high-quality entertainment that you've come to expect from the Motel. In all of these cases, we will alert ticket buyers of any special COVID protocols as soon as we know them via social media postings and direct e-mails. Anything we do, we do to ensure the integrity of our business and to keep our guests safe, nothing more. We hope that everyone can respect the wishes of our guests.
If you are sick with COVID-19, or think you might have COVID-19, stay home and avoid public spaces except to get medical care. Thank you for your understanding as we all try to get to the other side of this situation. See you at the shows!
GRAB ALL YOUR RACCOON TICKETS HERE:: raccoonmotel.tixr.com
AUGUST 19 — ANI DIFRANCO (at Codfish Hollow):: LISTEN:: SOLD OUT/POSTPONED
AUGUST 19 — Alternating Currents Fest:: NICK THUNE w/JOSHUA SPEERS and LEE DEWYZE:: LISTEN to Nick Thune:: LISTEN to Joshua Speers:: LISTEN to Lee Dewyze:: FREE
AUGUST 20 — Alternating Currents Fest:: MILOE w/HAIVA RU and MOODY JOODY:: LISTEN to Miloe:: LISTEN to Haiva Ru:: LISTEN to Moody Joody:: FREE
AUGUST 21 — Alternating Currents Fest:: RED SHAHAN w/BLAKE RUBY:: LISTEN to Red Shahan:: LISTEN to Blake Ruby:: FREE
AUGUST 21 — LATE SHOW:: SUSTO (special Justin Osborne solo performance) w/HAIVA RU:: LISTEN to SUSTO:: on sale NOW to members; general public Monday, August 16, 10AM
AUGUST 22 — SHAKEY GRAVES w/TRE BURT (at Codfish Hollow):: SOLD OUT/POSTPONED
AUGUST 26 — ANGELA MEYER (Legions and Legends record release show!!) w/LOGAN SPRINGER:: LISTEN:: on sale now
AUGUST 27 — MIKE AND THE MOONPIES w/BUFFALO GOSPEL:: LISTEN to Mike and the Moonpies:: LISTEN to Buffalo Gospel:: SOLD OUT
AUGUST 28 — LOLO w/Desert Noises and Hembree (at Codfish Hollow):: LISTEN to LOLO:: LISTEN to Desert Noises:: POSTPONED
AUGUST 28 — HEMBREE w/DESERT NOISES :: LISTEN to Hembree :: LISTEN to Desert Noises :: tickets on sale now
AUGUST 31 — PINEGROVE w/MILOE, GRUMPY (at Codfish Hollow):: LISTEN to Pinegrove:: LISTEN to Miloe:: LISTEN to Grumpy:: on sale now
SEPTEMBER 2 — UNDEATH w/XENOSPAWN and SMOKEFALL:: LISTEN to Undeath:: LISTEN to Xenospawn:: on sale now
SEPTEMBER 4 — TREVOR SENSOR w/SYLMAR:: LISTEN to Trevor Sensor:: LISTEN to Sylmar:: on sale now
SEPTEMBER 5 — SON LITTLE w/ADRIEL DENAE:: LISTEN to Son Little:: LISTEN to Adriel Denae:: on sale now
SEPTEMBER 9 — WAXAHATCHEE w/KATY KIRBY (at Codfish Hollow):: SOLD OUT
SEPTEMBER 10 — ROOKIE w/IN THE PINES and DARK FAMILY:: LISTEN to Rookie:: LISTEN to In The Pines:: LISTEN to Dark Family:: on sale now
SEPTEMBER 11 — BABY GARP FESTIVAL (Codfish Hollow):: on sale now
SEPTEMBER 12 — PETEY w/JAMES AUSTIN JOHNSON and 81355:: LISTEN to Petey:: LISTEN to James Austin Johnson:: LISTEN to 81355:: on sale now
SEPTEMBER 17 — DAVID HUCKFELDT (of The Pines, featuring members of Taylor Swift and Big Red Machine's bands) w/PIETA BROWN and MAC LEAPHART (at Codfish Hollow):: LISTEN to David Huckfeldt
LISTEN to Pieta Brown
LISTEN to Mac Leaphart:: tickets on sale HERE
SEPTEMBER 19 — OWEN w/BOB NANNA (of BRAID/HEY MERCEDES):: LISTEN to Owen:: LISTEN to Bob Nanna:: tickets on sale now
SEPTEMBER 22 — LIAM KAZAR w/CASE OATS:: LISTEN to Liam Kazar:: LISTEN to Case Oats:: on sale now
SEPTEMBER 23 — THELMA AND THE SLEAZE w/BLUNT BANGS (featuring members of Black Kids and Woods) w/special guests:: LISTEN to Blunt Bangs:: LISTEN to Thelma and the Sleaze:: on sale now
OCTOBER 2 — JEREMY IVEY w/DILLON WARNEK:: LISTEN to Jeremy Ivey:: LISTEN to Dillon Warnek:: on sale now
OCTOBER 12 — MICHIGANDER w/STAY OUTSIDE and DARYL RAHN:: LISTEN to Michigander:: LISTEN to Stay Outside:: LISTEN to Daryl Rahn:: on sale now and filling up
OCTOBER 13 — BAD BAD HATS w/special guests:: LISTEN to Bad Bad Hats: on sale now
OCTOBER 17 and 24 — OKEY DOKEY w/GATLIN:: LISTEN to Okey Dokey:: LISTEN to Gatlin:: tickets are now on sale
OCTOBER 21 — WHEELWRIGHT w/JOSHUA DYLAN BALIS:: LISTEN to Wheelwright:: LISTEN to Joshua Dylan Balis:: tickets on sale now
OCTOBER 23 — LIILY w/CAROLINE KINGSBURY:: LISTEN to Liily:: LISTEN to Caroline Kingsbury:: tickets on sale now
NOVEMBER 1 — JOSHUA RAY WALKER w/special guests:: LISTEN to Joshua Ray Walker:: on sale now
NOVEMBER 2 — CORY CHISEL w/JUSTIN PETER KINKEL-SCHUSTER:: LISTEN to Cory Chisel:: LISTEN to Justin Peter Kinkel-Schuster:: on sale Friday, August 20, 10AM
NOVEMBER 6 — IRON AND WINE w/SQUIRREL FLOWER:: LISTEN to Iron and Wine:: SOLD OUT
NOVEMBER 10 — PROTOMARTYR w/MELKBELLY:: LISTEN to Protomartyr:: LISTEN to Melkbelly:: tickets on sale now
NOVEMBER 12 — NADA SURF w/Seasaw:: LISTEN:: on sale now and moving
NOVEMBER 13 — Wake Brewing and Ragged Records Present:: EXHUMED w/CREEPING DEATH, BEWITCHER, ENFORCED:: SOLD OUT
NOVEMBER 19 — Liz Cooper w/Pearl Charles:: LISTEN to Liz Cooper:: LISTEN to Pearl Charles:: tickets on sale now
APRIL 13, 2022 — LALA LALA w/special guests:: LISTEN to LALA LALA:: on sale now
TICKETS to all Raccoon Motel shows can be purchased HERE