Birding is a multi-faceted activity, and whenever we wish, we can add birding to our exercise regimen — or just to get outside to stretch your legs — and waist, back, neck, feet, arms, hands — and get some fresh air to feed your lungs, heart, and mind. Birding is a great way to keep a healthy outlook — physically and mentally — with some level of exercise. Birding outdoors often includes walking, but it can easily include biking, canoeing or kayaking, hiking and backpacking, running, stretching, and yoga — it's up to you, and it's always good to mix it up a bit.
Use a birding-break during a busy day at home, work, or school. Simple activities might include a walk through the neighborhood, or a lunch break at a local park, field, green zone, lakeside, beach — you get the idea. Focusing on checking out the birds in a location while enjoying a walk or a more-spirited hike, will quickly take your mind off a task at hand, a family concern, or a professional puzzle. Birding activities can quickly help to release physical or mental stress, or change the direction of a "bad" day; you know, a little attitude adjustment. Fresh air and bird songs can even help to recharge your batteries when you find yourself feeling a bit low on energy, and it will surely jump-start your creative thinking at the same time.
Then too, some birding options provide a real workout: Hop on your bike to take advantage of covering much more ground while still having an eye and ear to your surroundings. While cycling through a promising birding area, you will still be able to make a quick stop to double-check a sighting, or grab your camera from your lightweight backpack for a quick photo opportunity or to take a documentary photo.
After work or during weekend free-time, you can use more muscle-power to propel through the tranquil backwater of a lake to see what birds you might find — herons, egrets, ducks, loons, grebes, sandpipers, plovers, cormorants, and pelicans are possibilities; or paddle along a tree-lined stream to monitor area songbirds — all while keeping the birds' best interests in mind during any active-birding options, trying not to displace birds or interrupt their activities along the way.
Birding may be the secondary focus of such exercise outings, or it may be your primary interest while you know you will get some exercise in the process. A little sunshine, fresh air, wind in your face, and interesting avian action will make any day better.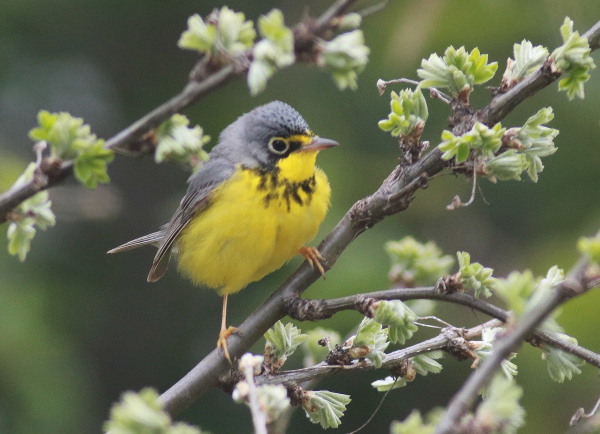 An invigorating birding-trip can also provide a little excitement, which can elevate your energy level, and revitalize your emotional state. That may be just what you need to get a little more enthused about that task you've been putting on the back-burner for a while during a given weekend. When you feel fulfilled on a birding and exercise level, it should be easier to turn your attention to what may seem to be more mundane, but essential tasks.
Birding by foot, bike, kayak, or another means provides exercise, and birding has long been known to provide "brain food" by stimulating your senses and your body. After any birding activities, we continue exercising our brain and memory, often by referencing websites or books to learn more about an ever-greater variety of birds, spending time editing photos, and writing updates to our field notes.
As we enjoy the weekly changes of fall, with new birds appearing as fall migration progresses, take an extra birding exercise break or two each day — 15 minutes, an hour, or more — you will be a healthier person, a happier human, and a better birder as a result — not to mention being more creative and more productive in the process. Offer to share some birding exercise outings with friends or co-workers; appreciate other birding options solo; and recall a favorite bird sighting you enjoyed while exercising your body and spirit with others too — yes, that's all part of birding and birding lifestyles.