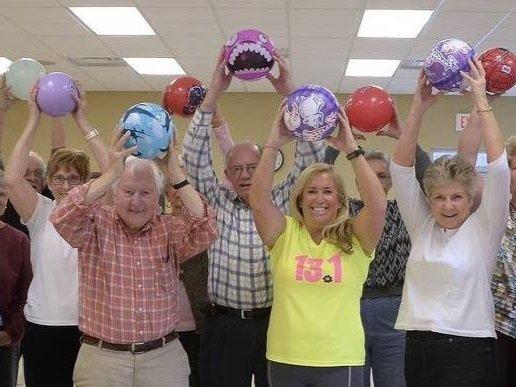 ROCK ISLAND, ILLINOIS (July 27, 2022) — As far as Sue Rector is concerned, those are the two most powerful words a fundraiser can say. "I'm a believer in the idea that if you're going to ask someone to do something, you need to do it yourself first," explained Rector, who spent nearly four decades in fundraising at Augustana College before transitioning into a part-time role as director of development at the Center for Active Seniors Inc (CASI) in Davenport. "If you build it, people will come."
Today, Rector is on a mission to grow the community's awareness of what CASI does and how important generosity is to the organization's ongoing presence in the lives of local seniors and their families. The only comprehensive senior center within a fifty-mile radius of the Quad Cities, CASI receives just a fraction of its funding from government sources. "Without individual support, this place doesn't exist," said Rector. "Even when people are aware that when they need something they can call CASI, they don't know where the funds come from to support the people who pick up the phone."
With a keen understanding of the power of endowment to promote the long-term sustainability of any nonprofit, Rector recently worked with the Quad Cities Community Foundation to open the Rector Family Fund for CASI, an "acorn" or starter endowment she will fully fund through smaller monthly gifts over the course of five years. At that point, the fund will become a permanent resource for CASI, growing into the future through additional gifts, investment returns, and compound interest.
"The fund is a win-win because I'm supporting an organization that's important to me in perpetuity, and it's something I can talk about with people," said Rector. "Many of us don't have the lump sum to put down to open an endowment, but now that I've done it this way, on my own terms, I can show other people that they can, too. I would love the community to see themselves taking advantage of this opportunity at the Community Foundation."
"Sue is a leader by example and an inspiration to donors and fundraisers alike," said Anne Calder, vice president of development. "It's a privilege to have her join us in making a lasting impact on our community."
But Rector's goal is broader than showing CASI supporters how they can open their own endowments. She hopes to educate donors on how they can give in ways that meet both their needs and the organization's. Some may prefer to contribute to an already established fund like Rector's or CASI's Tributes for Dignity Endowment, also administered by the Community Foundation, while others may see an endowment gift as a good fit for a legacy plan.
"Those people who are supporting CASI today at some point aren't going to be able to any longer," she said, "and to set up or add to an endowment will perpetuate that giving. We can ensure that those critical gifts you've been making will still be there in the future."
CASI is more than just a cause Rector believes in — her passion is grounded in personal experience. "For a number of years in my mother's life, CASI was a godsend," she said, explaining that after her father passed away in 2001, her mother enjoyed many days there playing cards, taking walks, and making friends. "Even though I'm only part-time, I spend virtually every day here because it's such a great place."
Want to learn more about starting an acorn endowment fund of your own? Contact Anne Calder, vice president of development, at AnneCalder@QCCommunityFoundation.org or (563) 326-2840.