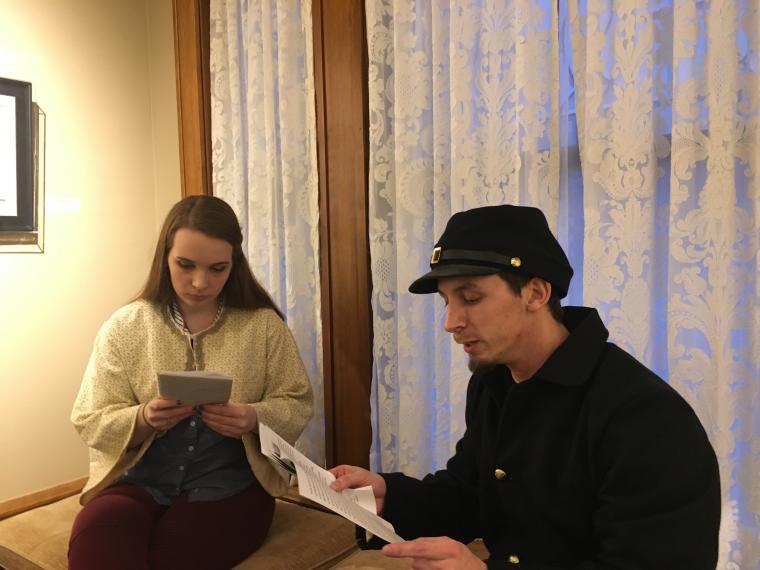 MUSCATINE, IOWA (March 26, 2019) — The Muscatine Art Center is piloting a new middle school outreach program thanks to a grant from the State Historical Society of Iowa's Historic Resource Development Program (HRDP). Actors portraying Daniel and Sarah Parvin will bring to life the experiences of a Muscatine Civil War soldier. The Muscatine Art Center houses 117 letters written by Daniel Parvin while he served in the Iowa 11th Volunteer Regiment.
One goal of the program is to help middle school students understand the daily experiences of a Civil War soldier. "As a middle school student, memorizing the names of generals and battles did not interest me," explains Melanie Alexander, Director of The Muscatine Art Center. "However, I found it fascinating to learn about the experiences of real people, especially when presented through primary sources such as letters and diaries. I believe students can better connect to history by seeing the past through the first-hand accounts of ordinary people."
There are three men and two women who are learning the roles of Daniel Parvin and his wife, Sarah. All five of the actors have been involved in local theater. Over the last few month, the Muscatine Art Center staff has developed a script based on the Parvin letters, purchased costumes and props, and created other tools for use in the classroom. Muscatine County teachers who are covering the Civil War are encouraged to set up a date for the actors to visit their classroom. Teachers can also check out a pre-visit kit containing laminated reproduction documents and maps, a set of 30 booklets, reproduction Civil War era currency, and a CD containing PowerPoint presentations with highlights from the Muscatine Art Center's Civil War collection. The kit can be borrowed free of charge, and the classroom visit expense is funded through the HRDP grant.
Interested teachers should contact Katy Loos, Program Coordinator at the Muscatine Art Center. Reservations are taken on a first-come, first-served basis. The HRDP grant covers the expenses for the actors to make 12 presentations during this pilot period. Following the completion of the grant project period, the Muscatine Art Center plans to continue to offer the outreach program.
# # #
The Muscatine Art Center is located at 1314 Mulberry Avenue in Muscatine, Iowa. Hours are Tuesday through Friday, 10:00AM-5PM, Thursday evenings until 7PM, and Saturday and Sunday, 1-5PM. Admission is free. Donations are appreciated. Visit www.muscatineartcenter.org for more information about programs and events and to download a class brochure.