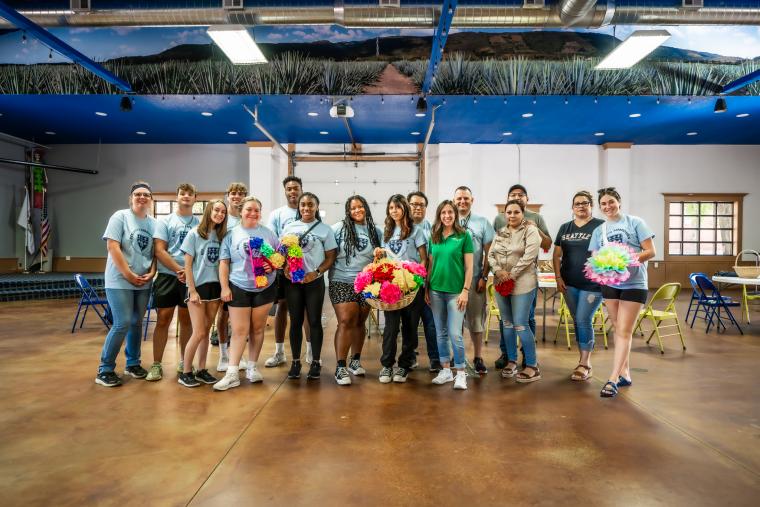 DAVENPORT, IOWA (August 18, 2023) — St Ambrose University welcomed an incoming class of 425 students to campus this week and marked their arrival with an annual celebration of BEEcoming Ambrosian Day.
After convening on campus for a prayer and sendoff, students traveled by bus and by foot to service sites across the Quad Cities. Twenty-one local organizations opened their doors to groups of students and provided opportunities for the new class of Ambrosians to dive into the university's long legacy of community service.
From restocking the Vine Ministry food pantry at the JB Young Opportunity Center, to pulling weeds at Abundant Life Ranchers (Juan Diez Rancheros), students embraced the opportunity to connect with local non-profits and work alongside their new classmates.
"Our BeeComing Ambrosian Day invites our newest members of the Ambrose community to engage with our larger Quad Cities community," said St Ambrose University president Amy Novak. "From the beginning, St Ambrose University has embraced a commitment to collaborating with our community to make it stronger. This day represents the practice of a core value that aligns education with community impact ensuring that our learning is always bigger than our own individual pursuit."
Participating organizations included Abundant Life Ranchers (Juan Diez Rancheros), The Clothing Center at Minnie's Maison, GiGi's Playhouse, Gilda's Club of the Quad Cities, Gold Coast Historic District, Heart of Hope Ministries, Hilltop Campus Village, Hope at the BRICK House, JB Young Opportunity Center, Vine Ministry, Martin Luther King Jr Community Center, Mercado on Fifth, One Eighty, Project NOW, Project Renewal, PUNCH Davenport, Tapestry Farms, TMBC at the Lincoln Resource Center, QC Closet2Closet, Quad City Botanical Center, and YouthHope.
Sponsors of this year's BEEcoming Ambrosian Day included Jaycees of the Quad Cities, Doris and Victor Day Foundation, Alltown Bus Service, LogoPro, and Stoney Creek Hotel and Conference Center.
About St Ambrose University
Founded in 1882 by the Diocese of Davenport, St Ambrose University's commitment to academic excellence, the liberal arts, social justice, and service is rooted in its Catholic intellectual tradition. The leading, private university is accredited by the Higher Learning Commission and offers more than sixty undergraduate majors, eleven Master's degrees, and three doctoral programs. One-hundred and thirty years since its inception, St Ambrose education remains centered on intentional, holistic and experiential learning to develop high-impact world shapers in every field. To learn more about St Ambrose University, visit sau.edu.