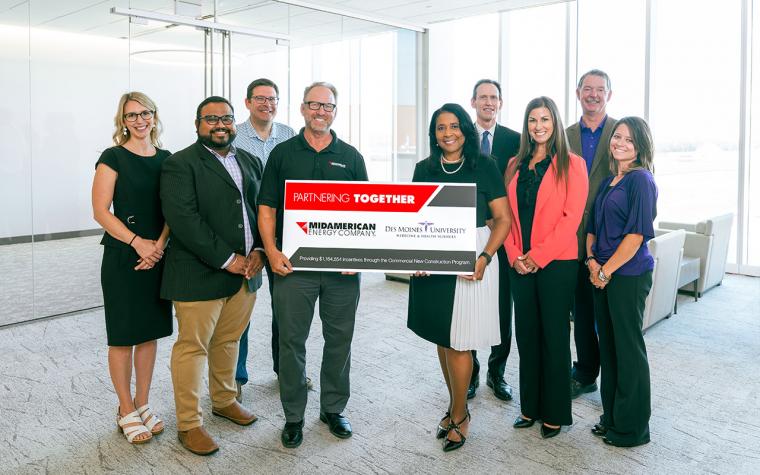 From left, MidAmerican Energy representatives Katie Lord, business and community development manager; Vinoth Sekar, project manager; Dave Johnson, director, business connections; and Steve Willem, lead business connection manager, present a rebate check to DMU representatives Angela L Walker Franklin PhD, president and CEO; Mark Peiffer MBA/CPA, senior vice-president and chief financial officer; Stephanie Greiner MS, vice president, university advancement; John Harris, director, facilities management; and Vickie Harper-Halverson, business operations analyst
WEST DES MOINES, IOWA (August 15, 2023) — Des Moines University is fostering a cleaner, more sustainable future by implementing energy-efficient commercial systems in the buildings on its new West Des Moines campus at 8025 Grand Ave. The university moved its ten graduate medical- and health-sciences degree programs and research enterprise to the new campus in June 2023, in conjunction with its 125th anniversary.
LEED-certified at the silver level by the US Green Building Council, the facilities are 54% more energy-efficient than average buildings of the same size, allowing the university to save on operational costs for years to come. That savings is enough to cover the electricity use of more than 650 homes for one year.
The university also earned immediate cost savings by participating in MidAmerican Energy's Commercial New Construction program. DMU President and CEO Angela L Walker Franklin PhD accepted nearly $1.2 million in construction rebates at an event last week from MidAmerican Energy. Also in attendance were representatives from Willdan, the energy efficiency-planning and design firm that worked on the project.
"Des Moines University's mission is preparing future professionals to help individuals and communities achieve and maintain good health. We strive to contribute to the planet's health, too," Franklin said. "That's why incorporating energy-efficient buildings and features has always been a priority as we planned, designed, and built our new campus."
The commercial construction program offers companies expanding or building new facilities free energy-modeling and -design services, along with construction rebates based on verified electric savings from the systems they install.
"Our Commercial New Construction program is designed to help our customers build energy-efficient buildings, and we are proud to partner with Des Moines University to help it have state-of-the-art facilities. Through our energy efficiency programs, DMU will see immediate savings via incentives, and the university will also save energy and money for years to come," said Kathryn Kunert, vice president of economic connections and integration at MidAmerican Energy.
Energy-efficient measures on DMU's West Des Moines campus include:
A ground-coupled heat pump system that can handle heating and cooling loads simultaneously;
An efficient lighting design that uses 50% less energy and features lights that automatically dim when sunlight is present;
Regenerative elevators that can convert into electricity the friction heat caused during braking;
An automatic ventilation system that adjusts based on occupancy; and
A system to recover and repurpose heat from exhaust air.
In addition, the new campus is powered by more than 88% renewable wind and solar energy generated in Iowa. Through MidAmerican's GreenAdvantage program, Iowa customers can claim a verified renewable-energy amount, which, in 2021, was 88.5% over the course of the year. This number is expected to be several percentage points higher once 2022 numbers are verified.
The new 88-acre DMU campus features collaborative, flexible-learning environments focusing on innovation, resiliency, health, and well-being. The new campus includes four buildings totaling 382,000 square feet of conditioned area connected via elevated pathways. The buildings have a variety of classrooms, offices, research labs, a simulation center, a cafeteria and dining area, a wellness center, and a covered open-air parking ramp with varying energy-intensity, all served by a central high-performance geothermal system.
The public will be invited to an open house in 2024 to see the new facilities.