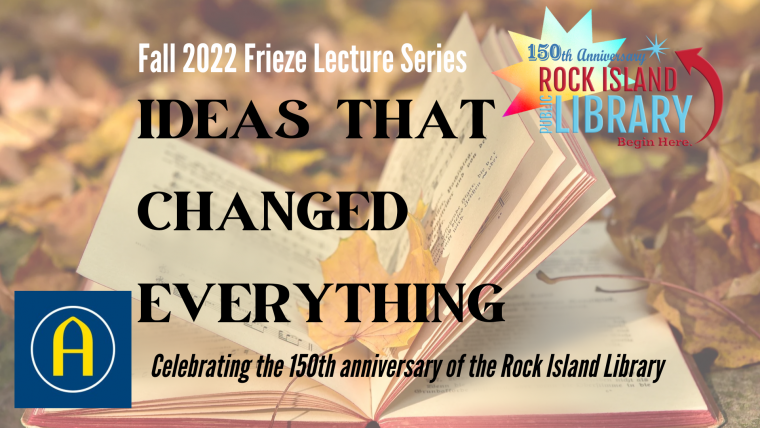 ROCK ISLAND, ILLINOIS (October 14, 2022) — Fall Frieze Lectures, "Ideas That Changed Everything," with Augustana College. Celebrate our 150th year with other ideas that had big impacts on their time. Join us at 2PM, Thursday, October 20 and 27 and November 3 and 10, at our Downtown Library for free presentations by Augustana College professors.
Dr Paul Olsen, of the Augustana English Department, will kick off our series on October 20 by discussing the great "truths" of American icon William Styron, best known for Sophie's Choice. The New York Times 2006 obituary noted that the late author's "explorations of difficult historical and moral questions earned him a place among the leading literary figures of the post-World War II generation."
All lectures in the Ideas That Changed Everything series are free and open to the public. The full list is as follows:
October 20: William Styron's Sophie's Choice, presented by Dr Paul Olsen, Professor of English. Responding to the recent surge in book-banning, this talk will focus on the "truths" of Iconic American author William Styron. Styron made two separate speaking weekends to Augustana, packing Centennial Hall first and later returning to the Carver Center for a commencement address. Two of Styron's works have been the subject of book challenges.
October 27: The 1619 Project, edited by Nikole Hannah-Jones, and presented by Dr Lauren Hammond, associate professor of history. The long-form journalism project reframes the country's history around the perspectives and contributions of Black Americans.
November 3: Cosmos and the work of Alexander von Humboldt, presented by Dr Stephen Hager, professor of biology. Considered by some as the first environmentalist, von Humboldt's work is a holistic observation of all of nature.
November 10: Beloved by Toni Morrison, presented by Dr Ashley Burge, assistant professor of English. Morrison's literary masterpiece has faced multiple book-ban challenges for its frank depiction of the horrors of slavery.
No registration is required. Ample parking is available and both the library and the community room are fully accessible. Read on for why you'll want to stay at the library after the November 10 lecture.