DES MOINES, IOWA (January 12, 2023) — Governor Kim Reynolds has announced a total of $4 million in grant awards to assist the communities of Burlington, Grinnell, Keokuk, Mason City, and Washington in the rehabilitation of a total of 131 owner-occupied and rental homes through the Home Rehabilitation Block Grant Pilot Program.
"I've been steadfast in my commitment to advancing housing opportunities to ensure that every Iowan can live near their work," said Gov Reynolds. "To meet that goal, we must not only build new housing, but we also must preserve our existing housing stock. Today's investments will give new life to more than 130 aging homes so that Iowa families can be proud to call them home for many years to come."
"The City of Mason City anticipates preserving a total of nearly fifty owner-occupied and rental homes through this investment," said Mason City Mayor Bill Schickel. "One of our top goals for 2023 is neighborhood flourishing and this award will give that goal a huge boost. I commend Gov Reynolds for her transformational investment in housing that supports our efforts to make our communities the choice for Iowans to live, work, and thrive."
The pilot program had $4 million in eligible funds available and received applications totaling nearly $4.5 million. Applications were scored on a competitive basis and included criteria such as housing need, impact, community readiness, public/private partnerships, and additional funds leveraged. The projects awarded funding are leveraging an additional $3.3 million in additional funding.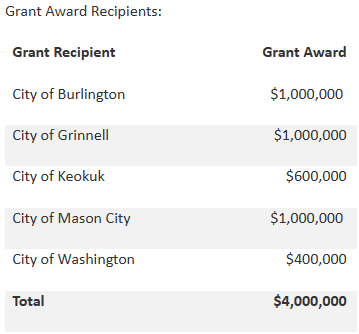 Award details, including project descriptions are available here.
The Home Rehabilitation Block Grant Pilot Program was created as a part of Gov Reynolds' $100 million investment to increase the supply of housing options and protect and expand housing opportunities for Iowans to live in or near the communities where they work. The funds are made available through Federal American Rescue Act State and Local Fiscal Relief Funds.