DES MOINES, IOWA (March 3, 2023) — More than 180 Iowans came together Wednesday, March 2, to celebrate the remarkable contributions of Iowans in Cedar Rapids, Des Moines, Dubuque, Hampton, Iowa City, Marshalltown, and Mason City who have left their mark on Iowa through the arts.
The Iowa Arts Council, a division of the Iowa Department of Cultural Affairs, presented the 2023 Governor's Arts Awards on behalf of Governor Kim Reynolds to ten individuals and organizations at an awards ceremony held Wednesday evening at the State Historical Museum of Iowa. Earlier on Wednesday, many of the recipients were recognized by Lieutenant Governor Adam Gregg in his formal office.
The awards are a longstanding Iowa Arts Council program that recognize and honor individuals, organizations, and communities that have had a significant impact on the vitality of the arts in Iowa. The first Governor's Arts Awards were presented in 1971, shortly after the Iowa Arts Council was established in 1967.
The awards have been presented to some of Iowa's leading arts organizations, educators, community volunteers, and arts patrons.
"This year's honorees have been at the forefront of making Iowa a culturally-vibrant state, with their creativity, dedication, entrepreneurial spirit, and passion for the arts," Iowa Department of Cultural Affairs Director Chris Kramer said. "Truly, we can measure the growth of the arts in Iowa through their accomplishments."
"The Iowa Arts Council has long recognized excellence in the arts," Iowa Arts Council Administrator David Schmitz said. "This year's honorees demonstrate this excellence and set an inspiring example through their service and impact in their communities."
A list of this year's Governor's Arts Award recipients follows:
Category: Emerging Arts Leader
Recipient: A Alanda Gregory, Dubuque
A Alanda Gregory has helped to elevate the arts and culture in Dubuque and ensure that diverse voices are heard and represented throughout the community. Gregory was one of 53 arts leaders chosen for a national fellowship program in 2022-23.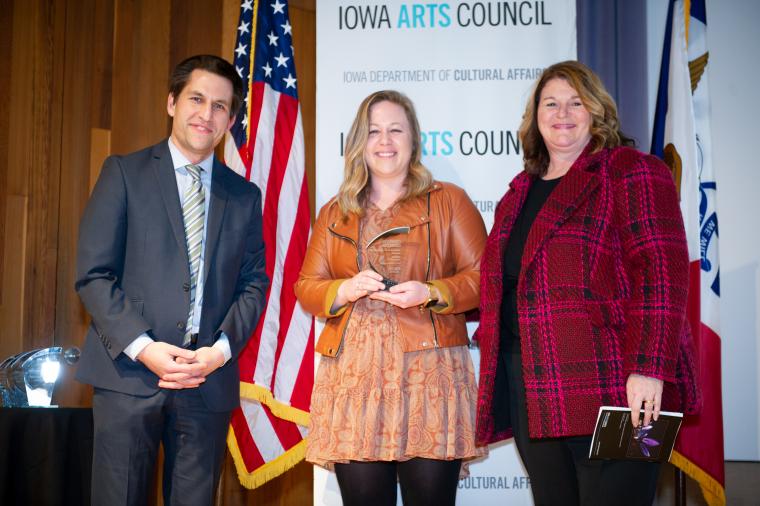 Recipient: Amber Danielson, Marshalltown
Amber Danielson has transformed the Marshall County Arts and Culture Alliance through managing major public-art installations and securing grants for creative community projects. Danielson also played a key role in Marshalltown's recovery from natural disasters by launching a city-wide mural-arts program and an Arts and Culture Master Plan.
Category: Arts Service
Recipient: Public Space One, Iowa City
Public Space One emerged on Iowa City's arts scene more than twenty years ago as an incubator for local creative talent. Since then it has become an essential part of the community's social and cultural fabric as the home to several community arts organizations.
Recipient: Mainframe Studios, Des Moines
Mainframe Studios has elevated Greater Des Moines and Iowa as a hub for artists and creatives. Following a campaign that concluded in 2022, Mainframe is now home to numerous non-profit arts organizations and 180 studios, providing affordable workspace for artists and creatives across all disciplines, and serving as a national model.
Category: Arts Learning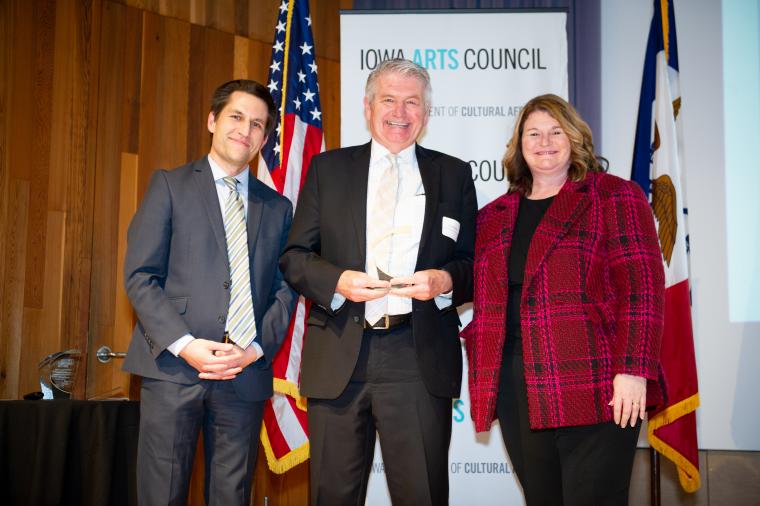 Recipient: Leon Kuehner, Hampton
Leon Kuehner has served the Iowa Alliance for Arts Education for 25 years, following decades of service as a high-school band director in Hampton and president of the Iowa Bandmasters Association. As a tireless advocate for the arts and arts education, Leon launched a successful mentoring program and helped envision the Iowa Fine Arts Standards.
Recipient: Eastern Iowa Arts Academy, Cedar Rapids
The Eastern Iowa Arts Academy was founded in 2007 in response to a need for quality, after-school arts programming in Greater Cedar Rapids. Today, the organization serves students in grades K-12 through year-round visual-, performing-, and literary-arts programs that build confidence, improve performance abilities, and enhance an appreciation of the arts.
Category: Arts Champion
Recipient: Brucemore, Cedar Rapids
Brucemore has championed the arts and history in Cedar Rapids since 1981. Brucemore's mission became even more essential after a severe derecho devastated its historic campus in 2020. Despite sustaining losses of more than $3 million and 450 trees, Brucemore remained committed to supporting the arts and resumed performances only two weeks after the storm, providing leadership during an unprecedented time.
Recipient: Robin Anderson, Mason City
Robin Anderson has been a constant presence in the renaissance of downtown Mason City. From her efforts to preserve the Historic Park Inn — the only remaining Frank Lloyd Wright hotel in the world — to helping save the historic Egloff House, and to spearheading the creation of murals and annual sculpture walk, Mason City's reputation as a cultural hotspot has flourished under Anderson's 22-year tenure as director of the Mason City Chamber of Commerce, which was recognized as National Chamber of the Year in 2022.
Category: Arts Legacy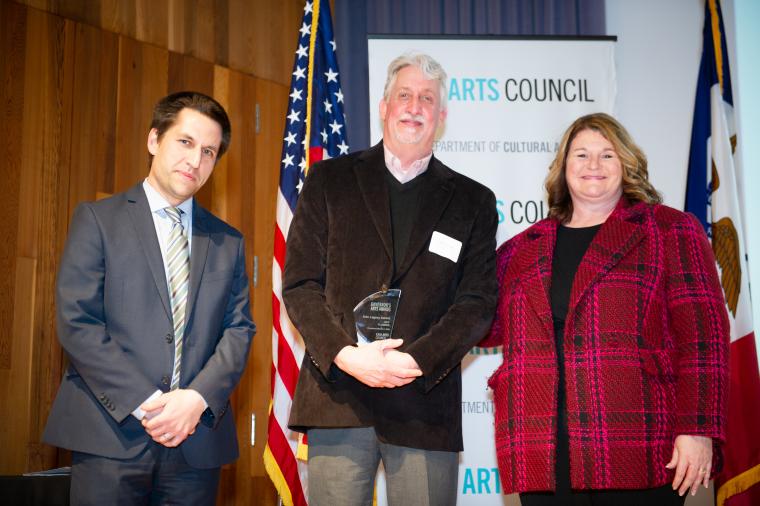 Recipient: Jeff Fleming, Des Moines
Jeff Fleming has shaped the Des Moines Art Center and Greater Des Moines over 25 years, most notably through a visionary public/private partnership that created the John and Mary Pappajohn Sculpture Park in 2009. Under Fleming's leadership, the Des Moines Art Center has opened its doors to diverse communities, presented thought-provoking exhibitions, and upgraded its facilities.
Recipient: Penny Furgerson and Gateway Dance Theatre, Des Moines
Penny Furgerson has been a trailblazer in the field of multicultural-arts education and performance for five decades. Following her upbringing in Bombay, India, and early training in classical Indian dance, Furgerson co-founded Gateway Dance Theatre in Des Moines in 1972. Gateway Dance Theatre celebrated its fiftieth anniversary in 2022 and legacy of artistic creativity, accessibility, and commitment to the community.
Seventeen additional arts leaders and organizations received special recognition for their contributions to the arts in Iowa:
Cedar Falls, Steve Carignan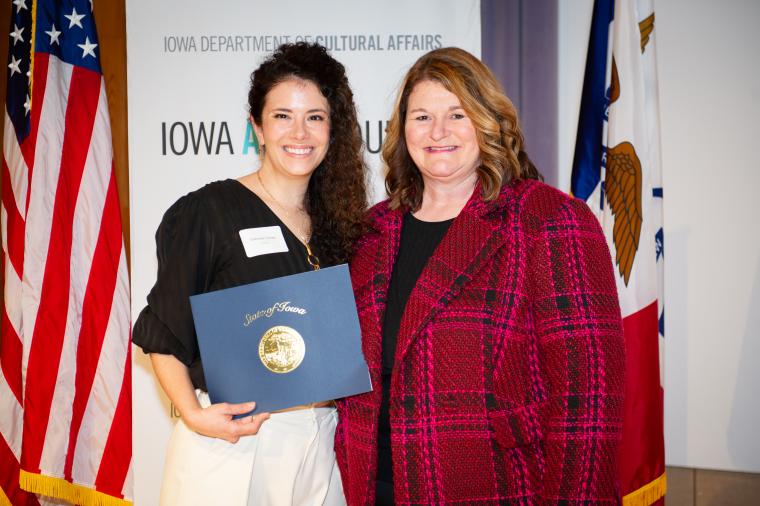 Clinton, Gabriella Torres
Davenport, Quad City Symphony Orchestra
Des Moines, After School Arts Program (ASAP)
Des Moines, Ballet Des Moines
Dubuque, Jenni Petersen-Brant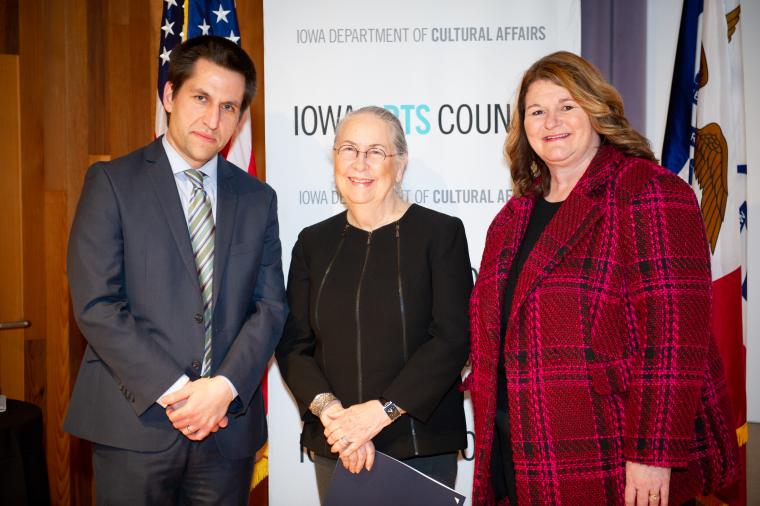 Iowa City, Karen Chappell
Joan Liffring-Zug Bourret, in memoriam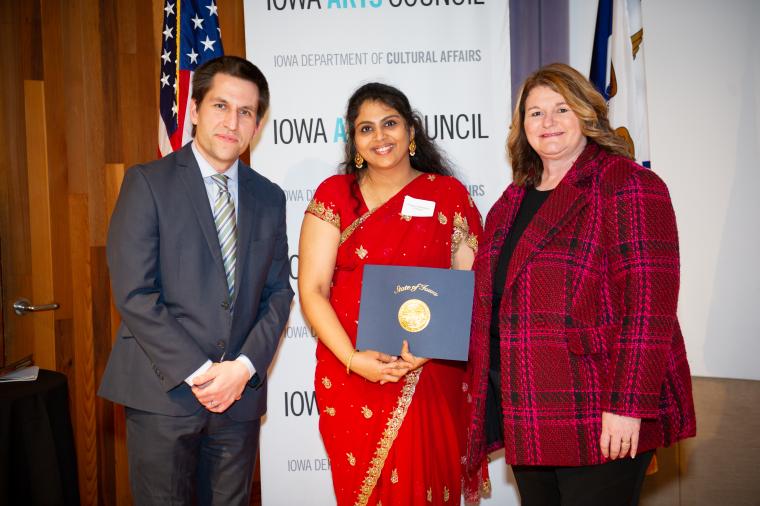 Johnston, Pragnya Bidarkere Prakash
North Liberty, Steve Semken and Ice Cube Press
Saint Ansgar, Cedar Summerstock Theatre
The Iowa Department of Cultural Affairs and its divisions — the State Historical Society of Iowa, including the State Historic Preservation Office; the Iowa Arts Council; the Iowa Humanities Council; and Produce Iowa-The State Office of Film and Media — empower Iowans to build and sustain culturally-vibrant communities by connecting to the people, places, and points of pride that define our state.