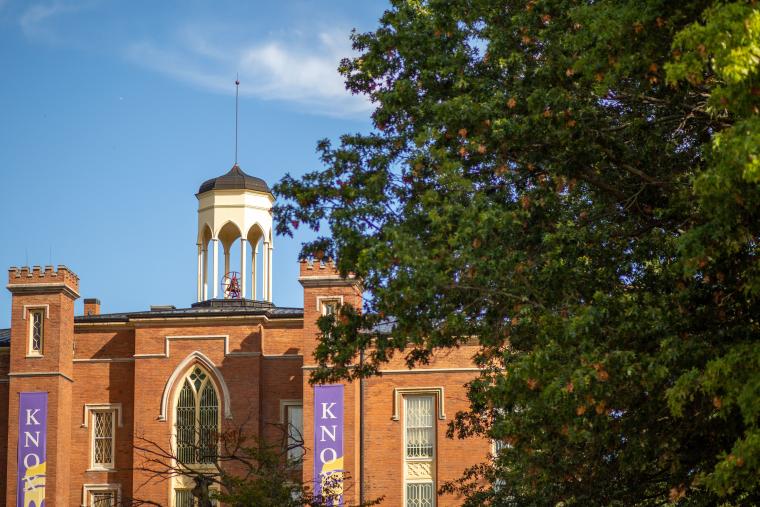 GALESBURG, ILLINOIS (October 25, 2022) — Knox College is introducing its new Prairie Fire Flagship Match financial-aid program for students applying to Knox for the fall of 2023. The Prairie Fire Flagship Match guarantees admitted students from 39 eligible states, including Illinois, pay no more to attend Knox than their home state's flagship public university. Students from other states — and international students — pay no more than the cost of Illinois' flagship rate. To be eligible for the Prairie Fire Flagship Match, students must achieve an unweighted GPA of 3.5 in college preparatory courses (English, Math, Science, Social Studies, Languages), or as a transfer student, maintain a cumulative GPA of 3.0 in college courses.
Furthermore, students who qualify for need-based financial aid will be able to use that aid to further reduce the cost of Knox. This new program, in combination with the Prairie Promise, launched last year to meet full demonstrated need for all admitted students from Illinois, makes a Knox education accessible for thousands more of the most talented students from around the country and the world.
"We know that a Knox education provides our students with unparalleled options for post-graduate success. Each year, Knox students are admitted to the most competitive graduate programs, and embark on careers with a set of skills and experiences that allow them to contribute immediately in a wide variety of industries including corporate, government, and non-profit organizations." said President C Andrew McGadney. "With the Prairie Fire Flagship Match, we are letting talented students who want to pursue their education with us here at Knox know that we are committed to providing them with a world-class liberal arts education for the same or less than they would pay at a large state school."
For more information about the Prairie Fire Flagship Match, please visit the Knox Prairie Fire Flagship Match web page.
About Knox College
Knox College and the city of Galesburg, Illinois, were founded by a group of pioneers from upstate New York, led by the Rev George Washington Gale, after whom the city was named. The Illinois Legislature approved Knox College's charter on February 15, 1837. Among the members of the General Assembly was Abraham Lincoln, who would later rise to national prominence in the 1858 Lincoln-Douglas debates, one of which was held at Knox's Old Main building. Today, Old Main is the sole remaining site from the historic debates. A nationally-ranked liberal-arts college, Knox has 1,200 students from 45 states and 49 countries, more than sixty courses of study, and 99 majors and minors. Knox also is one of the colleges listed in the book Colleges That Change Lives by former New York Times education editor Loren Pope.