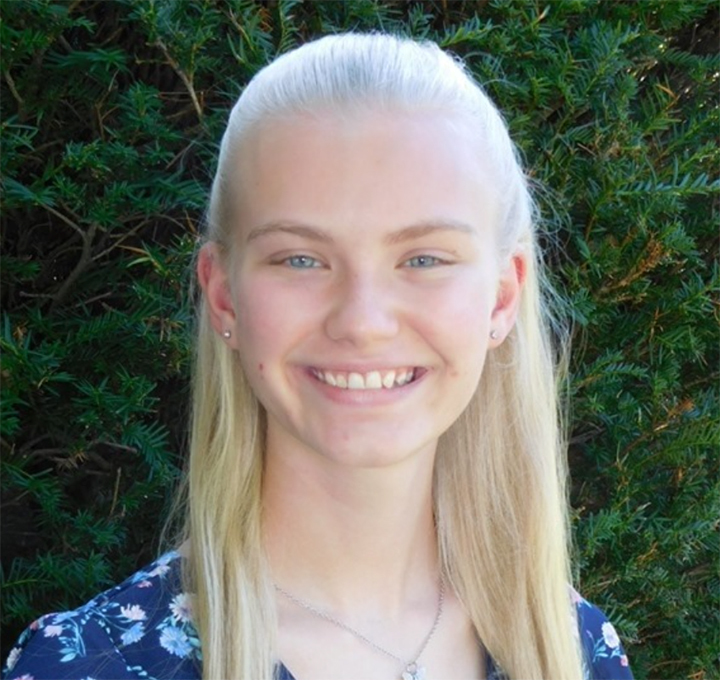 MONMOUTH, ILLINOIS (April 30, 2021) — Four students have received the top awards of the 2020-21 academic year at Monmouth College.
The Tau Pi chapter of Mortar Board — a national honor society that recognizes college seniors for scholarship, leadership and service — named Emily Krueger of Chicago the Senior Woman of the Year and Larissa Pothoven of Rock Island, Illinois, the Freshman Woman of the Year.
Named Greek Woman of the Year in 2020, Krueger is a biopsychology major and member of several honor societies at Monmouth, including Psi Chi (psychology), Mortar Board, Alpha Lambda Delta, Order of Omega (Greek life), and Blue Key. She has served as president of the latter two societies, as well as the Panhellenic Council, and she was vice president of her women's fraternity, Kappa Kappa Gamma. A writing tutor on campus, Krueger volunteers off-campus with Western Illinois Animal Rescue and the Jamieson Community Center, and she has been an active participant in the College's Martin Luther King Jr Day of Service.
"I've witnessed Emily's progression on campus from a quiet freshman to an articulate and strong woman now in her senior year," wrote her nominator. "She supports her fellow classmates and is the kind of person who leads by example; someone that empowers others to grow and share ideas and opinions with no judgment." Krueger unexpectedly lost her father her junior year, but showed strength and determination to complete her Monmouth degree and further her education. This fall, she will enter the PhD program in neuroscience at Loyola University in Chicago.
Pothoven's nominator called her "a standout among first-year students" and said she would have earned an A+ in the nominator's class if one were possible. As students struggled to keep up academically during the pandemic, Pothoven was praised for being "exceptionally considerate of other students. [She] made her notes available to others who had to miss class, which helped a number of students during the COVID crisis." Pothoven will take that willingness to help others into her role as a new student orientation leader in the fall.
The Monmouth chapter of Blue Key Honor Society — a national organization recognizing upperclassmen for outstanding character and ability and for distinction in service, leadership and scholarship — named Tyler Halsey of Aledo, Illinois, the Senior Man of the Year and Samuel Stoyanoff, a classics and economics major from Grapevine, Texas, the Freshman Man of the Year.
Halsey was praised by his nominator for his integrity, openness and spirit, and as well as for being a hard worker who "uses his voice to stand up for others. He is a supportive friend who values loyalty and honesty above all else." The first-generation college student was a member of the Zeta Beta Tau men's fraternity, was a resident assistant and worked in the cafeteria. He now works in the Stockdale Student Center office. A chemistry major, Halsey plans to follow that discipline via an industrial path.
A member of the College's prestigious Stockdale Fellows program, Stoyanoff serves as communications director for his fraternity, Zeta Beta Tau. He's worked as an intern at the Warren County History Museum and is assisting Monmouth professor Alana Newman and another student in creating their own exhibit.