MONMOUTH, ILLINOIS (August 29, 2023) — During the course of his studies at Monmouth College, Corey Pevitz ('24) of Naperville, Illinois, has applied more than once for a scholarship from his Zeta Beta Tau fraternity.
This spring, the process grew a little more lengthy, and that's because the ZBT Foundation was targeting Pevitz for something special.
The process reached its conclusion this summer at a restaurant in Naperville, where Monmouth alumnus and ZBT brother Jeffrey Bakker ('90) presented Pevitz with a check for $17,500 — the largest scholarship the foundation has ever awarded to a student. Also present was Bakker's mother and one of Bakker's 1990 Monmouth classmates, Julie Ziegler Robinson.
"He got up in front of the whole restaurant — which was full of just random strangers — and he said, 'I have a very special announcement. I'm here to present a very special scholarship,'" said Pevitz. "And then they presented me one of those giant cardboard checks for $17,500. There was lots of showmanship there. People started clapping in the restaurant. It was a really humbling and awesome experience."
One of Pevitz's fraternity brothers at Monmouth, Ethan Panganiban ('25) of Wheeling, Illinois, received a $7,500 scholarship from the ZBT Foundation.
On being involved
Pevitz said the foundation is "the philanthropic wing" of the fraternity, and that it awards scholarships that are "need- and merit-based." As in years past, he wrote essays as part of the application process, discussing the personal significance of ZBT's credo and what receiving a scholarship would mean to him. He listed the credo's tenets as social responsibility, intellectual awareness, integrity and brotherly love.
"They can be internalized to make any man a more responsible, truthful, and just member of society," he said.
This year, Pevitz also had to take part in an interview component to the scholarship application, with a committee made up of three alumni.
"I jumped on a Zoom call with them in late April or early May and answered some more questions, including about my involvement on campus," he said.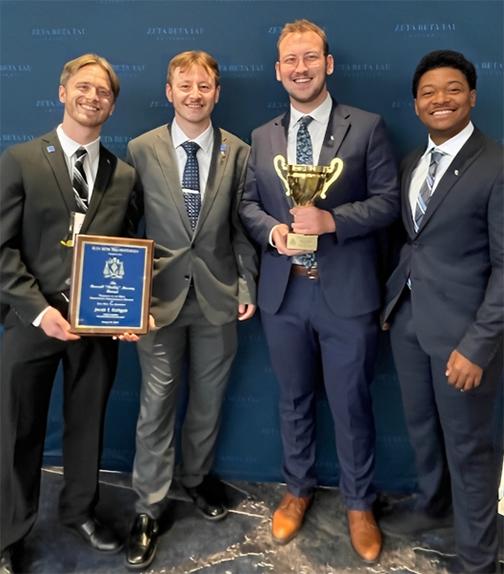 Monmouth College ZBT brothers who attended their fraternity's national convention this summer in New York City included, from left, Jake Rathgeb, Owen Davies, Corey Pevitz, and Jaydon Wilbon
Pevitz has taken on several leadership roles within his fraternity, including serving as chapter president and being one of two active ZBT members in the nation to serve on the organization's mental-health committee. Additionally, he's taken on some — but not all — of the opportunities he's been presented outside ZBT, including serving as vice president of the student body.
"There's a line there with understanding your limits, understanding your boundaries," he said. "Being able to balance that is very crucial. I remember that I answered the question with a bit of a cliche, but I said my involvement came down to doing things because it's the right thing to do — because you want to make a change — and not because you want to start a second page on your résumé. It comes down to working with projects that will lead to the betterment of myself and to those around me on campus."
After receiving the scholarship, Pevitz had the opportunity to pose his own question.
"I asked them, 'Why me?'" he said. "They said they used a point system, and some of the things that tipped those points in my favor were that I'm Jewish — and ZBT was founded as a Jewish fraternity — and my educational studies major," in addition to the points he accumulated through his essays and interview responses.
ZBT's big summer
Pevitz and Panganiban were two of the four ZBT brothers from Monmouth's Delta Lambda chapter who attended the fraternity's national convention earlier this month. The event was held in New York City's Times Square, a location chosen to help the fraternity celebrate the 125th anniversary of its founding in New York in 1898. There, the College received two chapter awards, as well as a major individual honor.
May graduates Jake Rathgeb and Owen Davies also attended, and Rathgeb received the prestigious Roswell "Buddy" Messing Award for ZBT's most outstanding individual brother. As a chapter, Monmouth earned the Lee Dover Award for Outstanding General Chapter Programming and the Joseph E Glaser Award for excellence in philanthropy. For the latter award, Northwestern University and the University of Central Florida had combined to win twenty of the past 25 years.
"Because of my scholarship, I was invited to the Bruce H Weinstein 1898 Society Reception, which included many executives and donors to ZBT and the foundation," said Pevitz. "At the reception (which was held on the 27th floor at 45 Rockefeller Plaza), I was asked to say a few words about the scholarship. I discussed how much it meant to receive such an incredible honor and the impact that donations can have on changing students' lives."
The individual and chapter awards were nice, but Pevitz has now turned his focus to the year ahead for ZBT, calling attention to the opening of fraternity recruitment on August 28.
Another date to circle on the chapter's fall calendar is November 5, when an anti-Semitism program will be held on campus, thanks to a ZBT heritage grant that Monmouth's chapter received. The speaker will be Alexander Katz, son of Martin Katz ('72), who, during his time as a Monmouth student, was president of the fraternity chapter that eventually became ZBT.