ROCK ISLAND, ILLINOIS (September 19, 2019) — 
Not So Scary Halloween Walk for Little Ghosts and Gobblins
Dress up your little ghosts and goblins for our annual Not So Scary Halloween Walk. Bring your flashlights and explore the nooks and crannies of the Sun Garden. Search for spiders, bats, jack-o-lanterns and toads as you wander down the darkened pathways.
Enjoy refreshments, games and crafts and get a glimpse of the Halloween train in our popular train garden. It's not so scary in our gardens, making this event great for all ages. Take home a goodie bag after the fun.
10.11.19 
10.25.19
FRIDAY NIGHTS
6:30-8:30PM
RSVP is not required but is appreciated for planning.
Skip the line and RSVP in advance for express admission.
Members get in free.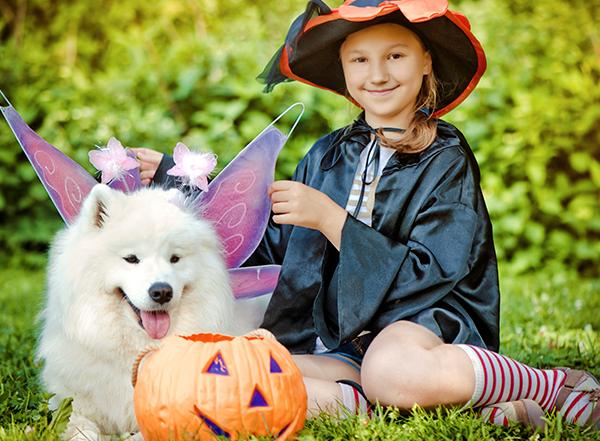 Paw-some Halloween for Pets and Humans
Your pet is welcome to spend the afternoon out with you in the gardens. The afternoon is packed with activities for your four-legged friends and human two-legged companions.
Crafts, stories, a scavenger hunt and photo ops are part of the fun. Visit vendor booths and talk to an animal trainer.
Howl-o-ween pet costume contest at 2PM.
10.13.19
SUNDAY
1-3 PM
Free admission 1-3PM with donation of dog or cat food, treats, or a toy that is not stuffed that will be distributed to local shelters.
Scarecrow Row and Harvest Goddess Haven
Bring a bag of old clothes, hats, and accessories to the gardens and create a scarecrow or harvest goddess to decorate the Botanical Center gardens.
All scarecrows will stay in the gardens and be on display in October as part of the month-long Pumpkin Extravaganza. Scarecrow clothing and accessories will not be returned.
Crafts, stories, a scavenger hunt and photo ops are included with admission. One scarecrow per family, please.
10.6.19
SUNDAY
1-3PM
$7 ADULTS
$4 KIDS 2-15
FREE FOR KIDS
UNDER 2
FREE FOR MEMBERS
Painted Pumpkins: Make and Take Fun
Celebrate Halloween and the fall harvest at the Botanical Center. Show off your costume, compete in races and paint a pumpkin to take home.
Listen to the story of The Great Pumpkin Charlie Brown, take fall photos of the colorful gardens and do the free scavenger hunt.
One pumpkin per family while supplies last.
10.20.19
SUNDAY
1-3PM
$7 ADULTS
$4 KIDS 2-15
FREE FOR KIDS
UNDER 2
FREE FOR MEMBERS
Water Feature Open Through October 13
The river in the Children's Garden in still open and the butterflies are plentiful this fall. Make plans to take one more dip in the water before the river closes.
Unicorn and Dragon Adventure Quest
Bring your fairy tale to life at this enchanting event! Dress up as your favorite fairy, mythical troll or magical creature and you'll seek and find in the gardens and make a magical craft.
Commemorate your fun in the photo booth.
Co-ed event for all ages.
9.22.19
SATURDAY
1-3PM
$10 CHILDREN AND ADULTS
$15 AT THE DOOR
$8 BOTANICAL CENTER MEMBERS BY CALLING 309.732.7275 FOR DISCOUNT
New Garden Opens September 29
There's something new in the gardens and we are excited to dedicate this new space for imaginative play. Wonder what we've created? Hint: If you love fairies, this garden can be your magical new hideaway. Watch for details on Facebook.
UPCOMING EVENTS
9.22.19 | Unicorn and Dragon Adventure Quest 1-3PM
10.6.19 | Sunday Funday Scarecrow Row and Harvest Goddess Haven 1-3PM
10.11.19 | Not So Scary Halloween Walk 6:30-8:30PM
10.13.19 | Sunday Funday Paw-some Halloween 1-3PM
10.20.19 | Sunday Funday Painted Pumpkins 1-3PM
10.25.19 | Not So Scary Halloween Walk 6:30-8:30PM
Ongoing | Yoga every Tuesday 5PM
Ongoing | Buddhist meditation every Tuesday 6:45PM
Ongoing | The gardens are open late every Tuesday until 7PM
Ongoing | Andrea Van Wyk from Organic Inspirations artwork on display