DAVENPORT, IOWA (November 11, 2019) — A beloved Quad-Cities' family tradition for more than ten years, the Polar Express Pajama Parties kick off Thursday, December 12, with four action-packed days of holiday fun and the timeless holiday movie at the Putnam Museum and Science Center.
The Putnam has scheduled 10 showings of "The Polar Express 3D" — the visually stunning holiday classic, which will be brought to life on the GIANT Screen, towering six stories tall.
"The Polar Express Pajama Parties are among the Putnam's most iconic events, connecting friends, families and neighbors to celebrate the holiday season for more than a decade," said Rachael Mullins, president and CEO of the Putnam.
"Whether you're watching the family-favorite 'Polar Express 3D' in our theater, participating in holiday crafts and activities or navigating our exhibits by flashlight, these holiday parties are when the Putnam shines brightest."
The events with show times are:
Thursday, December 12: 5-7PM with a movie showing at 7PM
Friday, December 13: 2-9PM with movies showing at 3:30, 6, and 8:15PM
Saturday, December 14: 2-9PM with movies showing at 3:30, 6, and 8:15PM
Sunday, December 15: Noon-6PM with movies showing at 1, 3:30, and 6PM.
Along with the showing of "The Polar Express 3D" on the GIANT Screen, families will be treated to a wide variety of holiday activities, including face-painting, a hot chocolate station, a make-n-take sleigh bell station, a souvenir pajama-party ornament, and a lights-out adventure through the museum exhibits.
Visitors are encouraged to bring a flashlight to participate in activities, and get in on the family fun dressed in their favorite pajamas.
Tickets open to the general public Friday
Adult tickets are $14, and youth tickets are $11. Tickets include a souvenir ornament, hot chocolate, a seat in the movie theater, and all of the holiday activities.
Tickets are on sale now for museum members, and to the general public starting Friday, November 15.
Show times sell out quickly, and advance purchase is highly recommended. Reserve your tickets by calling 563-324-1933 or visiting www.putnam.org/polarexpress2019.
Polar Express Pajamas Parties are generously sponsored by Pepsi and supported by Whitey's Ice Cream.
OPTIONAL SIDEBAR — Holiday Hours for the Putnam
During the Polar Express Pajama Parties, the Putnam will be open for general admission during special hours: Thursday, December 12, 10AM-3PM; Friday, December 13, 10AM-1PM; and Saturday, December 14, 10AM-1PM. The Putnam will be closed to general admission on Sunday, December 15.
Additional holiday hours are as follows:
Thanksgiving Day, Thursday, November 28 — Closed all day
Christmas Eve, Tuesday, December 24 — 10AM-2PM
Christmas Day, Wednesday, December 25 — Closed all day
New Years Day, Wednesday, January 1 — Closed all day
For more information on coming closures and special hours, visit www.putnam.org/Visit/Plan/Location-Hours.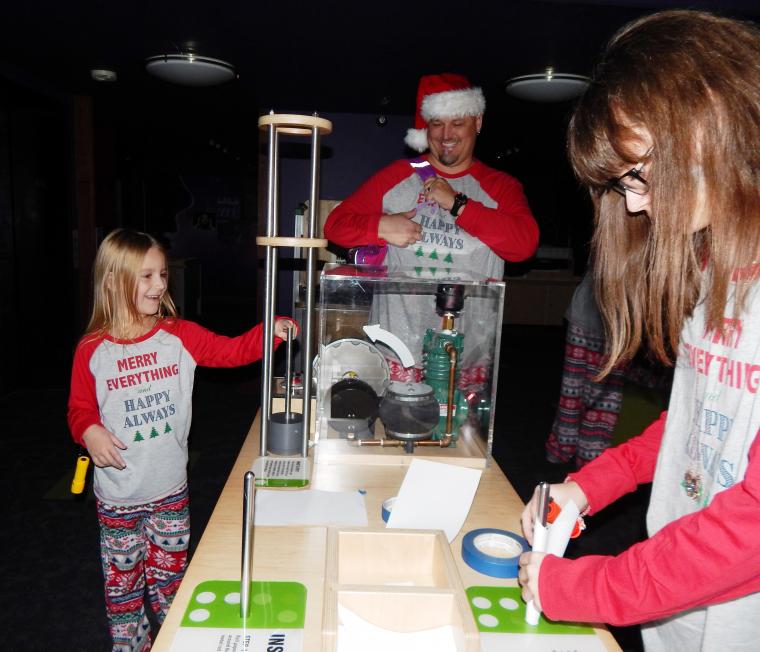 About the Putnam
The Putnam has been inspiring ideas, dialogue and interaction among people of all ages for more than 150 years. And today, we're better than ever with hands-on fun for the whole family. Launch rockets or interact with a robot in the Science Center, "touch the untouchable" in the Augmented Reality Experience, visit our famous mummies in Unearthing Ancient Egypt, climb into a tree house in Black Earth | Big River, or go back in time to see our region's history in River, Prairie, and People. Also experience internationally-recognized traveling exhibits or take in a movie in the GIANT Screen Theater with a screen towering six stories tall. Our welcoming team is dedicated to helping you discover and explore in a friendly and engaging place.