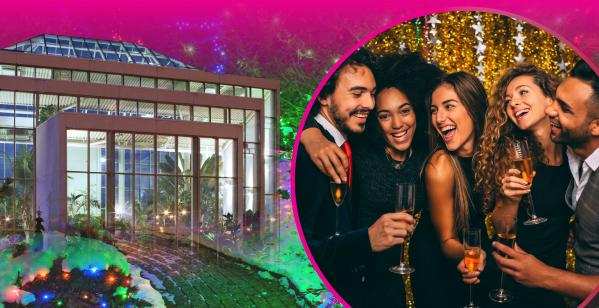 ROCK ISLAND, ILLINOIS (December 26, 2019) — Celebrate the end of 2019 as you give 2020 an early welcome at this New Year's Eve event. The updated format for this New Year's Eve event at the Botanical Center includes a cash bar with champagne and roses available to purchase for your sweetheart. There is no RSVP required and access to the bar is included in the general admission fee.
The evening wraps up early at 8:30PM and the Winter Nights Winter Lights exhibit is open to the general public on New Year's Eve.
All guests on New Year's Eve can enjoy the indoor and outdoor lighted gardens, scavenger hunts, and craft activities, both with a children and adults version. There is something for every age group.
12.31.19
4:30-8:30PM
$8 Adults
$4 Youth 2-15
Under 2 Free
QC Botanical Center Members $2 Off Admission
WINTER LIGHTS HOLIDAY NIGHTS
12.31.19 | New Year's Eve
1.1.20 | New Year's Day
1.4.20 | Winter Lights Exhibit Closes For Season
LAST MINUTE HOLIDAY GIFTS
Stop by the gardens during the day or during your visit to Winter Nights to find discounts on holiday merchandise in The Garden Store. Gifts for kids, adults, gardeners and those with unique style can be found in the store at a variety of price points.
There is still time to buy a membership for a Christmas gift. Gift memberships purchased in person receive proof of purchase to share with the recipient. Online purchasers can share their email receipt with the gift recipient to present as proof of membership in lieu of the membership card.
Membership cards are typically mailed 10-14 days after purchase. Check the membership options and perks.
DAYTIME HOURS
Monday 10-4
Tuesday 10-7
Wednesday-Saturday 10-4
Sunday 11-4
DAYTIME ADMISSION
FREE for Members
Adults $7 (16+)
Youth $4 (ages 2-15)​
Toddlers FREE (under 2)
WINTER NIGHTS HOURS
Wednesday 4:30-8:30PM
Thursday 4:30-8:30PM
Friday 4:30-8:30PM
Saturday 4:30-8:30PM
Sunday 4:30-8:30PM
WINTER NIGHTS ADMISSION
Adults $8 (16+)
Youth $4 (ages 2-15)​
Toddlers FREE (under 2)
$2 off for Members