QUAD CITIES (April 25, 2019) — On Saturday, April 27, Spring Forward Soccer Clubs will play round-robin matches at Augustana's soccer-field (Pepsico Center). The young players cannot wait to take the "big stage" and play on the field where the Augie Vikings and other college teams play (flyer Attached).
Soccer is the sport of choice for many of our kids but costs related to playing often can create barriers. That's why Spring Forward started after-school soccer. The club is offered at no cost to participants and goes far beyond just teaching skills. It focuses on physical-health, social and emotional development, and aims to advance equity. The club serves more than fifty children from three elementary schools with practices and round-robin matches throughout the spring. The program is managed by Spring Forward with Augustana Soccer Players serving as coaches.
"Our work addresses opportunity gaps," said Spring Forward Executive Director Dan McNeil. "Starting the club just made sense." The schools currently with clubs include Frances Willard, Rock Island Academy, and Earl Hanson. These schools are three of the most culturally-diverse in the district. Many participants are newcomers to the country and soccer is the sport they know.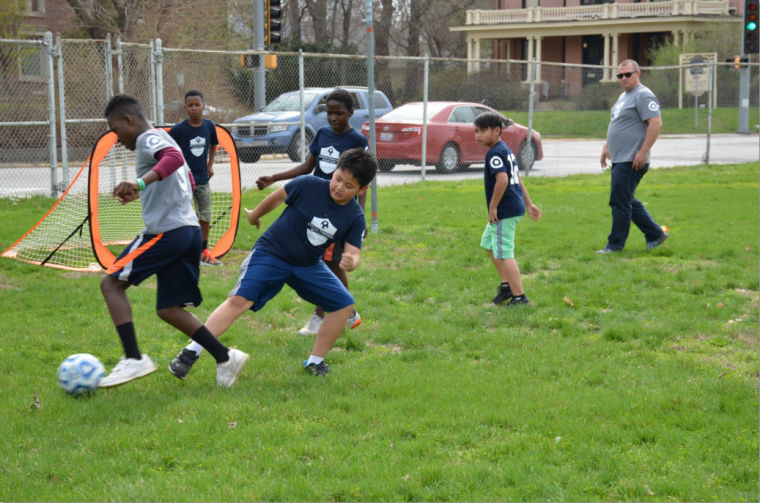 A scholarship fund has also been created for children interested in advancing beyond after-school and playing with the Rock Island Fútbol Club (RIFC). Two of Spring Forward's 2018 club participants are playing in their second year with the RIFC.
Spring Forward Soccer Club is sponsored by Target.
Link to program page and photos
Link to our annual report with more information about Spring Forward