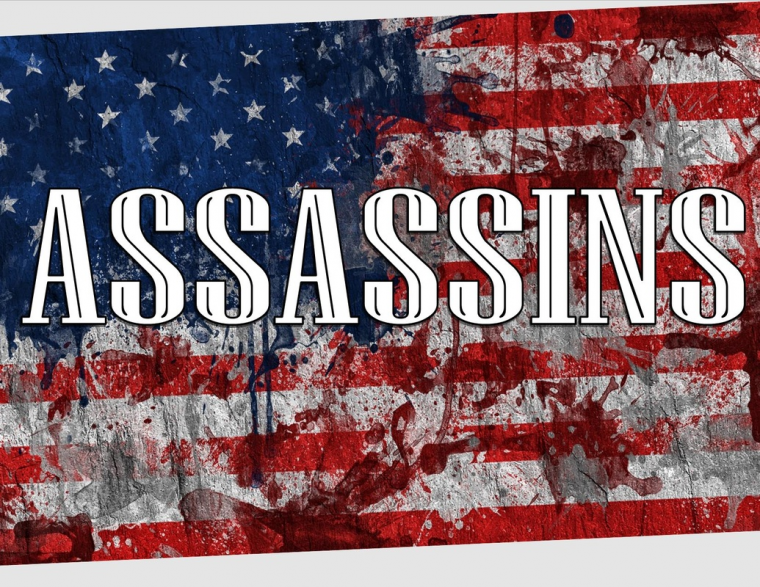 MOLINE, ILLINOIS (August 1, 2019) — The Black Box Theatre opens the multiple Tony Award-winning musical Assassins. With a book by John Weideman and Stephen Sondheim's music and lyrics the "panoramic story of our nation's culture of celebrity and the violent means some will use to obtain it, embodied by America's four successful and five would-be presidential assassins. Bold, original, disturbing and alarmingly funny, Assassins is perhaps the most controversial musical ever written."
Assassins presents the lives of nine people who assassinated or tried to assassinate the President of the United States. From John Wilkes Booth to Lee Harvey Oswald, time is warped and assassins and would-be assassins meet and inspire one another to commit terrible crimes.
The production is Directed and Designed by Black Box Co-Founder David M Miller with Music Direction by Randin Letendre. The cast includes Mark McGinn (John Wilkes Booth), Tommy Ratkiewicz-Stierwalt (Balladeer/Oswald), Tom Vaccaro (Leon Czolgosz/Benjamin Graham/Charles Guiteau), David Miller (Giuseppe Zangara), Jonathan Turner (John Hinckley), Brant Peitersen (Samuel Byck), Sara Nicole Wegener (Lynette Squeaky Fromme), Emmalee Hilburn (Sara Jane Moore), Scott Peake (Proprietor/Ensemble), Dorothy Turner (Ensemble), Julie Hummel (Ensemble), Joseph Wren (Ensemble), and Eric Teeter (Dani Phillips Kent/Ensemble).
The pit consists of keyboard — Randin Letendre; drums — Peter Letendre; bass — Devon White; and trumpet — Ben McKay.
The show runs August 8 to 18. Thursday, Friday, and Saturday at 7:30PM, and Sunday at 2PM. Tickets are $13 on Thursdays and $16 all other shows.
Tickets can be purchased online at www.theblackboxtheatre.com.