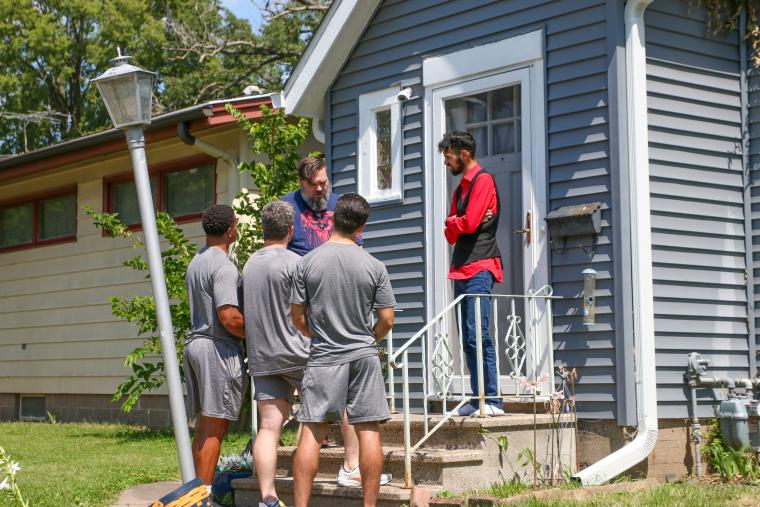 Vikings football players talk with a Rock Island resident about the water line inventory project. The project is a partnership between Augustana College and the city of Rock Island
ROCK ISLAND, ILLINOIS (August 25, 2023) — More than 100 Augustana Vikings football players took a break from practice to assist the water line inventory project.
The players knocked on doors near Augustana's campus and Saukie Golf Course as part of the final canvassing event before student research assistants move to the next phase of the project, which includes data analysis and predictive modeling.
Vikings football players who took part in the canvassing event included:
Nate Henry, a Business Administration- Finance major from Milan (61264)
Peyton Locke, an Augie Ages major from Andalusia (61232)
Cooper Marsh, a nAugie Ages major from Moline (61265)
Jordan Vesey, a Business Administration- Marketing major from Hampton (61256)
Senior Tim Swaney, a middle linebacker and team captain, said he enjoyed the experience.
"We have a really strong community presence here," the kinesiology major said. "And for us as a football team, this is a great way to do some team bonding and also outreach to the community to let them know we're here and we want to do anything we can to help."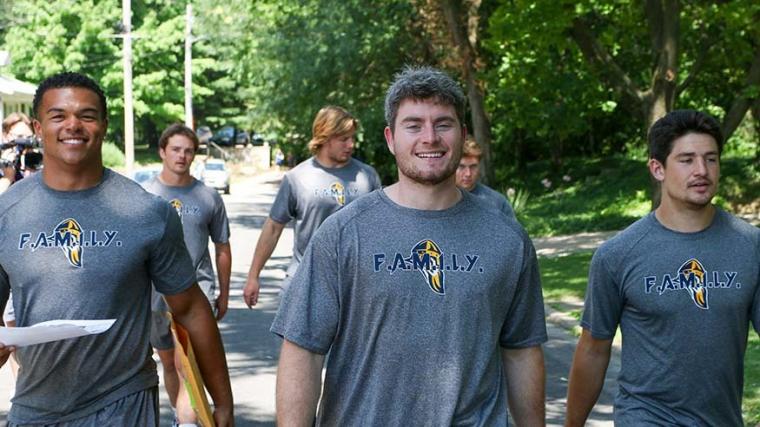 Swaney said this face-to-face interaction was a nice change of pace from what the community usually sees on the football field.
"I think they can really see us truly as men as opposed to athletes and show that we are all really caring individuals and we really do want to help," Swaney said. "We want to do anything we can and I think that's really what we're doing here today."
Head coach Steve Bell said the team has developed a great relationship with Dr Kimberly Murphy, director for the Center for Advancement of Community Health and Wellness. Dr Murphy's center is joined by Augustana's Upper Mississippi Center in leading the inventory project.
"When she asked us to help, we saw it as a great opportunity to give back to the Rock Island community and to help Augustana with an important project," Bell said. "For our football players, it's about helping them understand that football is a small part of what they will learn here at Augustana. Being a small part of something bigger than yourself has much more meaning in the long run."
Head Vikings football coach Steve Bell organizes players before they head out. The group knocked on doors near campus to help Rock Island residents report the material of their water service lines
This multi-disciplinary project is in compliance with Illinois' 2022 Lead Service Line Replacement and Notification Act. The law requires cities to inventory lead service lines, implement replacements and coordinate financing strategies to fund this work. Information for Rock Island residents is available at www.rigov.org/lead.
Augustana College is a vibrant, welcoming liberal-arts college located on a 115-acre campus in the Quad Cities (pop 400,000) along the Mississippi River. Augustana, a residential campus, has 100 majors and programs, 160 student organizations, and 28 varsity athletic teams.
The college enrolls 2,500 students in a metro area that provides access to many career-paths and hands-on learning opportunities, including internships, jobs, student teaching, and research sites.