Here you'll find the Best of the Quad Cities in 70 categories, and 11 articles covering winners in 19 categories. Voting was open for two months - from January 5 to March 6 - and our readers submitted nearly 500 valid ballots. (Reasonable responses to 20 questions were required.) The winter balloting covered the areas of Food & Dining; Civics & Government; Media; and Recreation. (Summer balloting will cover the areas of Arts, Culture, & Entertainment; Night Life; Shopping & Services; and People.)
For winners from previous years, check out our Best of the Quad Cities archive.
Food & Dining
Restaurant
1) Texas Roadhouse
2) Granite City Food & Brewery
3) Antonella's Ristorante & Pizzeria
3) Machine Shed Restaurant
New restaurant (opened in 2010)
1) Capriotti's Sandwich Shop
2) Lemongrass Cafe
3) Cafe d'Marie
Capriotti's Sandwich Shop
Best New Restaurant
I've decided to drop my claim as the inventor of the Turkey Day Sandwich, now that I can get one any time I want at Capriotti's. The store (at 3016 East 53rd Street in Davenport, in the Pheasant Creek plaza) won best new restaurant in the spring 2011 Best of the Quad Cities voting and was the second-place winner in best kept secret and third in best deli sandwich.
After playing phone tag for a few days with James Gimbel, the proprietor of the Davenport Capriotti's, I tried to catch him at the restaurant Sunday. Once again, I just missed him, so his enthusiastic and outgoing crew put me on the phone with him to set up a time to chat. When he asked me if I wanted to talk right then, I had to tell him, "No, I'm getting a Bobbie."
Later, when we did talk, Gimbel reflected on his first year operating one of the few Midwest stores of the Las Vegas-based sandwich company. "In every way, it has exceeded expectations," he said. "From customer response to support from Capriotti's corporate, I couldn't imagine a better first year. While we're always seeing new faces, we quickly built a strong core group of regular customers that drive to north Davenport from all over the Quad Cities and farther. We even have regulars from as far away as Cedar Rapids."
As the Davenport location crosses the one-year mark in May, Gimbel says you can expect to hear news of menu additions, including salads and dessert options.
"We might be a little overshadowed by the parent company's 35th-anniversary celebration" - also taking place in 2011 - "but we've got plenty happening here in Davenport, not the least of which is getting as many people to try our sandwiches as we can."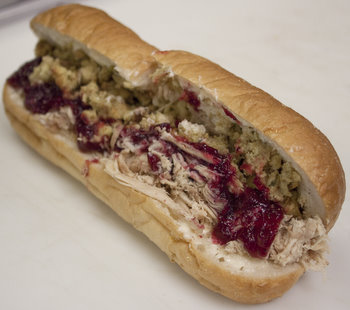 While the Davenport store is his main concern, Gimbel is keeping his eyes open for the right opportunity to expand into other locations in the Midwest. His own franchise territory includes all of Iowa, and he suggested that an Illinois Quad Cities location might also make sense in the future. He has taken a lead role in working with the other stores in the Midwest (two in Madison, Wisconsin, and one in Milwuakee) and coordinating any additional Midwest expansion. He says that the stronger the Midwest supply chain is, the better his store, and any stores he runs in the future.
As for the Bobbie - that stuffing, cranberry, and in-store-roasted-and-pulled turkey masterpiece voted the best sandwich in America by Lemondrop.com in 2009 (and again, not invented by me) - Gimbel says it is his top seller.
"Occasionally, on a cold day, one of the hot sandwiches, like the Capistrami or cheesesteak, will beat it, but if you're gauging it on a 365-day basis, it's definitely the Bobbie. It's the sandwich that, once you taste it, you're sold. And you'll be back for another."
Amen, brother. Amen. - Shawn Eldridge
National chain restaurant
1) Applebee's
1) Texas Roadhouse
3) Olive Garden
3) TGI Friday's
Fine dining
1) Johnny's Italian Steakhouse
2) Biaggi's Ristorante Italiano
3) Red Crow Grille
Best-kept secret
1) Antonella's Ristorante & Pizzeria
2) Capriotti's Sandwich Shop
3) Tappa's Steak House
3) The Crane & Pelican Cafe
Antonella's Ristorante & Pizzeria
Best-Kept Secret
Do you ever watch those food shows on television where the host walks into the restaurant, is greeted by the owner, and is immediately treated like a member of the family? It's that way at Antonella's Ristorante & Pizzeria in downtown Davenport, especially when Antonia is around.
Antonella's was selected by you, our readers, as the best-kept secret among restaurants in the Quad Cities, and it also finished third in the best-restaurant category. It has a strong, vocal following, and owners Giovan and Antonia Sgro are hoping that after this year, it won't be much of a secret anymore. (Full disclosure: I get compensated in food for marketing I do for Antonella's.)
While the hospitality makes you feel at home, it's the food that will keep you coming back. Fresh, authentic Sicilian-style cuisine fills the menu, from pasta dishes and pizzas to panini and desserts. I'll start with an order of bruschetta, then the Ultimate Pasta for the main course - no, wait, make it Pasta Carbonara - and finish with a slice of tiramisu. Ahhh, heaven on a plate.
The Sgro family is in its sixth year at 112 West Third Street in Davenport after being up on East Kimberly Road for four years. Loyal friends followed them, as did their waitress Judith - who now has more than 50 years' experience serving diners - and more friends joined the party.
The staff knows that there are many other friends-to-be who have yet to try the food. Stop in Monday through Friday for lunch from 11 a.m. until 2 p.m. or dinner from 4 p.m. until closing. Antonella's opens on Saturdays at 3 p.m. and Sundays at 4 p.m. It can accommodate your parties, too, either at the restaurant or by catering at another location. And you can sample their food at the Freight House Farmers Market on Tuesdays and Saturdays.
The restaurant recently provided pizzas to dozens of sandbag volunteers and had members of the Quad City Mallards in to wait tables and raise money for Churches United. So whether making a pizza for a party of two or participating in a local event, Antonella's serves up homemade goodness from the Italian family you didn't know you had.
For more information, call (563)359-4411 or visit AntonellasPizzeria.com. - Rick Martin
Asian restaurant
1) Exotic Thai
2) Dynasty Buffet
3) Tantra Asian Bistro
Mexican restaurant
1) Azteca
2) Los Agaves
3) Rudy's Tacos
Italian restaurant
1) Biaggi's Ristorante Italiano
2) Olive Garden
3) Lunardi's
Biaggi's Ristorante Italiano
Best Italian Restaurant, Best Business Lunch
I tried. I really tried. While waiting for a co-worker friend to join me for a recent lunch at Davenport's Biaggi's Ristorante Italiano - named best Italian restaurant and best business lunch in our Best of the Quad Cities poll - I sat and perused the take-out menu, bound and determined to this time try something different. It's not like there weren't choices, many of which I've enjoyed over the years. Ten appetizers (plus one plated combination of three of 'em) featuring delicacies that include shrimp, mussels, calamari, stuffed mushrooms, top sirloin, and Biaggi's' signature sauces. Pizzas, stromboli, sandwiches, and panini galore, topped or filled with all manner of meats, cheeses, and vegetables, cooked to perfection. Fifteen items off the pasta menu; seven items off the "From the Grill" menu; eight "Chef's Specialties," plus daily off-the-menu specials. Hearty, delicious soups (available with unlimited refills!) and intimidatingly large, presentationally gorgeous salads, among them the Messina salad that my friend ordered, which boasted greens, sliced cucumbers, tomatoes, Kalamata olives, capers, red onions, and feta cheese splashed with red-wine vinegar and olive oil. Yet when our waiter, an awesome guy named Eric, came to our table, I knew exactly what I'd be having for lunch: Ziti al Forno. For maybe the millionth time. I'm sorry, but ever since I first discovered this ridiculously tasty treat - pasta topped with shrimp and chicken, blended with Italian cheeses, red onions, and Italian cured ham, and baked in a lobster-cream sauce - my gastronomic heart belongs to nothing else. During my most recent visit, it was easy to see why Biaggi's - at 5195 Utica Ridge Road - was voted best business lunch (in a three-way tie), as the options were plentiful, the well-lit dining room immaculate, and the service speedy and outstanding; I had my ziti in front of me before I'd finished my second slice of (complimentary) bread, and Eric actually apologized for his delay in arriving at our table 20 seconds after we were seated. As for its best-Italian-restaurant citation, let me just quote my friend and me as we were consuming our meals: "M-m-m-m-m-m!!!!!" I wasn't taking notes, though, so I may have missed an exclamation point or two. For reservations, call (563)344-2103, and for more information, visit Biaggis.com. - Mike Schulz
Pizza
1) Harris Pizza
2) Happy Joe's
3) Wise Guys
Steaks/steakhouse
1) Texas Roadhouse
2) Johnny's Italian Steakhouse
3) Bass Street Chop House
3) Tappa's Steak House
Distinctly Quad Cities fast food
1) Hungry Hobo
2) Maid-Rite
3) Whitey's
Coffeeshop
1) Starbucks
2) Cup A Jo
3) Java Java Expresso Cafe
Smoothies
1) Orange Julius
2) Whitey's
3) Cup A Jo
Diner
1) Maid-Rite
2) Ross' 24-Hour Restaurant
3) Harlan's Fine Foods
Seafood
1) Red Lobster
2) Captain's Table
3) The Boat House
Desserts
1) Whitey's Ice Cream
2) Village Inn
3) Lagomarcino's
3) Symposium Cafe
Bakery/breads/bagels
1) Panera Bread
2) Bruegger's Bagels
3) Old Towne Bakery
Barbecue
1) Jim's Rib Haven
2) Famous Dave's
3) Dickey's Barbecue Pit
Jim's Rib Haven
Best Barbecue
Jim's Rib Haven is located at 531 24th Street in Rock Island, and in 1984, owner Jim Overton was told that he had to add a 12-foot extension onto his restaurant's smokestack, as certain neighbors were complaining about smoke blowing into their yards. Had I been living in the Quad Cities at the time, I think I would've happily swapped residences with any of them. Good Lord, have you ever taken a good whiff around that place? It's what I imagine family cookouts in Heaven must smell like. And, miraculously, the food tastes even better than it smells, as those who voted Jim's Rib Haven the Quad Cities' best barbecue would no doubt attest. A beloved Quad Cities eatery since its carry-out-only origins in 1967 - one that's also been recognized in numerous national publications - Jim's offers mouth-watering beef, chicken, pork, and turkey dinners and sandwiches, along with bounteous servings of numerous side dishes; the order of large fries I recently got with my sandwich made me shudder to think of how plentiful the extra-large order might be. But, of course, Jim's is most famous for its barbecue sauce, a wonderfully smoky, tangy, and secret recipe that comes in both "mild" and "hot" options (I highly recommend the latter), and that has inspired countless out-of-towners to make regular return visits to Rock Island. I wasn't able to speak to Jim personally during my recent visit, but I did enjoy a brief conversation with a lovely lady who advised me to one day try cole slaw on my barbecued-pork sandwich ("It's so good"), and who, it turned out, was the legendary Jim's mother. "Well, I know about it," she replied when I asked if the famed barbecue sauce was her creation. "I can make it. But I wouldn't give the secret away." Damn. Jim's Rib Haven is open from 11 a.m. to 8 p.m. Tuesdays through Sundays - officially making Monday the most irritating day of the week - and more information is available by calling (309)786-8084 or visiting JimsRibHaven.com. - Mike Schulz
Breakfast
1) Village Inn
2) Machine Shed Restaurant
3) IHOP
Burgers
1) Red Robin
2) Boozie's Bar & Grill
3) Culver's
3) The Filling Station
Deli sandwiches
1) Hungry Hobo
2) Subway
3) Capriotti's Sandwich Shop
Gyros/Greek
1) Dr. Gyros
2) Uncle Pete's
3) Jimmy's King Gyros
Sunday brunch
1) Granite City Food & Brewery
2) Thunder Bay Grille
3) Jumer's Casino
3) Steventon's
Wings
1) Buffalo Wild Wings
2) Hooters
2) The Filling Station
Sushi
1) Osaka Japanese Steakhouse
2) Shogun Japanese Sushi & Steakhouse
3) Dynasty Buffet
Buffet
1) Golden Corral
2) Dynasty Buffet
3) Ryan's Steakhouse
Chips and salsa
1) Azteca
2) Los Amigos
3) Carlos O'Kelly's
3) Chili's
Soup
1) Panera Bread
2) Arthur's Garden Deli
2) Olive Garden
Business lunch
1) Biaggi's Ristorante Italiano
1) Cafe Fresh
1) Johnny's Italian Steakhouse
Civics & Government
Local elected public official
1) Davenport Mayor Bill Gluba
2) LeClaire Council Member Barry Long
3) Davenport Alderman Bill Boom
Unelected local public-sector employee
1) Davenport Levee Improvement Commission Director Steve Ahrens
2) Bettendorf City Administrator Decker Ploehn
3) LeClaire City Administrator Ed Choate
New downtown development
1) Hotel Blackhawk
2) Schwiebert Riverfront Park
3) Moline Centre Streetscape
Hotel Blackhawk
Best New Downtown Development
You know that song, "Everything Old Is New Again"? I can't fathom why Hotel Blackhawk (at 200 East Third Street in Davenport) isn't pumping that tune through the lobby 24/7. (Aside from it potentially causing lobby staffers to go mad.) Sheesh, but that place is something. It always was, of course; since its original opening in 1915, the Blackhawk has stood as one of downtown Davenport's cherished landmarks, playing host to such famed guests as Guy Lombardo, Cary Grant, Jack Dempsey, and presidents Richard Nixon and Herbert Hoover. But the hotel fell into disrepair, and it closed following a 2006 fire.
The building was sold to development company Restoration St. Louis in 2008 and had its official grand reopening this past January, and now ... . Well, there's a good reason that this nearly-100-year-old brick edifice, and all that it contains, was named best new downtown development in our Best of the Quad Cities poll. (The grand, glorious hotel lobby alone could've walked off with the honors.) With complete refurbishing done throughout, the Hotel Blackhawk now boasts 130 beautiful living quarters for guests, half of them suites with full kitchens and additional, queen-sized pull-out-bed sofas. Every room is outfitted with a flat-screen TV and complimentary Wi-Fi, and hotel amenities include the jazzy Bix Lounge, an indoor heated swimming pool, a whirlpool, a fully equipped fitness center, a game room, an outdoor sun deck, and many not-guilty pleasures provided by Spa Luce. Despite fabulous eateries in the area, you never have to leave the hotel for top-tier cuisine, as your options include contemporary American cuisine with the Bix Bistro and the fluffy golden treats of Beignet Done That. Oh, and in case you thought this incredible hotel experience was complete now, it's actually not: Construction is currently underway on the hotel's in-house, eight-lane bowling alley. 'Cause, you know, it wasn't perfect before. For more information and reservations, call (563)322-5000 or visit HotelBlackhawk.com. - Mike Schulz
Local not-for-profit
1) Churches United of the Quad City Area
2) American Cancer Society
3) Gilda's Club
Churches United of the Quad City Area
Best Local Not-for-Profit
Though the organization has been through several name changes over the last half-century, Churches United of the Quad City Area is celebrating its 50th anniversary this year, an occasion that Reader voters (intentionally or not) acknowledged with recognition as the area's best local not-for-profit. "We're very proud," says the Reverend Ronald Quay, Churches United's executive director and an ordained American Baptist clergyman. "Especially since our programs are staffed by volunteers." And so many volunteers. In 2009, more than 400 people offered their services to this cooperative association of nearly 150 area churches (representing more than 20 Christian-faith traditions), most of them in conjunction with one of the 26 area pantries that provide free food to those in need. "That is one of our largest programs," says Quay. "And we also have three hot-meal sites in the Quad Cities that serve meals on different evenings of the week. Church groups and community groups will volunteer, and besides the food, we provide all the paper products, the plates, the plastic silverware, et cetera." Collectively, Churches United has served upward of 160,000 meals over the past five years, and has provided additional community relief though its social-service program Winnie's Place. "It's for women, with or without children, who find themselves homeless for whatever reason," says Quay of the Moline-based shelter that has offered safety, essentials, education, and training to roughly 400 women and children, annually, since its 2006 opening. And with more than 31,000 families - more than 110,000 individuals - the beneficiaries of Churches United's goodwill in 2009 alone, it's wholly understandable that the organization is considered such a treasure in the Quad Cities community. "One of the reputations that churches have had, universally," says Quay, "is that if you can't pay the rent, you can't keep the lights on, you can't afford the medicine, go down to the church. Whether you know them or not, maybe they can help you." For more information on Churches United of the Quad City Area, call (563)332-5002, and for a closer look at the organization - including a new video highlighting its many programs and accomplishments - visit CUQCA.org. - Mike Schulz
Place to volunteer
1) Animal shelters/humane societies
2) American Cancer Society
3) Habitat for Humanity Quad Cities
Most civic-minded Quad Cities-based company
1) Deere & Company
2) Modern Woodmen of America
3) ALCOA
Local controversy
1) Davenport casino
2) John Wisor's house near the Village of East Davenport
3) Amtrak service
3) Downtown Davenport parking meters
3) I-74 Bridge
Area for city governments to cut their budgets
1) Government salaries/benefits
2) Administration
3) Chamber of commerce
Way to improve public transportation in the Quad Cities
1) Extended route times for bus service
2) Amtrak
3) Ridership incentives/promotions for bus service
3) New I-74 bridge
Extended Route Times for Bus Service
Best Way to Improve Public Transportation in the Quad Cities
If you look at the service times of Davenport's CitiBus, Bettendorf Transit, and the Illinois-side MetroLINK, you'll notice a big disparity. MetroLINK runs its buses until 9:45 p.m. Monday through Friday, has a route Thursday through Saturday nights that runs until 3:20 a.m., and also offers Sunday service. CitiBus runs until 6 p.m. weekdays, as does Bettendorf Transit, and neither has Sunday service. (The three have roughly comparable hours on Saturdays.) So it's no surprise that Best of the Quad Cities voters said that the best way to improve public transportation is to extend route times. After all, if MetroLINK can do it, why can't CitiBus and Bettendorf Transit? There are two answers: money and perceived demand. On the money issue, CitiBus General Manger Tom Wittig pointed to state funding for public transportation. While CitiBus receives only $350,000 from the State of Iowa for operational costs, MetroLINK receives millions from the State of Illinois. "There's the difference," Wittig said. "That's really it right there." Wittig added, however, that extending service to 7:30 or 8 p.m. is part of CitiBus' five-year plan and should be in place within three years. "Now we have to find the funding," he said. But don't expect CitiBus to match MetroLINK's hours; Wittig said that he doesn't think there's sufficient demand in Davenport beyond 8 p.m. With each bus costing $70 per hour to operate, CitiBus leaders need to make the "the right, fiscally responsible decision." Matt Simaytis, the manager of Bettendorf Transit, said his city has periodically explored extending service hours and will again soon. But "we really haven't found enough of a demand," he said. He also cited money as a consistent issue: "Our problem is budget basically." Jeff Nelson, the manager of MetroLINK, acknowledged that his organization receives greater state resources - more than $9 million annually in an operating budget just under $16 million. He added that because ridership has shifted from manufacturing workers to service-industry employees, MetroLINK will consider expanding its hours in some corridors. - Jeff Ignatius
Municipal snow removal
1) Bettendorf
2) Davenport
3) Rock Island
Bettendorf
Best Municipal Snow Removal
As a rule in Best of the Quad Cities voting, when it comes to public services, our readers choose what they know. Given its population advantage, Davenport is a favorite to come out on top, as it did this year in the best-municipal-public-works-department and best-municipal-parks-and-recreation-department categories. So when readers selected Bettendorf for best municipal snow removal, it piqued our curiosity. "We have what's called a bare-pavement standard," explained Bettendorf Public Works Director Wally Mook. "In other words, we're required to remove all snow and ice from all pavements no matter where they are within a certain time period after the last snowflake has fallen for a particular event." For a typical four- to six-inch snowfall, he said, his department has 18 hours to clear the city's 482 lane miles of pavement - a standard he described as "generous." Mook said he thinks Bettendorf is the only city in Iowa with a bare-pavement standard, and he added that he's not aware of any other municipality in the Quad Cities that has one. I asked whether he thinks the streets are cleared more completely in Bettendorf than in other parts of the Quad Cities. "There's no doubt about it," he said. It's important to note, however, that the bare-pavement standard makes snow removal more costly. "Obviously, we have to use more salt and other chemicals, and in addition to that, it takes more time," he said. "It's more expensive, but we consider that to be what the residents want, and they're willing to pay for it." For the 2010-11 winter, he said, Bettendorf spent $1.3 million on snow removal - including $690,000 for 9,800 tons of salt, $162,000 on fuel and repair parts, and $282,000 in manpower totaling 9,000 hours. While the city typically expects 30 inches of snow in 30 winter events, the last four winters have had fewer events but more snow; this past winter had only 19 events but 47 inches of snow - including, of course, the storm that dumped 17 inches of snow on the Quad Cities on February 1 and 2. (Mook said it took his crews three days to clear the streets after that event.) In total, Bettendorf spent $27,000 per inch of snow removed this winter. Mook said he's asked his employees to call communities of a similar size to see how that figure compares to what other municipalities are spending. "We certainly believe we're very, very effective," he said. "How efficient we are is another question." - Jeff Ignatius
Municipal parks-and-recreation department
1) Davenport
2) Bettendorf
3) Rock Island
Municipal public-works department
1) Davenport
2) Bettendorf
2) Rock Island
Media
Local radio station
1) WLLR 103.7 FM
2) WXLP 96.9 FM
3) KBEA 99.7 FM
Local radio personality
1) Pat Leuck & Dani Lynn Howe (WLLR)
2) Dwyer & Michaels (WXLP)
3) Jim Fisher (WOC)
Local TV news station
1) WQAD Channel 8
2) KWQC Channel 6
3) KLJB Channel 18
WQAD Channel 8
Best Local TV News Station, Best Local TV News Anchor (Jason Fechner), Best Local TV Reporter (Chris Minor), Best Local TV Sportscaster (Matt Randazzo), Best Local TV Morning Show (Good Morning Quad Cities), Best Local Weather Forecaster (Terry Swails), Best Local Twitter Feed, Best Local Business Use of Mobile Technology
I couldn't have asked for a better tour guide than Jason Fechner, co-anchor with Rae Chelle Davis of the 5, 6, and 10 p.m. news, to show me around the new WQAD Channel 8 high-definition set last week. And I'm guessing that the genuine warmth and easy confidence that he exudes in person (and that comes across on-screen) were the qualities that compelled Best of the Quad Cities voters to name him the best news anchor in the Quad Cities. In fact, his first point was to apologize for not voting in the Best of the Quad Cities. "But if I had, I would've voted for [WQAD's Jim] Mertens for best anchor," he said.
That personal accolade for Fechner is added to quite a stack of awards for Channel 8 in this year's voting. The station also took top honors for best news station. Reporters Chris Minor and Kristy Mergenthal took first and third, respectively, in the local-TV-reporter category. Mertens took third for local TV news anchor, as well as - for the second year in a row - sharing a top-local-TV-morning-show award with co-anchor Julie Sisk, meteorologist Anthony Peoples, and the whole Good Morning Quad Cities crew. Matt Randazzo was voted best TV sportscaster. The weather guys at Channel 8 came away winners in the voting, as well, with Terry Swails and James Zahara taking first and second place, respectively, in the local-weather-forecaster category. WQAD also took home top honors for its Twitter feed and its use of mobile technology.
When I spoke with WQAD President and General Manager Larry Rosmilso, he noted that Fechner (a native Chicagoan) loves baseball. "If the Cubs work as hard at their job as Jason does here, someday they'll win a Best in Baseball award."
All of the awards come in the middle of an important transition for WQAD's news-gathering organization. Some impressive technology is on display at the station's studios in Moline, as it continues to implement all the features of its high-tech set. Fechner noted that while WQAD is already broadcasting from the new set in HD, it is still only about halfway to employing all of its features and functionality. And while adding more digital cameras and a movable set will give it the ability to focus on different areas - the anchor desk can be rotated so that the weather center is in the background for breaking weather news, for example - Fechner says that the advanced tools just make it easier to do a better job on the news.
"The technological aspects always follow the editorial," he said. "We don't put a story on to feature our newest equipment, or to get Web hits or comments. We put a story on the air because it's important, or it's good storytelling. If we consistently do that, and I think we're showing this right now, success will follow."
The content might take top billing, but it's easy to be impressed by some of the changes that have News Channel 8, a perennial second to KWQC Channel 6 in the ratings, looking like it's champing at the bit to move up. While some of the changes are about personnel and organization, the most immediate and visible examples are technological - all with the aim of making getting to and broadcasting news stories as seamless as possible. Added focus is being put on remote news-gathering, as the station's trucks are also transitioning to full HD, including the long-range satellite truck.
"If the flooding this spring hits Dubuque first or St Louis the hardest, we can send the satellite truck to those places and broadcast in HD, a story that is important to every Quad Citian," Fechner said.
Individual reporters will also be improving their capability to report from where news is happening. "While the portable equipment is not HD, once we're all digital, a reporter can shoot live segments, or record, edit, and upload remote segments for broadcast much more easily, and with more portable equipment," he said.
To enhance the conversational nature of storytelling, the WQAD newsroom - the area where reporters work on stories before they go to air - is also being wired and renovated for use as a secondary set. "The point is to expand our toolbox with the aim of getting the best content on-air in the most streamlined way we can," Fechner said. "For example, if we need to break into normal programming, the new anchor desks have the ability for one person to sit down and be on-air for breaking news in less than three minutes. [That is] a process that would previously have required getting the right technical and production staff in place before ever getting on the air."
One thing that likely helped WQAD garner awards in this year's voting is how it has embraced instant interaction with its audience. I experienced this myself during the major winter storm we had in February. I visited WQAD's Web site to check on the news, and producer (and Reader contributor) Thom White was hosting a chat about the storm. Chat participants were reporting conditions from all over the region. Others who had loved ones on the road were asking - and getting - immediate answers about driving conditions in specific areas. Fechner said that kind of interaction is gratifying and useful to a news organization.
"During a recent broadcast about cancer awareness, we had doctors from Genesis upstairs manning the chat, answering questions," he said. "In another instance, we were doing a story on real estate, and had a Realtor logged in from home to respond to viewers' questions. It's part of buying in to the fact that an active model when it comes to news is not only a trend, but a smarter, better way to connect with our audience."
And when I asked how it felt to see Channel 8 pile up this many awards after long being considered the number-two station in this market, and after taking a bit of a drubbing right here in the Reader last October (RCReader.com/y/tvnews), Fechner diplomatically said: "It's nice that there's a positive to offset the negative." He also said he was proud that WQAD won so many of the Best of the Quad Cities categories without pressuring its audience: "It's additional proof that we're headed in the right direction."
And he said to look for more from New Channel 8, even after the digital transition is complete and the new sets are in place: "There are ways to tell stories and ways to interact with an audience that we're just touching on so far. All this technology is amazing, and if it helps us get the best stories and the most important information to our audience, then the entire Quad Cities benefits." - Shawn Eldridge
Local TV news anchor
1) Jason Fechner (WQAD)
2) Gary Metivier (KWQC)
3) Jim Mertens (WQAD)
Local TV reporter
1) Chris Minor (WQAD)
2) Fran Riley (KWQC)
3) Kristy Mergenthal (WQAD)
Local TV sportscaster
1) Matt Randazzo (WQAD)
2) Thom Cornelis (KWQC)
3) Dan Pearson (KWQC)
Local TV morning show
1) Good Morning Quad Cities (WQAD)
2) Quad Cities Today (KWQC)
Local newspaper investigative news reporter
1) Barb Ickes (Quad-City Times)
2) Dawn Neuses (Argus/Dispatch)
2) Ed Tibbets (Quad-City Times)
Local newspaper opinion columnist
1) Barb Ickes (Quad-City Times)
1) Bill Wundrum (Quad-City Times)
3) John Marx (Argus/Dispatch)
Local weather forecaster
1) Terry Swails (WQAD)
2) James Zahara (WQAD/KLJB)
3) Greg Dutra (KWQC)
Local Web site
1) QCOnline.com
2) QCTimes.com
3) RCReader.com
Local Twitter feed
1) @WQAD
2) @IvyEnvy
2) @drgyros
2) @WLLR
Local business use of mobile technology
1) WQAD
2) The Hungry Hobo
3) Hy-Vee
Recreation
Bowling alley
1) Miller Time
2) Bowlmor Lanes
3) Highland Park Bowl
Miller Time
Best Bowling Alley
Back before my sister had kids, and when my grandmother Marie was still with us, our family, for many years, used to enjoy an annual, Easter-day tradition: an early-afternoon lunch, followed by three games of bowling at Davenport's Miller Time Bowling Alley (2902 East Kimberly Road). Since it was just named best bowling alley in the Reader's Best of the Quad Cities poll, I'm guessing that other families have also indulged in this happily secular way to enjoy a nonsecular holiday. "We're open every day, even Christmas," says owner Denny Miller. "We open at three or four in the afternoon on Christmas Day. We get a lot of families, but we also get people here because they've done their family thing, and college kids are home looking for something to do." With 48 available lanes at Miller Time, the establishment - which Miller and his wife, Michelle, began operating in 1995 - hosts daily bowling leagues, including, as Miller says, "early-morning leagues, where people get off work at six or seven in the morning and come in and bowl." But he adds that even during league play in the evening, "we have lanes for open bowling almost every night, and there's plenty of open bowling on Saturdays and Sundays." Miller says that he's particularly happy to able to offer a reasonably priced destination for children's birthday parties ("You can have 10 kids, a big chocolate-chip cookie with the kid's name on it, a couple pitchers of pop, and bowling for, I think, about 90 bucks"), and for his wife being instrumental in getting bowling recognized as a letter sport in area high schools ("We have intramural for the schools - they bus them in and we give them a hell of a discount, because it's generating future bowlers"). Yet Miller appears to be most pleased with his venue's bi-weekly use of a professional lane-analyzing system, which employs ultraviolet light to ensure that the lanes have the precise amount of oil on their boards, and has resulted in Miller Time having "the highest-scoring lanes in the state of Iowa. That means something to people, you know? It's a pride thing." Registration is currently underway for Miller Time's summer leagues, and more information on the establishment is available by calling (563)359-4770 or visiting MillerTimeSharkys.com. - Mike Schulz
Golf course
1) TPC at Deere Run
2) Palmer Hills
3) Duck Creek
Disc-golf course
1) Eastern Avenue Park
2) Duck Creek Park
3) Camden Park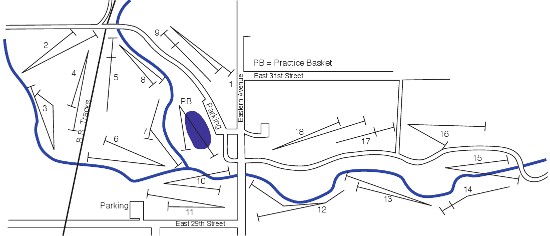 Eastern Avenue Park
Best Disc-Golf Course
Not being a disc-golf player, I enlisted the help of leaders of the no-longer-active Quad City Disc Golf Club to provide some insight on the Eastern Avenue Park course in Davenport, which our voters named the best disc-golf course in the area. In an e-mail, John Resch, the most recent chair of that organization, offered: "Eastern is popular because it is a very flat, open, albeit long, and forgiving course. When I say forgiving, I mean that most holes are fairly wide-open with few obstructions and no elevation change. If you throw a shot wide right or left, you still have a shot to the pin. There are a few difficult holes on the course that incorporate trees into the design and others where the creek comes into play. Overall, though, this is essentially a beginner course." Chris Sprague wrote that because of the dearth of trees, the Eastern Avenue course is appealing to "newer players, but it also has enough length and danger (Duck Creek) to challenge even the most seasoned disc golfers. With two teepads per hole, it also gives players options to create variety from day to day." Joe Miller, who designed the course and shepherded it through city approval and installation - including fundraising - said he considered several parks in early 2001 before settling on Eastern Avenue. In an e-mail, he wrote that his primary goals were a course that was "safe, fun, and challenging (in that order)." And he disagreed to some extent with Resch's assessment, noting that the length of the course can make it difficult even for experienced players. "Considering the land we had to work with, I was (and still am) extremely pleased with the design," he wrote. "I've heard many old-school disc golfers lament on the length, which gratifies me that we were successful in designing a course that puts players outside of their comfort zone." He said Eastern Avenue has few birdie holes, "just as in ball golf. This was done with intent." And as "new disc golfers have learned in this environment, they have learned to develop the skill to throw long distances. ... [T]he fact that the course is serving to be a catalyst to developing better disc-golf players, and therefore helping to increase the standing of disc golf as a sport and not just a recreational activity, is what truly gives me satisfaction." - Jeff Ignatius
Hiking trail
1) Black Hawk State Historic Site
2) Scott County Park
3) Wild Cat Den
Biking trail
1) Ben Butterworth Parkway
2) Duck Creek Trail
3) Great River Trail
Local park
1) Vander Veer Park
2) Scott County Park
3) McManus Park/Rocket Park
New or improved local park
1) Schwiebert Riverfront Park
2) Vander Veer Park
3) Centennial Park
Place for a picnic
1) Scott County Park
2) Vander Veer Park
3) West Lake Park
Aquatic center
1) Whitewater Junction
2) Splash Landing
3) YMCA
Campground
1) Scott County Park
2) West Lake Park
3) Loud Thunder
Place for a day trip
1) Galena, Illinois
2) LeClaire Iowa
3) Chicago, Illinois
Dog park
1) Crow Creek Park
2) Hasselroth Dog Park
3) Centennial Dog Park
Local landmark
1) Skybridge
2) Rock Island Arsenal
3) John Deere Commons
Place to snowboard/sled/tube
1) Ski Snowstar
2) Duck Creek Park
3) Fejervary Park/Museum Hill
Gym/health club
1) YMCA
2) Gold's Gym
3) Fitness First Plus
Yoga studio
1) YMCA
2) Hot Yoga Quad Cities
3) Indigo Wellness