Friday, February 10, and Saturday, February 11
The Outing Club, 2109 North Brady Street, Davenport IA
With the professional company's annual, yet all-new, presentation of Love Stories – being staged at Davenport's Outing Club on February 10 and 11 – audiences for the 2023 edition will be treated to a little bit of everything: classical dance, modern dance, lyrical dance; Bach, Debussy, Sonny Rollins with the Modern Jazz Quartet. But while the performances come with either a served dinner or desserts available for purchase, Artistic Director Courtney Lyon has has another food reference for what patrons can expect: "It's kind of like a buffet," she says. "You get to try to a lot of different things."
Love Stories' main course this year will be the Act II presentation of the Carmen Suite, which differs from the classical work made famous by Georges Bizet. "There is, like, a four-hour opera version of Carmen," says Lyon, "but this is not that. This is the one-act ballet version which is under an hour, and it's a complete story based on the novella. Madeline Kreszenz is Carmen, and Christian Knopp is Don José, and it'll be a fun piece for the space, which is like a dinner-theatre set-up. When we're at the Outing Club, we have tables and beverages and a meal, et cetera, and then audiences get a theatrical production right at their fingertips." She laughs. "Or on their laps. The dancers are very close."
Preceding the Carmen Suite will be a number of shorter vignettes, among them French composer Claude Debussy's admired, 10-minute Prelude to the Afternoon of a Faun. "There is an original version that was made over a hundred years ago," Lyon says. "But this one features my original choreography for Nicholas Bartolotti and Madeline Rhode, and and oh, those two are lovely." Lyon has similar praise for company member Claire Cordano, who performs a solo in choreographer Emily Kate Long's In a Sentimental Mood, a work boasting music by the Modern Jazz Quartet featuring Sammy Rollins on saxophone. "Claire is just amazing in everything she does, and that piece is so jazzy, and it's sentimental … . It's just beautiful. People will love her."
Elsewhere in Act I, says Lyon, "We're doing a classical piece called Napoli. It's an old ballet [originated in 1842] that's really good for audiences, and for our dancers. Classical ballet is not for the faint of heart. It's hard stuff. It's very technical. So we really put the dancers through their paces with the classical pieces. And the audiences love it because it's the purest classical ballet – it's tutus and everything, and it's so awesome. Then we have a fun piece, Best of My Love, which is choreographed by Caroline Cady, and that one is a little more jazzy and upbeat – it's a really fun piece that closes Act I and gets everyone ready for the Carmen Suite in Act II."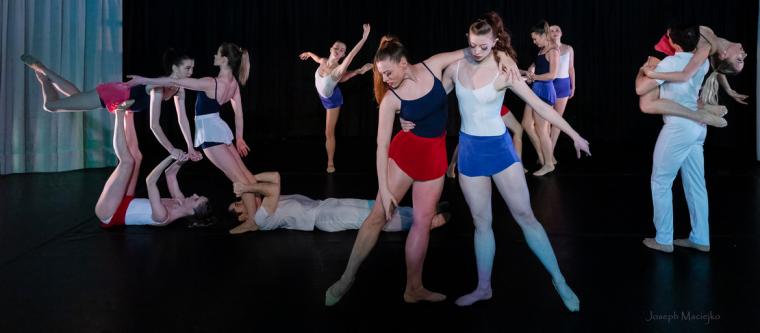 Rounding out the program is a newly choreographed work by Ballet Quad Cities favorite Domingo Rubio, a Mexico City resident most familiar to area audiences for his frequent performances in the company's balletic productions of Dracula.
Regarding Rubio's choreography of Johann Sebastian Bach's Concerto for Two Violins in D Minor, Lyon says, "Domingo choreographed this piece in December when he was here as a dancer for The Nutcracker. We had several performances of The Nutcracker over the course of several weekends – we went to Cedar Rapids and then to the Adler (Theatre) in Davenport – and once it was up and running, we didn't have to rehearse that anymore. And because he was here and has so much knowledge and experience, and he's such a lovely human, we gave Domingo rehearsal time with a handful of dancers in the studio to create this gorgeous pas de quatre – which is two pas de deux. Sierra DeYoung and Jillian Van Cura are our female dancers and Nicholas and Christian are the men, and it took Domingo about two or three days to do that one."
Keeping the piece a product of Rubio's vision after the choreographer returned to Mexico City, however, was Lyon's responsibility. "That's my job," she says with a laugh. "As Love Stories' director, I keep everything performance-ready. So I sat in rehearsals with Domingo when he was creating the piece, so I could be part of the creation process, as well. And I made a video of it and watched as he coached the dancers so that when he left, it would be set. But with this one, the dancers really take ownership of it – it's beautiful partnering where they really have to trust each other. So once Domingo created the piece, honestly, there wasn't a lot I had to do or say. The dancers just knew it."
With Love Stories, as always, timed to coincide with Valentine's Day, Lyon says that the performance makes for an excellent holiday gift for a loved one even if they've never before seen a ballet.
"I think this performance is actually perfect for someone who's maybe a little hesitant," Lyon says. "In Act I, there's a lot of shorter pieces, so if something's not your particular preference, just wait a few minutes – there'll be another piece that you'll probably find a little more to your liking. And then Act II is the Carmen Suite, which is very theatrical and has a narrative – and some people feel comforted by a narrative, because they know there'll at least be a story that they can follow. They don't have to know anything about dance to enjoy Love Stories. We'll guide them through it and they'll love it."
Ballet Quad Cities will present performances of Love Stories at Davenport's Outing Club on February 10 and 11. While Friday's presentation is sold out, and Saturday's 7:30 p.m. evening show (with a Taste of Italy dinner served at 6:30 p.m.) is nearly sold out, tickets are also still available for Saturday's 1 p.m. matinée (with desserts available for purchase). Tickets are $50-200, a cash-only bar is available, and more information and reservations are available by calling (309)786-3779 and visiting BalletQuadCities.com.